There were a few big ticks Vik Gulati of Westman Printing was looking for when he decided to invest in a new Japanese-built Horizon StitchLiner Mark III saddle stitching binding line through Currie Group.
Increased automation to handle the ever-growing number of 'just in time' short-run jobs, diversification opportunities with landscape and gatefold magazine production, reliability and an easy-to-use set up which mirrored that of the Horizon perfect binder he installed in 2021.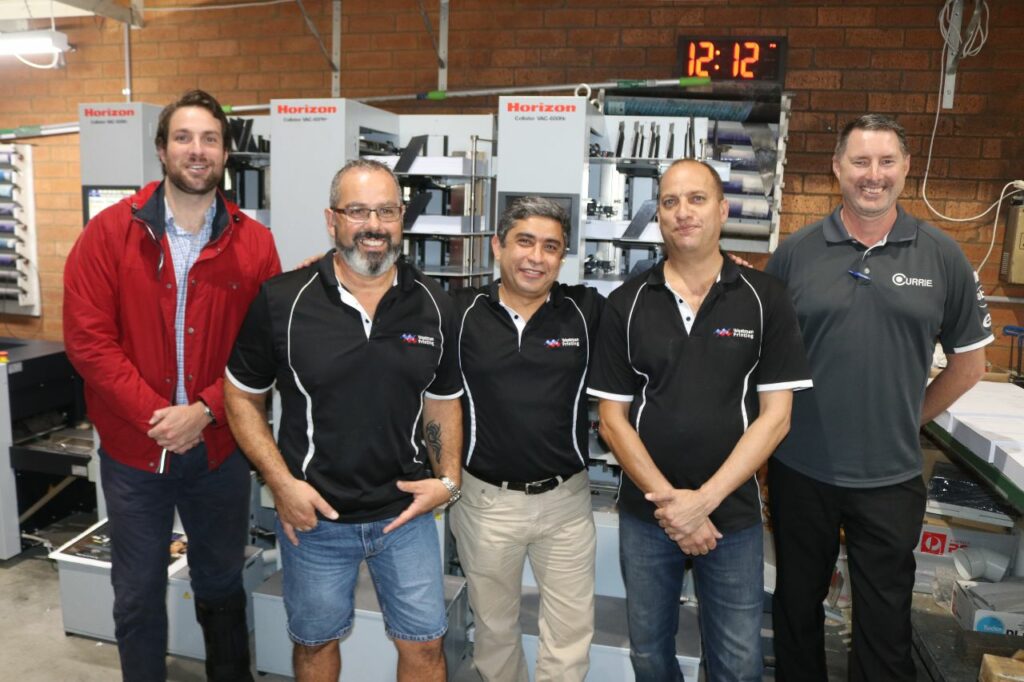 Happily, a few months post-install Gulati, a qualified mechanical engineer, says his check sheet is covered in ticks with the StitchLiner Mark III, which can produce up to 6,000 booklets an hour, having not missed a beat.
"This was actually a step up for us. We had an old StitchLiner that we used to use for around 15 years. Nowadays with the way technology is moving and the way the industry is moving, the repairs sometimes cost more than investing in a new machine," Gulati told Sprinter.
"What also was happening was runs were getting shorter, so the automation was very important for us, so quick makereadies, quick changeovers and all that sort of thing."
"Smooth" is how Gulati described the installation and training process for the new StitchLiner, which can be configured as a conventional collating system for offset print production and as a high-speed sheet feeder for pre-collated digital production. Gulati went for the VAC-600-H air-suction collator system which is made up of three towers with room for 18 bins.
"We earmarked a space on the floor before the binder came in and two days later it was operational. It couldn't have been smoother and since then there has been no downtime. We haven't had a single breakdown and the operators have taken to it without a hitch as the graphic user interface is modern and very user friendly. It was a no brainer."
There were a couple of other sweeteners that also helped Gulati decide to replace his aging StitchLiner which was increasingly breaking down with parts becoming harder to come by.
Its ability to trim and stitch the increasingly popular landscape orientation booklets, as well as traditional orientation was key to the decision. The StitchLiner Mark III can produce booklets in A3, JIS, B4, A4, B5 or A5 sizes with normal paper weights ranging from 52.3 to 350gsm and 73.3 to 350gsm in coated stocks.
Gulati also opted to attach a crash fold unit MKU54T which allows him to handle the folding of A4 brochures into DL size in-house, a service increasingly being asked for by clients looking for cheaper mailing costs. Up until now Gulati was sending this folding work offsite, but now he can manage it all internally which is part of his strategy going forward.
Another was a soon-to-be-introduced Horizon software six-page option which will allow the business to diversify into gatefold magazine covers. Gulati says this software will make the StitchLiner Mark III even more intelligent as it will mean the three-way trimmer can be programmed to avoid the folded edge of the cover amongst other clever features.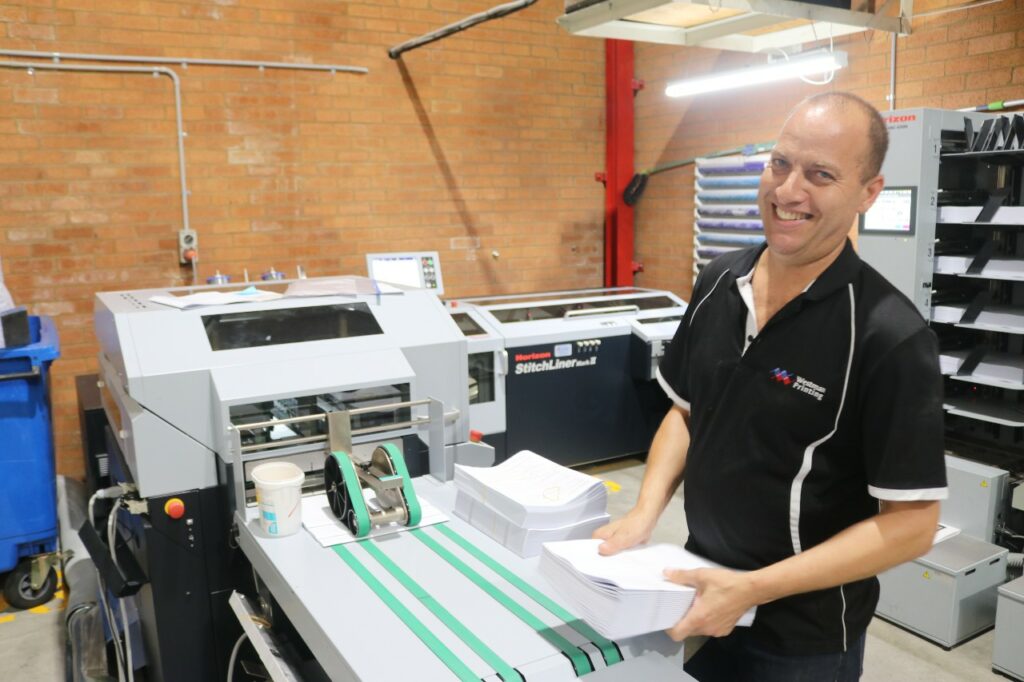 Market conditions in Sydney, particularly due to the closure of Sydney Binding, also prompted the decision to upgrade capabilities in the bindery, with the StitchLiner Mark III also available for trade use.
With run lengths of booklets getting shorter and shorter, Gulati needed a stitching line which could be quickly and easily reset to handle the increasing number of short-run orders.
Customers are also wanting everything faster than ever before, requiring commercial printers to mimic the speed and agility of a shopfront instant print provider.
Currie Group's Will Currie commended Gulati on thoroughly researching every aspect of what is needed to efficiently produce 'just in time' print.
"I think Vik has done a really good job of sticking to the ethos of just in time production. Care and capability equal true just in time production and the way he is investing in equipment is helping achieve that," Currie said.
"If you don't weigh up everything including courier costs, jobs that can go wrong and come back faulty, your costs are going up and your turnaround times extended. As a supplier and the friendship that we have with each other we've really been able to be honest about how to make this actual just in time production happen."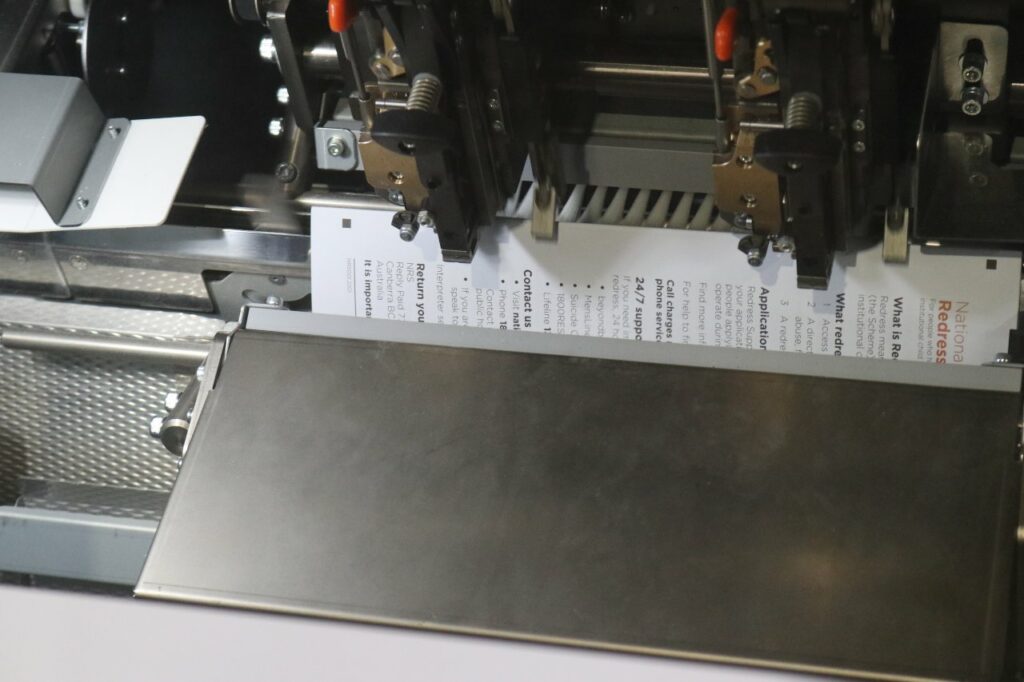 Currie added that the results of Horizon's customer-informed research and development explains why the StitchLiner Mark III is delivering what printers, like Gulati, need to be successful.
He said the 40-year relationship forged by his father, David Currie, and Ejiro san from Horizon, which was also supported by Currie Group's Rob Peterson, has contributed to the Horizon products available today and ensured seamless installations, operator training programmes and ongoing servicing of the products.
"We have worked very, very closely with Horizon creating products that have been user friendly and well-constructed," Currie said.
"So much so that we've always had faith in the training programme that we've created because it's been very simple, and we've been able to translate that with the plans we map out for our installation and training schedules with every machine.
"It's been a remarkable experience for two family businesses, being able to work together in two very different markets. I think the strength of the relationship reflects on the ability for us to be very successful, and for them to be successful in the market as a result."
Currie said the standardised user interface and computer system which is now standard across the Horizon binding range is an absolute game-changer.
"This, in my opinion, has been a gamechanger for the industry. It really came into play during COVID when staff were unavailable as it made it easier for one person to run both set ups. Horizon have looked at what is happening in the market and delivered what is needed," he said.
Out on the factory floor, Gulati said introducing the new StitchLiner Mark III had also lifted morale especially after two years of COVID difficulties. This sentiment was supported by bindery manager, Adrian Burger, who demonstrated the swift and easy process of running the StitchLiner Mark III.
"Well, I'm not having to yell out that it's down again, so that is definitely a bonus," Burger said.
Comment below to have your say on this story.
If you have a news story or tip-off, get in touch at editorial@sprinter.com.au.
Sign up to the Sprinter newsletter