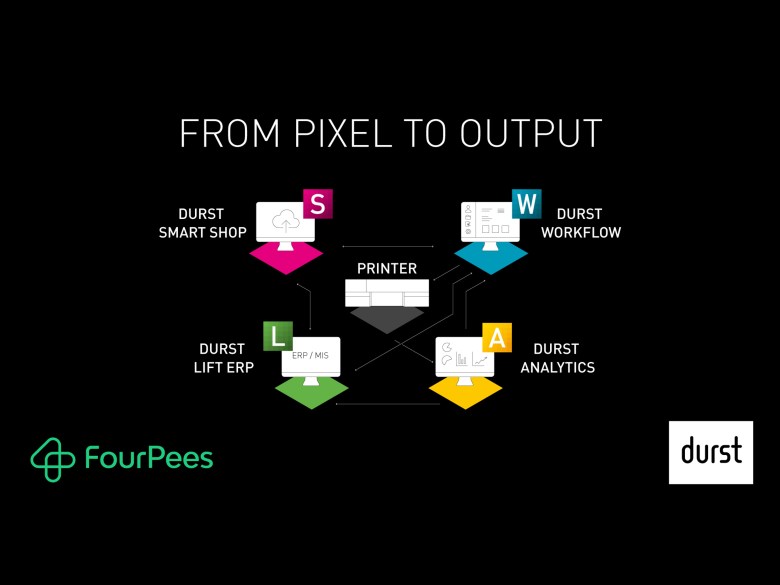 This article first appeared in the September issue of Australian Printer, authored by Durst Oceania managing director Matt Ashman
Having a good and reliable workflow/Management Information System (MIS) has become essential for any printing business, especially one that deals with so much digital origination. These software solutions need to be intelligent and simple, optimising the process from pixel to output.
Workflow/MIS systems of today need to take print manufacturing to new heights. The solutions need to deliver from initial file creation through prepress, to production and final analysis – helping customers improve their printing and simplifying their businesses.
With a good workflow software, such as the Durst Workflow and Durst LIFT MIS solutions, a print service provider can establish protocols for efficient handling, thus saving money for the business and having the ability to focus on other parts of their business that needs attending to.
Durst Workflow is an all-in-one solution which includes all steps of the prepress and production process in a single application. It enables businesses to simplify production, customise processes and bring their productivity to a new level.
The browser-based software solution combines data preparation, colour management and output preparation to ensure efficient production with optimal results in the shortest possible time. The modern and easy to use interface allows multiple users with customisable permissions to work in parallel on the same database.
Its integrated Harlequin RIP is optimised for parallel processing of multiple production jobs, allowing customers to provide faster turnaround times across multiple jobs.
Durst Print Workflow can also be integrated into an existing ERP/MIS environment. This allows for the exchange of information between these systems automatically to avoid redundancy and ensure correct data.
A company in Australia using Durst Print Workflow is Mediapoint. When the company invested in its Durst 512R LED five-metre roll-to-roll printer in 2020, it also installed the Durst Print Workflow system. Prior to this, it used its own workflow system.
Mediapoint decided to adopt this Durst software as it was looking to add value across its whole supply chain. Since using the software, it has saved Mediapoint time and valuable resources as automation is used to standardise processes.
The company has also been able to extract valuable information for their business needs, such as information about uptime, machine status, ink consumption, usage, status of sensors, and more. This has been used by Mediapoint to make business decisions.
As for the Durst LIFT MIS software, it provides a single integrated platform to run every aspect of a print business. The process is automated and streamlined, from taking a customer's order online, into pre-flight and manufacturing, and all the way though to customer delivery.
Durst has one overriding goal at LIFT – creating a workflow management system flexible enough to meet a print service provider's needs, so they don't have to force their process to conform to the software.
With all the complexities and ever-growing needs of a modern business, LIFT MIS is a comprehensive Cloud-based ERP system that aims to reduce IT infrastructure and costs while managing a printer's technology securely. This enables the business to view their information from anywhere, at any time.
It is a paperless workflow, meaning no more paper job tickets are required. LIFT uses screens and devices so every participant gets the information that they need. A new Online PDF approval streamlines the approval process from customer to printer, too.
From order creation to shipment, it lets businesses keep their customers and themselves in the loop with real-time reporting and push notifications. In addition, it is flexible enough to work across all segments including LFP, labels and corrugated.
All of Durst's software solutions are server based, so can be accessed by anyone in the business on any computer. Plus, the systems integrate with each other and Durst's printing devices (along with all third-party printers), offering a seamless solution.
Migration across to Durst software is simple if a business has an MIS installed. If not, there will be a period of evaluation and set up that analyses all parts of the business that LIFT will manage. As for Durst Workflow, it can be up and running in a day.
When looking to implement workflow/MIS into a business, a print service provider needs to pick a system that has automation with intelligence and some degree of machine learning to streamline mundane tasks.
It needs to be a helpline for customers by understanding and managing their business. It should also automate the mundane tasks that would have prepress operators tied up for hours. Print service providers should also look out for CMS and ink saving solutions as they actively save money on production print runs.
Durst fully understands the challenges from customer idea to final product shipment, and has the user-friendly software to alleviate these challenges.
Durst also supplies all of its software on a Software-as-a-Service basis, thus all upgrades are included moving into the future. A user can rest assured that its R&D now and into the future will be easily attainable by customers.
Comment below to have your say on this story.
If you have a news story or tip-off, get in touch at editorial@sprinter.com.au.
Sign up to the Sprinter newsletter