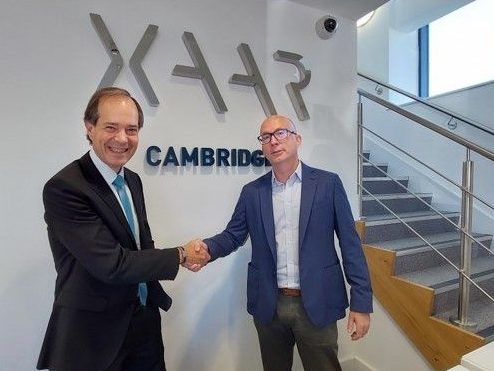 Industrial inkjet printhead supplier Xaar and multi-material end product printing company Quantica have signed an exclusive commercial partnership to manufacture Quantica's NovoJet printheads, enabling ultra-high viscosity printing for 2D and 3D printing applications.
The companies said this partnership combines Xaar's expertise in inkjet printhead manufacturing with Quantica's ultra-high viscosity printhead technology.
Manufacturing will take place at Xaar's facility in Huntingdon, UK, with both companies expecting the initial NovoJet printheads to be shipping in Quantica's first 3D printers from the end of 2023.
They said that the agreement also gives Xaar commercial access to Quantica's IP in the jetting of highly viscous materials at up to 400cP at jetting temperature, adding that this will complement Xaar's existing printheads and ImagineX technology portfolio which already enable jetting up to 100cP.
In addition, the companies said they will now offer the widest capability in printing high-performance materials to OEM customers, meeting the opportunities for advanced manufacturing applications across electronics, display, industrial coating, adhesive and life-science sectors.
Founded in 2018 in Berlin, Quantica said it has dedicated its research and development efforts to both the novel NovoJet printhead technology and advanced multi-material 3D printers.
By partnering with Xaar, Quantica will further focus on the development of its 3D printing systems for applications in dental, medical, electronics, R&D, and more.
Xaar chief operating officer Graham Tweedale said, "Our partnership with Quantica is a win-win for both our businesses. The combination of our existing ImagineX technologies with the capability offered by Quantica's IP will ensure Xaar offers the widest range of solutions in jetting highly viscous materials.
"Similarly, Quantica will now be able to focus on the launch of its NovoJet 3D printers, with the backing of our expertise in manufacturing truly robust and reliable printheads."
Quantica chief technology officer Ramon Borrell added, "Our mission is to give customers the full freedom of production, and this partnership is instrumental in helping us achieve this.
"Xaar is widely recognised for the quality of its printheads, and this agreement enables us to focus on delivering the roadmap of innovative NovoJet 3D printers for high performance multi-material parts with full confidence the printheads will deliver for our customers and partners."
Comment below to have your say on this story.
If you have a news story or tip-off, get in touch at editorial@sprinter.com.au.
Sign up to the Sprinter newsletter