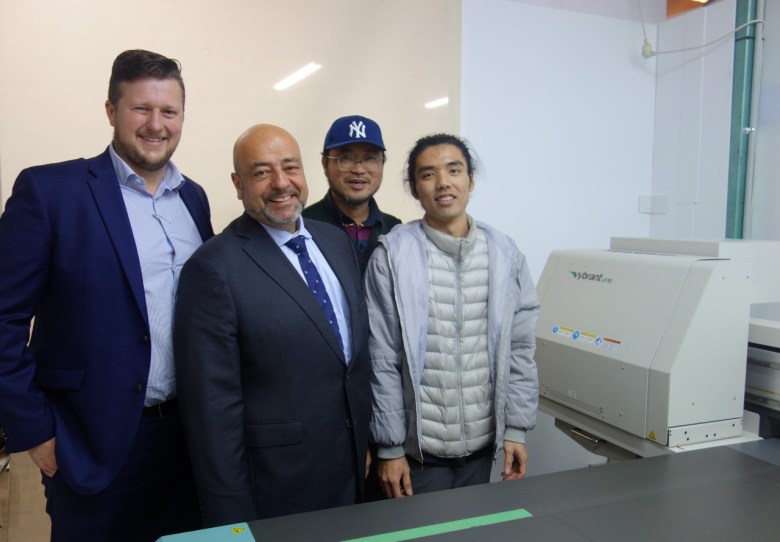 Sydney wide format and POS specialists, AB Media, formed eight years ago to meet growing demands for media walls and other printed display materials for weddings and retail events within Chinese communities in Sydney, Melbourne and the Gold Coast.
The business has traditionally relied on roll-to-roll printing to self-adhesive vinyl which requires a two-step production process with the printed material also needing to be applied to the substrate.
This workflow was beginning to cause issues for the business – mostly around the time and number of employees required to get the job done and the risk of bubbling, dust capture and other errors in the application process.
Booming demand for 2.4m x 4.8m media walls and other large format print used in pop-up stores and displays also meant AB Media were under pressure to produce jobs faster and with higher quality standards to meet the needs of clients.
These factors led AB Media's owner, Ting Du, and his production manager, Jasper Tan, to look at investing in a flatbed printer, but until the launch of the Fujifilm Vybrant UF-10 printer last year they hadn't been able to find one to suit their needs and budget.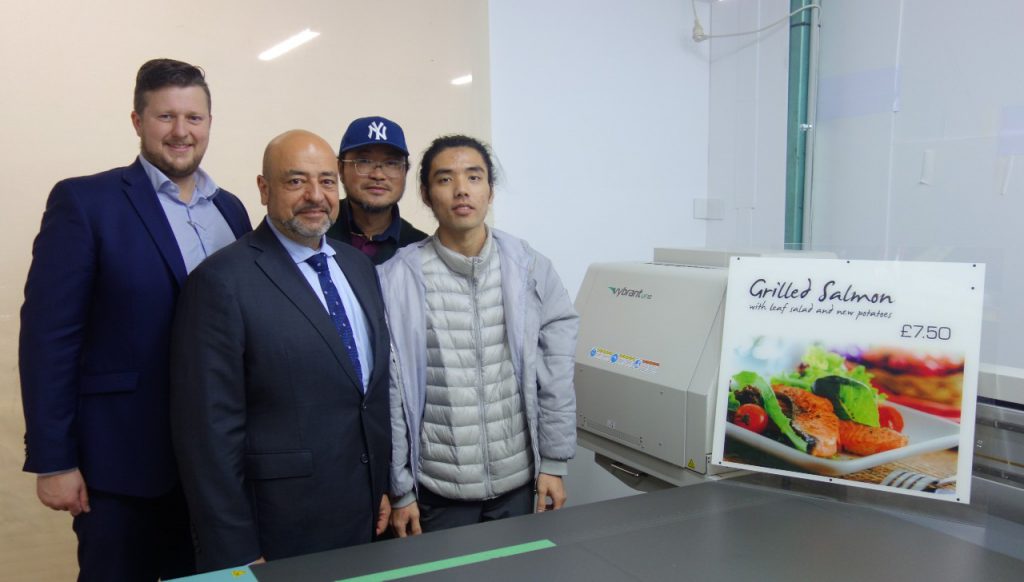 AB Media already utilises a A3 production device from Fujifilm Business Innovation
Australia (FUJIFILM BI) so with this relationship already built, discussions began with Fujifilm Business Innovation Production Specialist Gavin Bennett, Metro Business Director Blake Hooper and Account Executive Tony Bartolotta.
The installation was taking place during a difficult time for AB Media with COVID-19 restrictions impacting weddings and other events. This meant the FUJIFILM BI team worked with Mr Du to find the right pricing solution to enable AB Media to expand their production with flatbed hardware.
"Over the last year the business has been impacted with COVID-19, so Gavin, Blake and Tony were able to help me with the rental. They also helped me find the best way to make use of this opportunity so I can produce other products and increase my revenue," Mr Du told ProPrint during a recent visit to his factory in Alexandria, Sydney.
Mr Du said with business now returning to normal, he is very happy now the Vybrant UF-10 is fully operational as it has allowed his business to take advantage of opportunities and offer a broader range of products to customers.
"We are the biggest supplier of backdrop media walls, pop up stores and exhibition and events display signage for the Chinese community," Du said.
"This machine is more efficient for our jobs. We used to print to adhesive vinyl and then mount that onto the board, but now we have gone from two steps to one, so it is much easier and much faster.
"Before printing direct to media, as we do now with the Vybrant UF-10, the previous process meant we couldn't adhere the vinyl to the boards without bubbles or dust getting caught under the media. Now the resolution is very clear, and the final product looks so much better."
Accessible price point
The Fujifilm Vybrant UF-10 sits at an accessible entry level price point making it an ideal first step into the flatbed market. In production mode it can print at 16 square metres per hour and has the versatility of 6 channel CMYK with 2 white channels as standard.
The Vybrant UF-10 utilises Fujifilm's Uvijet UV cured inks to print a matte or gloss finish with a variable drop size from 7 to 21 picolitres with LED curing for printing on thin film media to keep energy costs to a minimum. It can also handle flexible and rigid media up to 51mm thick, including corflute, foam board, aluminium, timber and even ceramic tiles.
The Fujifilm Vybrant UF-10 has four dedicated vacuum zones to minimise the use of masking which ensures the media is held firmly in position to maximise quality and reduce make-ready time – features that were applauded by Jasper and Mr Du during ProPrint's visit.
An anti-crash sensor also means damage to the printheads can be avoided.
The new flatbed has also allowed AB Media to expand into supplying bespoke decorations for children's birthday parties and other events, plus specialised signage – which in turn is offering opportunities to add higher value items into its offer and thereby boost revenue.
Chris Lynch, General Manager, Graphic Communication Services said he was pleased to see the FUJIFILM BI team be a part of the process that has helped AB Media become more profitable through offering a more efficient and higher quality service with an expanded product range.
"This is a great example of working directly with our customers to understand their exact needs to provide the right solution in unique and important times," Lynch said.
"The decision to invest in the Fujifilm Vybrant UF-10 came from an understanding of the job profile and the go-to-market strategies here at AB Media. It was also about understanding how we could help make the business more efficient.
"There are obvious cost savings, with speed to market and the ability to increase the range of products AB Media has to offer. I think the Vybrant UF-10 has more than satisfied all of AB Media and Mr Du's requirements."
For more information about the Fujifilm Vybrant UF-10, please contact Fujifilm Business Innovation Australia or visit www-fbau.fujifilm.com/en/Products/AU-Wide-Format.
Comment below to have your say on this story.
If you have a news story or tip-off, get in touch at editorial@sprinter.com.au.
Sign up to the Sprinter newsletter