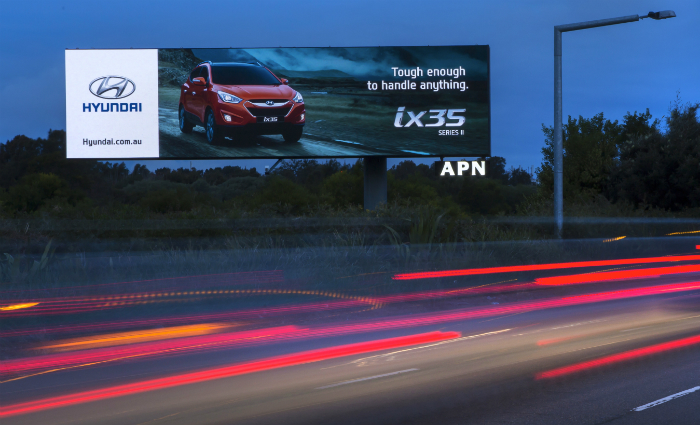 The largest shakeups to the Australian outdoor media industry this year have been given the green light to go ahead, with the ACCC approving advertising firm oOh!media in buying Adshel for $570m and French giant JCDecaux in its $1.2bn acquisition of APN Outdoor.
The sale of Adshel from owner Here, There & Everywhere (HT&E) is expected to be completed by the end of next month, while APN says its deal with JCD should be finalised before the end of the year.
The APN sale still requires approval from the Foreign Investment Review Board (FIRB) in Australia and the New Zealand Overseas Investment Office (OIO).
The company also reported its results for the half year ending June 30, with APN generating $168.4m in revenue, up 4 per cent from $162.3m in the prior corresponding period (pcp), while its underlying EBITDA came in at $33.7m, up 7 per cent from $37.2m the year before. Classic (print) advertising remains its majority source of revenue over digital, making $97.4m in the half, although it fell by 5 per cent from the pcp. Digital revenue sprang up, coming to $71m, increasing by 18 per cent.
JCD operates essentially in street furniture with APN bringing its strength in large format billboards and airports. Similarly, oOh mainly operates primarily in the large format billboard, airport and retail categories, with Adshel bringing what it claims to be the largest street furniture network in Australia.
Rod Sims, chair of the ACC says, "The information before us, including bidding data for sites, indicates that the respective merger parties rarely compete head-to-head.
[Related: JCDecaux to buy APN]
"Some market participants expressed some concerns, in particular about the possible anti-competitive bundling of different out-of-home categories. However, the major media agencies and large advertisers did not generally express strong concerns, and the ACCC considers that bundling is unlikely to have a significant impact on competition.
"The merged companies will continue to compete with each other and with other out-of-home advertising providers. We consider that the options for advertisers and site owners will not change significantly and so neither of the proposed deals is likely to substantially lessen competition."
The deals come after APN and oOh! proposed a $1.6bn merger last year, only to be knocked back by the ACCC. APN made its deal with JCD following oOh! beating it out for Adshel after months of bidding.
Sims says, "These transactions are between businesses that operate for the most part in complementary segments of out-of-home advertising. This is very different to the proposed tie-up in early 2017 between oOh!media and APN Outdoor, where the companies were in direct competition with each other."
Brendan Cook, CEO of oOh! says, "For oOh!media, the acquisition of Adshel will add a missing piece to our diverse Out Of Home portfolio, by adding a national street furniture and transit offering.
"Adshel is an excellent business with great people and provides a massive audience reach through what we see as a great street furniture offering, plus its rail network in Sydney and Melbourne delivers the CBD audience, an area we know has real value to advertisers.
[Related: oOh! takes Adshel for $570m]
"Through this acquisition, we will deliver better service to our advertisers and at the same time fast track innovation in our product offering therefore providing us with exciting opportunities for the business and its growth.
"The digitisation opportunity in the Adshel business is expected to provide a significant avenue for further growth beyond what has been achieved to date."
Digitisation is a strong lure for oOh! with digital now surpassing print for the company, generating 64 per cent of its revenue.
James Warburton, CEO of APN says, "We are pleased to acknowledge the announcement by the ACCC this morning clearing the JCD transaction. This means one of the key hurdles to the highly attractive takeover of APN at $6.70 a share has now been cleared.
"We expect FIRB and OIO approval to follow ahead of a shareholder vote in October and implementation before the end of the year."
Ciaran Davis, CEO of Here, There & Everywhere says on the sale of Adshel, "The proceeds from the sale will put the HT&E business on a strong footing to pursue its future plans."
Comment below to have your say on this story.
If you have a news story or tip-off, get in touch at editorial@sprinter.com.au.
Sign up to the Sprinter newsletter