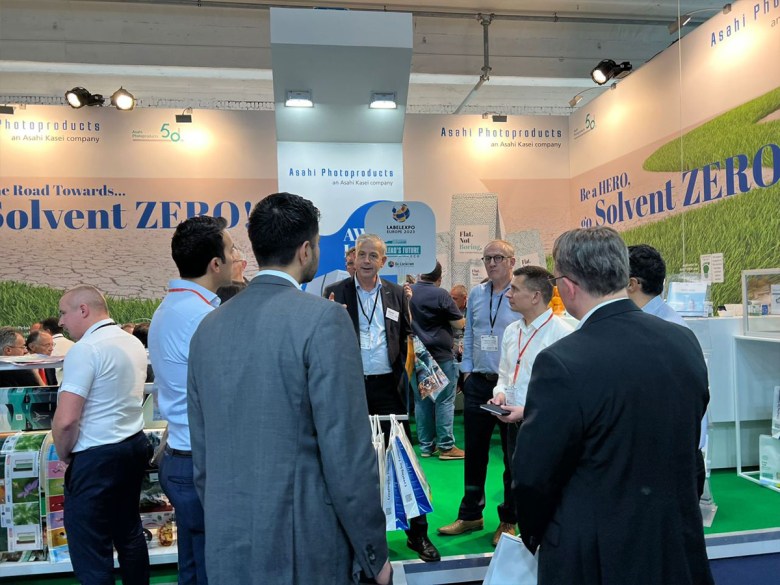 Asahi Photoproducts has invited renowned Expanded Colour Gamut (ECG) expert Dr Kai Lankinen to help demonstrate its benefits and the value of implementing the ECG into label and packaging production. 
Asahi Photoproducts is showcasing a variety of ways that the future of sustainable label and flexible packaging production is available today and how the company can work with flexo operations to help converters along their road to Solvent ZERO. Printing with expanded gamut process colours allows for a broader colour gamut and typically includes CMYK plus orange, green and violet.
By adding these three additional base inks into the process, producers can achieve a much closer match to traditional formulated spot ink colours as well as eliminate the need to wash up the press between jobs. Minimising or eliminating solvent use in the plate production process is a key step for many flexo operations in reducing their carbon footprint and offering a more sustainable flexo operation and a cleaner, more enjoyable working environment.
Asahi Photoproducts technical marketing manager Dieter Niederstadt said, "In addition to featuring our Carbon Neutral AWP CleanPrint plates, we also focus on the value that ECG printing brings to flexo printing operations.
This includes higher quality and improved productivity, since press wash-ups between jobs are reduced or eliminated using this approach and it is easier to achieve almost all Pantone colours, greatly expanding the colour gamut that can be produced with flexographic printing. Asahi experts will be on hand to answer visitor questions and recommend solutions to existing challenges they may be facing."
ECG expert Dr. Kai Lankinen, founder of Dr. Lankinen Graphic Innovations, is conducting walking tours of five ECG booths during the show. He is a results-oriented international professional packaging printing consultant who is passionate about efficiency and sustainability through implementing ECG technology.
According to Asahi, Pantone estimated that between 15 and 25 per cent of all packaging is printed using ECG, based on printers using ECG software. The company expects this to increase by more than half over the next decade, and there is opportunity for that percentage to grow even more as flexo companies take advantage of the types of educational opportunities Asahi is offering at Labelexpo. 
The company is showcasing its Asahi AWP CleanPrint plates, which are water-washable, supporting the company's Solvent ZERO approach to product development.
The AWP-DEW plates are already certified Carbon Neutral in collaboration with the Carbon Trust and the AWP-CleanFlat plates are currently in the final stages of the Carbon Neutral approval program. Both plates are designed with sustainability in mind.
Due to their precise registration, these plates are ideal for ECG printing. They reduce waste and environmental impact by minimising ink and solvent usage and reducing makeready time and waste. And since they are water washable, they eliminate the need for harsh chemicals in the platemaking process.
Labelexpo visitors can also learn how switching from solvent-wash to water-wash plates can not only make their operations more sustainable, but also reduce waste, improve print quality, and speed time to market.
Asahi Photoproducts introduced its updated AWP waste water recycling unit for use with AWP plate processing systems.
The unit features proprietary filtering technology developed by Asahi Kasei that reduces wastewater by 75 per cent and detergent usage by 40 per cent. In a standard 10-hour-per-day plate processing operation, the system can process plates up to 38 square metres.
This filtering technology, under the brand Microza, is Asahi Kasei's hollow fibre membrane separation technology that delivers cutting-edge water treatment capability, as well as a wide range of uses in other industrial processes.
In the AWP wastewater recycling unit, this technology has been optimised to meet increasingly strict regulations on wastewater discharge. The filtering cartridge can be easily replaced, with the replacement frequency depending on the customer's plate production volume; and the small amount of treated wastewater can be collected by a contractor for disposal.
Comment below to have your say on this story.
If you have a news story or tip-off, get in touch at editorial@sprinter.com.au.
Sign up to the Sprinter newsletter