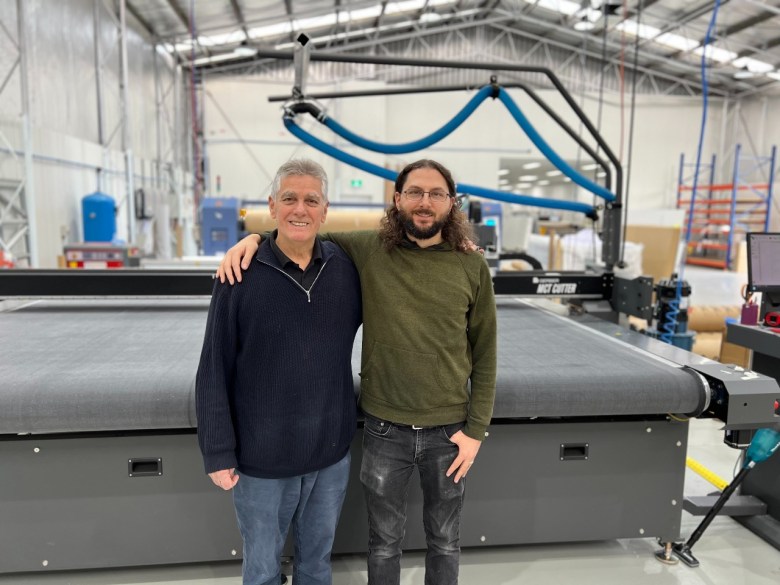 This article appeared in the August 2022 issue of ProPrint, to view the magazine online, please click here.
The year 2020 did not end as hoped for Carlo and Deon Capogreco – the father and son who own South Australian trade printer, Big Image Australia.
COVID had caused great uncertainty but as 2020 neared its end, the Big Image Australia team were busy supplying the print needs for the booming hotel and shop fit-out redesign market and were needing a good break.
With the Christmas holidays having finally arrived, the Capogrecos closed shop but their holiday was short lived after a massive fire erupted on Boxing Day and destroyed their Hindmarsh factory, near
the Adelaide CBD.
The blaze claimed Big Image Australia's entire plant and equipment and with two weeks to go until their customers returned to work, Carlo and Deon immediately began working on a stopgap solution.
The goodwill the Capogrecos have in the industry – with other printers, suppliers and customers – immediately proved its worth.
Offers came in for them to use office space free of charge and spare computers and desks were found. Other printers said they were happy to fulfil orders meaning Big Image Australia did not drop a client during the crisis.
HVG Graphics Media is a key partner of Big Image Australia and general manager Richard Lucas put Deon and Carlo in touch with another HVG customer, Adelaide Expo Hire, which at that time had capacity
and office space which it leased to Big Image Australia.
With a short-term solution found, their attention then turned to finding a permanent home. The business had outgrown the now burnt-out 750 square metre site, so finding a bigger and more suitable site became the focus.
Finding commercial property is not easy. After six months of searching, one of Deon's
cousins, who is also a property developer, found a 1,500 square metre site at Green Fields. The site needed work and was renovated to suit the specific needs of Big Image Australia with the Capogrecos having an option to buy it at a later stage. After three months of building work, Big Image Australia moved in during September 2021 and now thanks to the new North-South Motorway, it is 10 minutes' drive from the CBD.
"It has all turned out well. We have had a lot of support from people – friends, family, clients, and the industry. We could not have done it without all that support because it's just such a massive task," Deon said.
"When the fire first hit, our immediate thought was how are we going to keep supply happening? We got the contacts of other printers and spoke to them and they were all happy to help us through so we
ended up outsourcing some of our ongoing work. This was wonderful as it meant we could continue to supply our customers but it has also given us some great new contacts in the industry."
Thankfully an insurance cheque came through quickly to replace machines which had been destroyed. These included a new Acuity Ultra five-metre-wide press from Fujifilm, a new HP R2000, HP 1500 and a HP 800 with white ink capability. Given the freight delays impacting all sectors, the ability to order the machinery early was fortunate as it meant the machines were in Australia and ready to be installed in the same week Big Image Australia moved into the new site.
Big Image Australia also diversified into dye-sublimation printing and added a HP Stitch, a 3.2-metre-wide dye-sublimation printer, to its stable of equipment.
"We were doing little bits of fabric in the past either with UV or with latex printing and we thought there's a definitely a market here so if we're going to do this, now's the time because we could have the place set up to be equipped for it," Deon said.
"At first, we were getting mostly flag work but it has been growing non-stop every week and we are now getting into higher and higher volumes of fabric. It has been a real positive for us because it allowed
us to diversify and access a new part of the market that we were only dabbling in before. We were never in doubt about what we wanted to do and by staying positive and looking ahead we were able to meet the challenges that faced us."
Comment below to have your say on this story.
If you have a news story or tip-off, get in touch at editorial@sprinter.com.au.
Sign up to the Sprinter newsletter