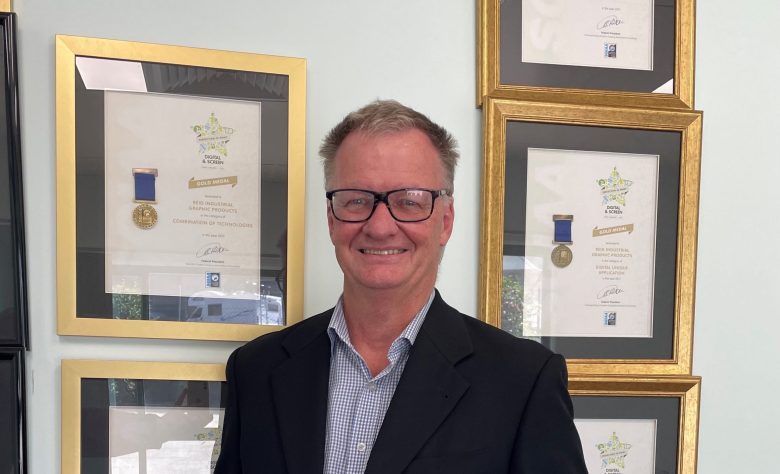 The FESPA Australia board has awarded its past-president Clem Johnson with the association's highest honour – the life membership award.
FESPA awards life membership awards to members who have shown by example a professional and committed approach to the sign industry in their respective states over a long period of time.
Johnson's involvement with FESPA Australia began in 1998 as treasurer of the Queensland branch of SGIAA (now FESPA Australia). In 2005, he was elected federal president of SGIAA, which he served in for 11 years.
"Clem took on his presidency during a challenging time for the Association," FESPA Australia president Nigel Davies said.
"Digital technologies were changing our traditional membership profile, and Clem championed our drive to join the global community to capitalise on opportunities this trend would bring. His efforts lead to SGIAA being granted FESPA Associate Membership and ultimately full membership of the FESPA federation.
"Clem was passionate about training and served tirelessly on initiatives such as the Future Print Pilot Project, steering committees on apprenticeship training and the Glen Crerar Training Trust."
The Future Print Pilot Project is a national project that involves the investigation and implementation of innovative ways of enhancing the competency-based training system. Johnson worked closely with the Future Print advisors in identifying a stream of training options to better meet the needs of SGIAA members and the wider print communities.
Johnson's professional career started with C&S Designs in Brisbane in the late '70s, where he gained a Cert 3 in printing and graphic arts.
In 1989, he established his own business, Reid Print Technologies, to design, develop, and manufacture a range of innovative functional printed products for industrial and commercial applications. Today, Reid Print Technologies is a leading manufacturer in this highly-specialised field.
"I have been fortunate through my time with FESPA Australia to meet many wonderful industry people, both locally and overseas," Johnson said.
"Hearing their stories, sharing in their passion for the industry and simply catching up is priceless."
"It is a privilege to have worked with Clem during his time as President, and FESPA Australia is stronger today for the foundations that he and his board put in place. I have the highest regard for Clem personally and professionally, and I am honoured that we can celebrate his contribution in this manner," Davies added.
Comment below to have your say on this story.
If you have a news story or tip-off, get in touch at editorial@sprinter.com.au.
Sign up to the Sprinter newsletter