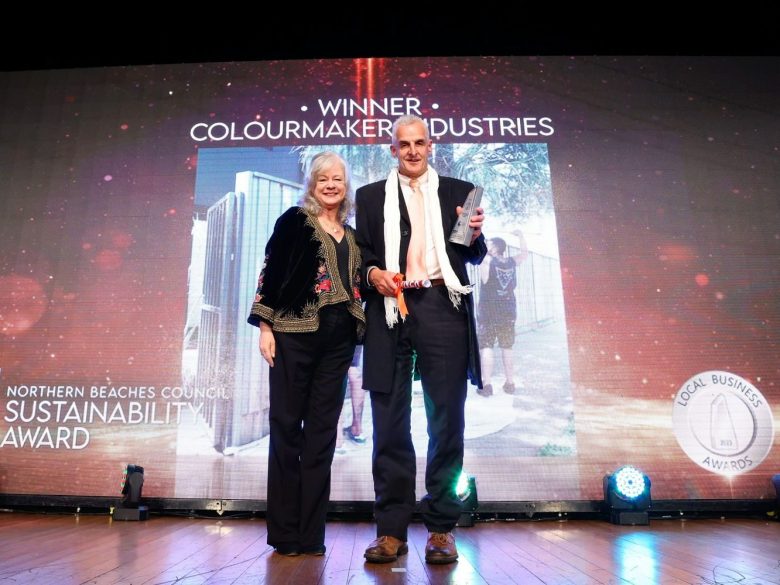 Sustainable paint manufacturer Colormaker Industries was recently selected as the winner of the Northern Beaches Business Sustainability Award for 2023.
The Northern Beaches Sustainability Award recognises businesses that are actively pursuing sustainable practices, embedding them into their business planning, operations and marketing.
Colormaker, located in Brookvale on Sydney's Northern Beaches, won the award for its eco-friendly house paints, PERMASET water-based inks, ACRYLMERIC waterproofing membranes and floor coatings, LUXAPOOL swimming pool paints and PERMACRYLIK scenic artists paints, which are all made in its factory with an increasing focus on solvent-free, low-VOC and water-based technologies.
Everything is manufactured using 100 per cent renewable energy, most coming from Colormaker's 100 kW solar array.
Colormaker also reduces its waste – recycling paper, board and scrap metal, and where possible, uses LED lighting throughout its office and factory complex, as well as the use of rPET packaging sourced from post-consumer waste.
It also has a small but growing fleet of EVs charged off the roof. The company uses these for local deliveries and staff commutes, helping reduce the business' and staff members' carbon footprint and staff cost of living pressures.
Colormaker managing director David Stuart said, "Colormaker is delighted to have been recognised with the Northern Beaches Sustainability Award. What we have achieved has been the culmination of work by many people contributing countless hours for over more than 20 years to make this happen.
"I cannot begin to express how grateful I am to each and every one of them for the support that they have given to us on our journey."
Colormaker also said it is committed to the continual improvement of its environmental performance.
The business has employed several measures to reduce the impact of the paints and inks that it produces.
These include significant investment in R&D aimed at making all of its products more eco-friendly. There has also been a big drive to improve the energy efficiency of its entire operation – some of that is through installation of more energy efficient production equipment.
In addition, Colormaker is currently on a waiting list for a larger EV with bigger payload capacity and longer range so that more deliveries can be made using clean power.
A carbon farm where carbon can be sequestered in soil using regenerative farming techniques is also on the horizon for the company. Using regenerative farming practices, where carbon is stored in soil as well as trees, this would be used to offset emissions in the business that were unavoidable.
"Our planet is very fragile at the moment so we don't have a moment to lose. Sustainability is something that we care deeply about. With our solar array, we're delighted to say that there's a little bit of Northern Beaches sunshine in every drop we make," Stuart added.
Comment below to have your say on this story.
If you have a news story or tip-off, get in touch at editorial@sprinter.com.au.
Sign up to the Sprinter newsletter