US-based remote digital proofing company ICScolor has appointed David Crowther's Colour Graphic Services as its Australia and New Zealand dealer and support agent.
The announcement comes in tandem with ICScolor's update to its digital proofing system, Remote Director, which addresses the critical need for brands to dynamically incorporate substrates of all types into their digital proofs to improve colour accuracy.

"Printers have long understood that 'paper is the fifth colour.' In other words, substrates profoundly affect colour accuracy and brand identity. ICS Remote Director users can build a custom library for substrates using LAB or spectral values in .CxF or ANSI's .cie formats. Users can use a spectrophotometer to measure values on poly/plastics, canvas, paper, paperboard, rubber and more," Crowther said.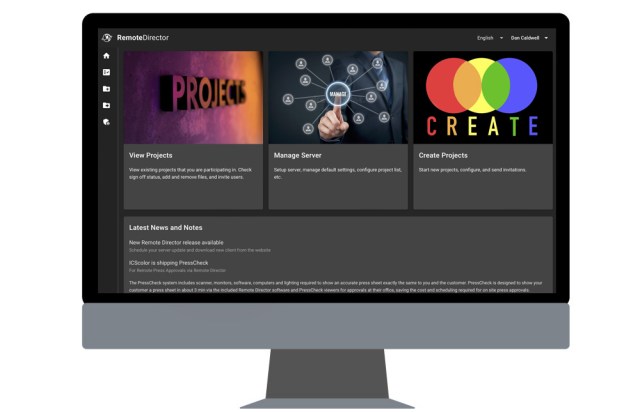 "Paper manufacturers such as Stora Enso and Sappi have provided these measured values for their popular products. These paper values are already part of the ICS Remote Director library, offering an expansive foundation on which to build – with new ones constantly added. Remote Director users can dynamically switch between substrates in their proofs, allowing for an accurate cost comparison and design decisions earlier in the creative cycle without ordering physical proofs."

"Many projects are proofed with an industry standard such as GRACol, which contains the paper colour of the GRACol profile," ICScolor president Dan Caldwell said.
"Showing the actual substrate being used eliminates the need to explain the difference to the buyer. In this era of continued supply fluctuations, knowing which available substrates will achieve your brand standards without blowing your budget is invaluable. We're proud to be the only system offering this option of dynamic comparison."
The recent v.4 update includes this addition for all Remote Director users at no cost under their standard service and support license.
"ICScolor Inc. is a world leader in remote digital colour proofing. Its technology pioneered colour-accurate soft proofing with the launch of Remote Director. The world's largest brands, converters, printers, pre-media, and publishers save time and money by eliminating the handling of hard copy proofs. Today, ICScolor's expanded suite of products and solutions are focused on digital colour proofing in real-time, on any mix of hardware and workflows at any location in the world. I welcome all inquiries for this remarkable product and obligation-free demonstrations," Crowther added.
Comment below to have your say on this story.
If you have a news story or tip-off, get in touch at editorial@sprinter.com.au.
Sign up to the Sprinter newsletter