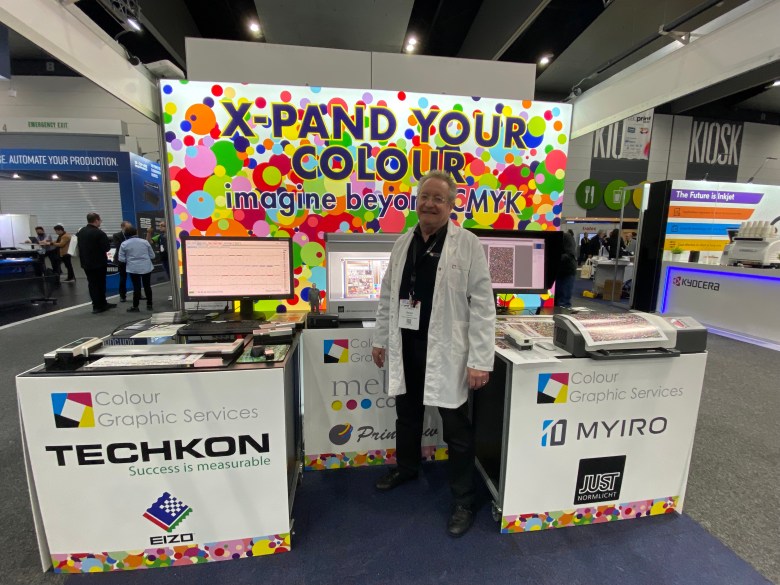 Colour Graphic Services has become an authorised reseller of colour management, measurement and control solutions company X-Rite.
Colour Graphic Services managing director David Crowther was showcasing the X-Rite Pantone i1iO at PacPrint, saying that it is a solution that provides colour accuracy especially for substrates that are backlit.
The i1iO is a robotic, automatic chart reading system designed for photographers, designers, and printers who want to eliminate manual strip reading.
"Direct to textile and direct to fabric printing is a growing trend and the X-Rite i1iO provides an option of a backlit LED tablet to simulate backlight," Crowther said.
"X-Rite is a huge company that makes colour management instruments and the X-Rite i1iO is a particular instrument that fills the void in this sort of work."
Key features of the i1iO include:
– Measuring reflective test charts on a variety of substrates up to 10 mm thick, including thin polybag material, ceramics, and textiles.
– Reading more than 500 patches per minute in scanning mode under the M0 measurement condition to quickly create custom profiles.
– Offering ultimate flexibility through hands-free automation and ease-of-use.
– Supporting automated transmission profiling with i1Pro 3 Plus for backlit film and materials used in signage.
– Providing more accurate and consistent profiles than created by hand.
Crowther also showcased the Myiro-1 and Myiro-9 spectrophotometers at PacPrint, which Colour Graphic Services started reselling in May 2021.
The Myiro-1 is a hand-held spectrophotometer for any third party supported software such as Mellow Colour PrintSpec, EFI, ORIS ColorTuner, Agfa, ColorGate, Creo, ErgoSoft, and Color Logic.
As for the Myiro-9, it is a super-fast auto chart reader that delivers data to the majority of third party profiling software used in all print disciplines – 1,500 patches in four minutes, according to Crowther.
He was also showcasing the Techkon SpectroDrive, the TechkonSpectro Plate and TechkonSpectro Dens at the tradeshow.
Comment below to have your say on this story.
If you have a news story or tip-off, get in touch at editorial@sprinter.com.au.
Sign up to the Sprinter newsletter