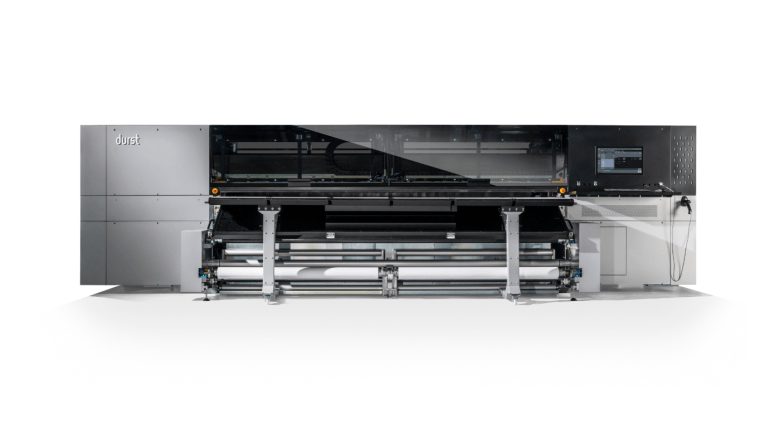 Digital printing offers a great deal of potential for printers especially when you consider the role variable printing, cloud connectivity and automation play in today's world.
In a recent technology feature which appeared in ProPrint magazine, technology writer Peter Kohn unpacked a number of different digital print technologies.
To read the full article in ProPrint, please click here.
Here we look at what Durst has on offer with Durst Oceania managing director Matt Ashman declaring the company's P5 range an unbeatable proposition for printers.
True hybrid offers flexibility
Ashman describes Durst's range of P5 true hybrid flatbeds as offering supreme flexibility and value for money which when combined make the range an unbeatable proposition for printers.
"The ability to load multiple sheets and have them all printed together with no alignment needed, being able to print roll media unattended on the same unit, printing boards up to a massive 3.5m width with no length restrictions," Ashman told ProPrint.
"The biggest advantage flatbed DTM offers is flexibility and zero setup cost, no need for expensive screens, no need to store them for your customer just in case of a reorder. No need to have a minimum quantity to justify the cost of the setup of a screen press. You can print one or 1,000 for the same setup cost."
TAU label printers
Ashman also says the Durst TAU range of direct-to-media (DTM) label inkjet label presses offer a variety of options for a label converter, as well as the commercial or wide format printer looking for new opportunities.
The press was first launched at Labelexpo 2017 and has set a new benchmark in industrial digital UV inkjet label printing.
The Durst Tau420 RSCi
"With the ability to print up to 52cm wide at 100 linear minutes per minute, it is the most productive inkjet press in its class," Ashman said.
In summary, Ashman says the Durst range equips print providers looking for new opportunities in wide-format to be "efficient for those customers who need it fast and be creative for those who need a difference.
"With a Durst press you have both opportunities," he said.
Company Contact Details: Durst Group
Contact Name: Matt Ashman
Contact Number: (03) 7025 9966
More info visit: https://www.durst-group.com/
Comment below to have your say on this story.
If you have a news story or tip-off, get in touch at editorial@sprinter.com.au.
Sign up to the Sprinter newsletter