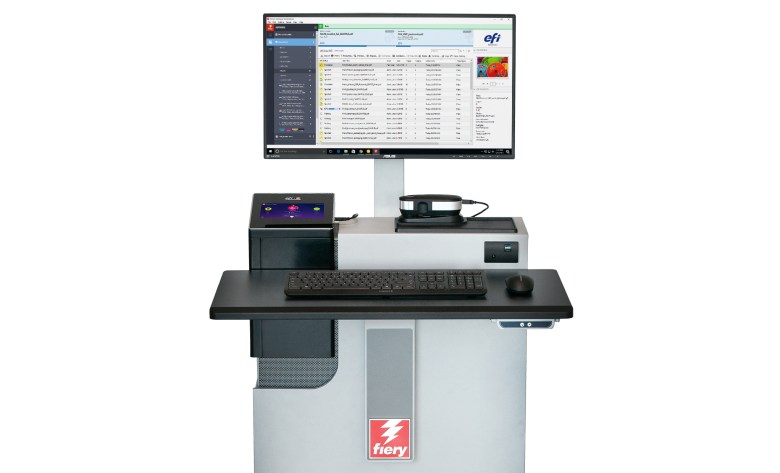 EFI is launching its next-generation Fiery rip at Chicago's Print 17, with the new high speed DFE set to power yet-to-be announced digital presses by the major players.
The majority of digital printing systems form the major vendors use an EFI rip to reproduce the digital image on a paperstock.
The Fiery FS300 Pro platform features updated print servers, colour management, integration capabilities, and speed enhancements push output up to 2,400ppm, while its new Command Workstation 6 has been revamped for easier use.
Print 17 will feature Xerox showing the first new engine product using the new Fiery platform, the Xerox iGen5 with white dry ink. Seven colour support on the new Fiery pushes beyond CMYK+W, says EFI.
John Henze, vice president of marketing, EFI, says, "With the trend toward shorter runs and faster turnaround times, digital print shops need systems that make every minute and every step count. Shops can double the processing speed on more types of jobs with Fiery HyperRip enhancements on the Fiery NX Premium print server.
"Higher Fiery processing speed enables 10x the throughput than before on Fiery XB print servers, driving print engines all the way to 2,400 ppm and beyond."
As a new feature, operators can now access a fast-reprint for quick copies, without the files needing to be put through the rip again.
David May, director Product Line Management, EFI, says, ""We have spent a lot of time on our HyperRip architecture to achieve high speed ripping over multiple jobs simultaneously.
We have added fast reprint. Often operators need to make a quick copy of it. Now it can go directly to the printer, without being re-ripped.
EFI says its Fiery FS300 Pro platform features prioritisation of spot colour edits on a job basis to satisfy customer's specific colour preferences.
The Fiery ImageViewer enhancements include Object Inspector and Total Area Coverage: features that help identify imaging problems related to particular object types.
With operators able to diagnose and troubleshoot colour problems without going back to the source files, EFI says it will save hours in turnaround time to get jobs out.
Industry analysts say that software investment surveys have consistently tell them workflow automation, managing shorter runs, and capturing shop floor data to use in business decisions are key areas of interest for print service provider.
Taking this into account, they say that with the Fiery FS300 Pro and the new Command WorkStation, EFI is responding to what printers want most from their DFEs.
Now running on Windows 10, EFI says the cyber security around the workstation has been improved- an important consideration given the vulnerability of print companies to cyber attacks.
May says, "Moving to Windows 10, it includes malicious application protection, man in the middle protection, and malware, antivirus protection. As an added level of security and simplicity, Fiery does not have to be connected to the internet, you can push the updates through your computer onto the Fiery, and schedule them for downtime."
EFI says its new Fiery workstations feature a compact, ergonomic and requires 20 per cent less floor space than previous generations, and able to adjust its height by 15cm.
The LS workstation's proximity sensor automatically displays Command WorkStation when the operator is near. In addition to the LS workstation's large, adjustable 27-inch monitor, Fiery NX servers include a 7-inch touchscreen display, with Fiery QuickTouch software that provides fast views of job status information and access to server management.
Comment below to have your say on this story.
If you have a news story or tip-off, get in touch at editorial@sprinter.com.au.
Sign up to the Sprinter newsletter