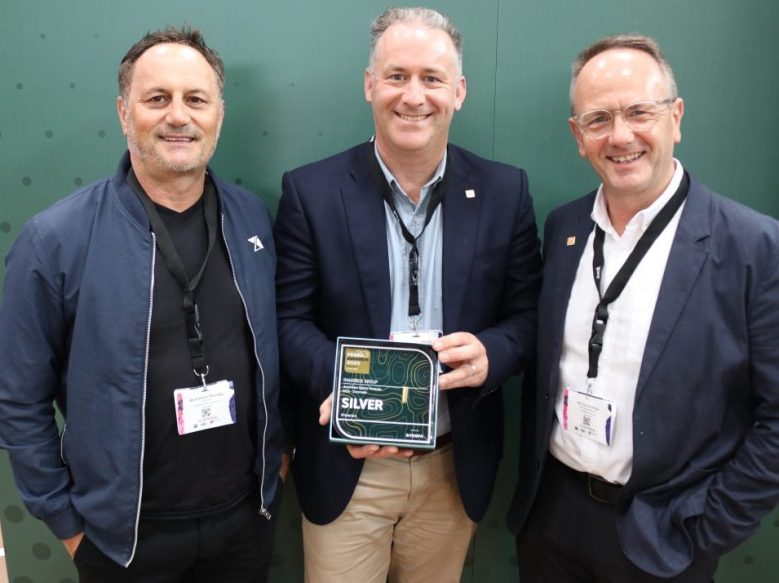 (Above l-r) The ImageBox team at FESPA: Dominic Borrello, Troy Cavanagh and David Asker

Melbourne-based large format printer ImageBox recently won the silver award at FESPA Munich in May for its wall installation at the MCG's Australian Sports Museum.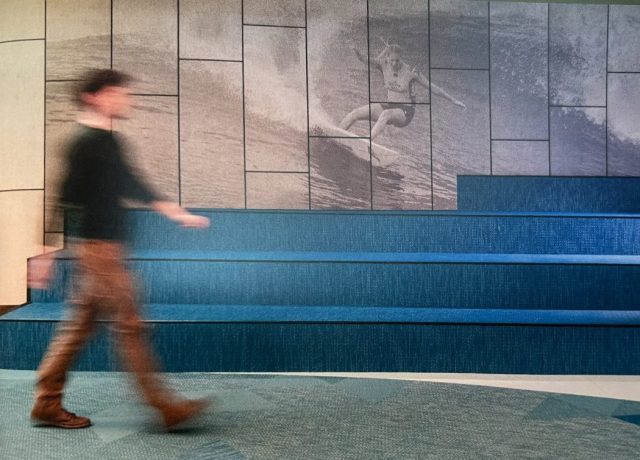 ImageBox sales director and FESPA Future Leader Troy Cavanagh explained that the wall installation, now a permanent exhibition at the Australian Sports Museum, began as a project in 2020 and took six months to complete.
"Over 300 sheets of Concreate wall tiles, which were 3mm thick, were shipped in by the builder for the shop fitter to cut to size, then label and mark everything to where it was to be installed on on the wall, because it was part of a whole wall installation. We then deep etched the artwork, created a dot pattern, printed each panel by panel as an individual piece on our EFI VUTEk LX3, and then shipped the panels back to site and installed them," Cavanagh said, explaining that the process took him and his team around three months of production time to finalise as they were waiting for the shop fitter to provide sections as they were individually completed.
US-based Concreate produces floor and wall tiles with a 'real concrete' finish that shows the irregularities and characteristics of natural, polished concrete. Its wall panels are available in 15 natural colours, and its floor panels are available in four colours.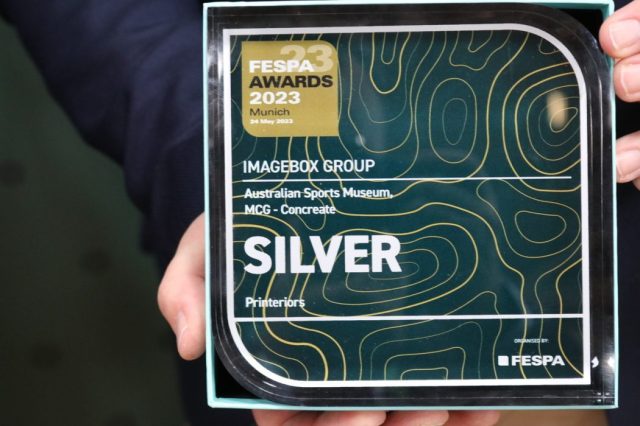 Cavanagh and the ImageBox team were rapt to receive the silver award at the FESPA Awards.
"It's fantastic! I think we have come a long way and to get recognition on the global stage is an incredible achievement," he said.
"We are also proud to have been up against another Melbourne-based company, All About Graphics, for the Daniel Jones installation – it's a credit to them as their work is of such a high calibre.
"This is one of the highlight projects that we do from time to time, like a marquee project, and it is particularly rewarding to see our work on display as a permanent exhibition."
Other Australian winners recognised at the 2023 FESPA Awards in Munich were All About Graphics, which won Best In Show, and Next Printing which also received the silver award.
Comment below to have your say on this story.
If you have a news story or tip-off, get in touch at editorial@sprinter.com.au.
Sign up to the Sprinter newsletter