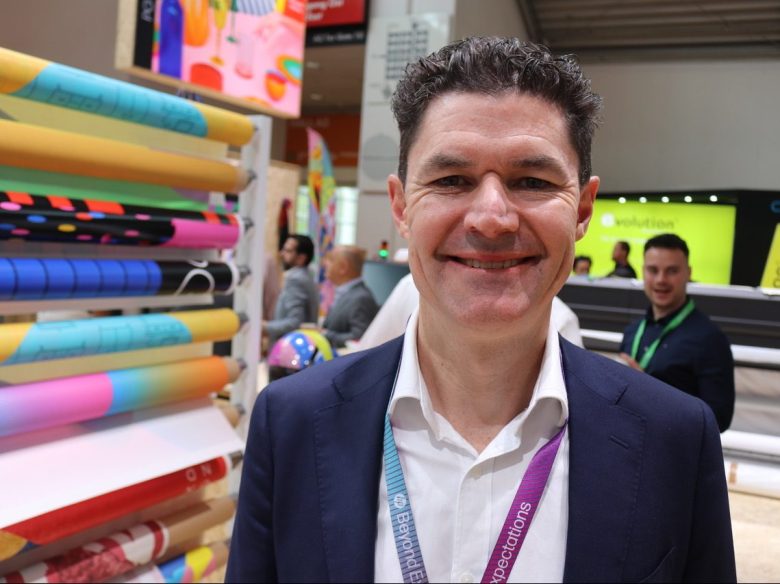 By James Wells at Fespa 2023 in Munich
Former managing director of HP Australia and New Zealand Mike Boyle has commented for the first time on his new global role located at HP in Barcelona.
In an exclusive interview with Sprinter, Boyle – who is now the global head of large format go-to-market – said that although he started the new role 10 months ago, he only completed the move to Barcelona three months ago.
"It has been quite a long process, but I am very excited to be finally in Barcelona. It is nice to be able to walk the corridors of the organisation as it is a very vibrant site and we have thousands of people there including our research and development team," he said.
"It is good to use my go-to-market experience being close to our customers and partners to drive innovation as well as making pragmatic decisions moving HP forward. It is a great honour as an Australian to have a role in HP in that regard.
"I am managing a number of countries – everything from emerging markets to the US, Latin America, India, Singapore and Europe – it does mean a lot of travel. And as HP has a long association with cinema, I was also fortunate to attend the Cannes Film Festival recently as well."
In terms of trends, Boyle identifies textiles and indoor graphics as one of the key areas for growth in the large format category.
"We are looking at textiles and interior spaces as being a very big opportunity – especially around hybrid working spaces – such as home offices which I am about to undertake myself so I am not going to be the plumber with a leaky tap," he mentioned.
"The theme that we have around the stand here at FESPA is getting into the sustainable aspects of what we do. Everything on this stand has been printed on an HP Latex – so it is really nice to see the possibilities.
"We are celebrating 15 years of HP Latex this week – it was 29 May 2008 at Drupa that we first announced it – so we had a birthday cake to celebrate this journey.
"I can't share anything ahead about Drupa in 2024, but I can reveal that the market should expect more around innovation on a workflow basis and more on an ecosystem play as well.
"We are using three words to describe the business at the moment – firstly Stunning… in terms of stunning applications and working to broaden our versatility around applications. Secondly we are looking to Streamline… and not only look at what printers do in terms of printing time but how do we improve efficiency and lastly Sustainability… and what does it mean from an end user environment as well as our PSPs and partners – we are looking to get them to dial in and look for ways they can contribute in a positive way to sustainability for all of us.
"These are our key messages for the printing industry at the moment. I am very energised and really loving my new role. I have a great team and great partners, but I do miss everybody in Australia and I will be coming back a couple of times between now and the end of the year – so I am keeping close ties with the Australian market as well."
Comment below to have your say on this story.
If you have a news story or tip-off, get in touch at editorial@sprinter.com.au.
Sign up to the Sprinter newsletter