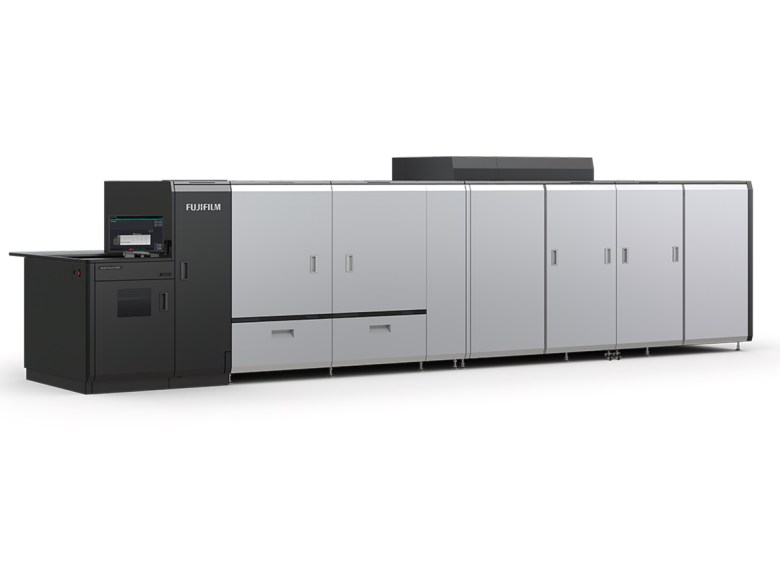 Following an appearance at Printing United in the USA this month and an earlier technology preview at iGAS in Japan in late 2022, the capabilities of FUJIFILM's new flagship Revoria toner press will be showcased to a European audience for the first time in early 2024.
The event will also feature a range of technology updates across FUJIFILM's toner and inkjet product portfolios for the commercial and folding packaging print sector. The Revoria Press GC12500 is the market's first B2, sheet-fed digital press using dry toner technology.
Following the success of the Jet Press 750S High Speed Model, renowned for its high quality and productivity, FUJIFILM is now introducing an effective toner solution designed to make high-quality B2 format digital printing, using in-house manufactured Super EA-Eco toner even more widely accessible.
The Revoria Press GC12500 can print double-sided on paper up to 750 x 662 mm, the largest B2 sheet size for a digital press in the industry. This means it can print six A4 pages per sheet and can also handle a variety of paper weights from 64 to 450 gsm and print on a wider range of substrates, including synthetic papers.
Additionally, FUJIFILM has shortened a typical production line by consolidating the feeder, stacker, and control panel on one side for the press operator.
Peak Performance Print (PPP) 2024 will also feature live demonstrations of the rest of FUJIFILM's rapidly growing digital press portfolio, which now includes options for all commercial and folding carton packaging print businesses, ranging from entry-level, with the ApeosPro C series to the exceptional quality, performance and creative potential of the award-winning 6-colour Revoria Press PC1120. As well as being targeted at existing and potential commercial and packaging print customers, PPP 2024 will also be of significant interest to European distributors and dealers.
FUJIFILM is already working with a range of partners to bring its digital press technology to as broad a range of customers as possible. As the range continues to grow, the company continually seeks to strengthen its dealer network to support its rapid growth.
It is a fantastic potential opportunity for dealers to strengthen their own portfolios with an industry-leading range of digital presses from FUJIFILM – a company with a long history in their development and an exciting roadmap for the future.
FUJIFILM is unique in offering best-in-class solutions across both inkjet and toner technologies and will also use the event to communicate the latest developments to its market-leading inkjet solutions, in particular the Jet Press 750S High Speed Model, Jet Press FP790 and range of Samba imprinting bars. Workflow solutions will also be a significant focus at the event, including FUJIFILM's XMF PressReady, the company's new digital workflow solution, and Revoria Flow DFE.
FUJIFILM Graphic Communications Europe head of digital solutions Taro Aoki said, "The introduction of the Revoria Press GC12500 marks a significant milestone for FUJIFILM. It's the market's first B2, sheet-fed digital press using dry toner technology, and is the end result of years of R&D and accumulated technological expertise.
"Building on the combined success of the Revoria series and the Jet Press 750S High Speed Model, it is the perfect addition to our growing range of digital presses to meet a wide variety of market demands, allowing us to offer the best of both toner and inkjet technology. We look forward to showcasing our latest developments across our full digital print portfolio at Peak Performance Print 2024."
Comment below to have your say on this story.
If you have a news story or tip-off, get in touch at editorial@sprinter.com.au.
Sign up to the Sprinter newsletter