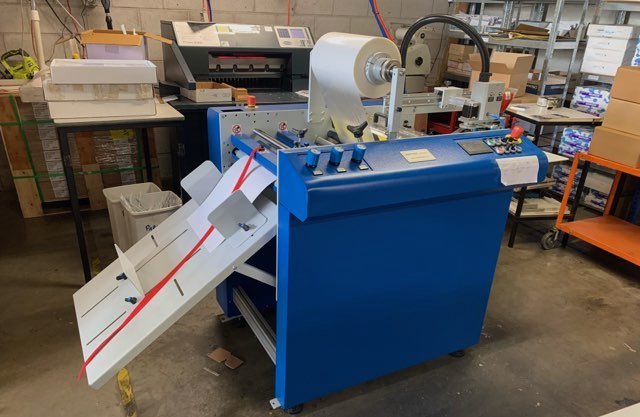 Wholesale Magnets and Print has just installed a D&K Neptune 3754 fully automated laminator, which it purchased from Graph-Pak.
First-time Graph-Pak customer and Wholesale Magnets co-founder Geoff Bromley told Sprinter that before purchasing the D&K Neptune, the company had in place smaller, more labour intensive, manual-type laminating machines.
However, since migrating workloads over to the D&K Neptune, Wholesale Magnets has been able to do in a day what usually takes it a week to complete, providing the business with massive labour savings and speed to market.
"We've progressed from having 20-year-old machines that needed staff to manually feed in sheets. But now with the D&K Neptune, everything is automated, so we see a big reduction in labour costs," he said.
"It was a great investment as it is the most reliable and economical laminator in the market. Wholesale Magnets did some extensive research, looking into a few different types of laminators. But the D&K Neptune ticked all our boxes in terms of requirements.
"Tom from Graph-Pak invested a lot of time in guiding us from the start of the process itself as we're reasonably new to the to the printing industry. That was one of the main reasons why we decided to purchase from Graph-Pak – the service was outstanding."
Able to process paper sizes up to 370cm wide and 540cm long, this compact laminating machine is built to industrial specifications and is very popular with SRA3 printers. With full automation and a compact footprint, some of its features include a heated chrome top roller, adjustable de-curl bar and a pneumatically controlled rubber nip roller.
It can cut and laminate at speeds of up to 15m/min and is equally adept at running litho or digital output.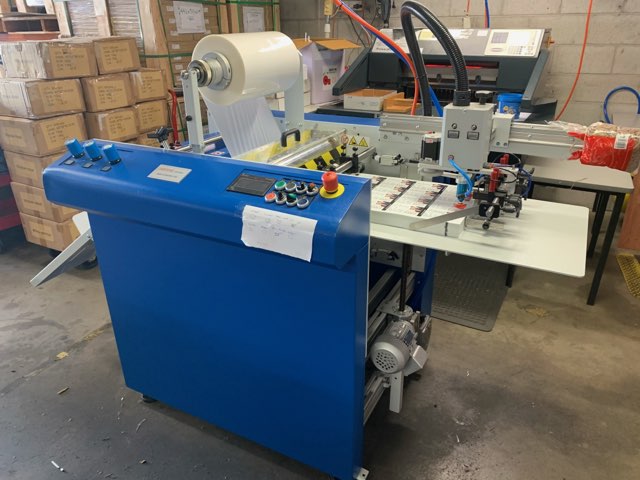 Graph-Pak managing director Tom Ralph said the kit is ideal for businesses that don't have much real estate for machinery.
"It can easily be shoehorned into a corner. It also works for businesses that decide on adding a laminator later, or maybe had desktop-type laminating machines and have decided to go after gear now and they don't have much room," he said.
"So, this one's aimed at those that want a short footprint, compact and strong industrial machine. It doesn't require much maintenance or service and will last you 10 to 15 years. All the good things that you would get in a much more expensive machine is packaged into this Neptune model."
The machine that Wholesale Magnets procured laminates a single side, but other models can laminate two sides in one pass.
"Wholesale Magnets chose the single-sided laminating option as that is their bread and butter, but other models can do two sides in one pass. There are five different models that the D&K Neptune comes in, with various configurations," Ralph said.
"The changes all the way through is in the length of the sheet that it can process – it can process up to a 950cm long sheet, and there are other models that can do two sides in one pass. They also have an optional foiling system which can be put on top, so they could do digital foiling in-line as well."
Ralph added that having Wholesale Magnets as a new customer beefs up the company's portfolio and is a testament to its reputation in the industry.
"To have Wholesale Magnets as a customer is a pat on our back as it shows that we're doing the right thing. We aim to make our customers comfortable, guide them in finding a machine that would be a perfect fit for their business, and support them all the way through with the best service," he said.
Bromley said the D&K Neptune will support his business in its long-term plans, putting it on par with other bigger players in the industry.
"Previously, we could really only do a handful of small jobs on the machines that we had. The rest of the work had to be outsourced to other companies," he mentioned.
"So, the machine has enabled us to compete with the bigger players in the market and offering fast turnaround times. We've also got big plans to expand into other areas of printing and the D&K Neptune will allow us to be able to grow without having to upgrade our laminator for a long time."
Comment below to have your say on this story.
If you have a news story or tip-off, get in touch at editorial@sprinter.com.au.
Sign up to the Sprinter newsletter