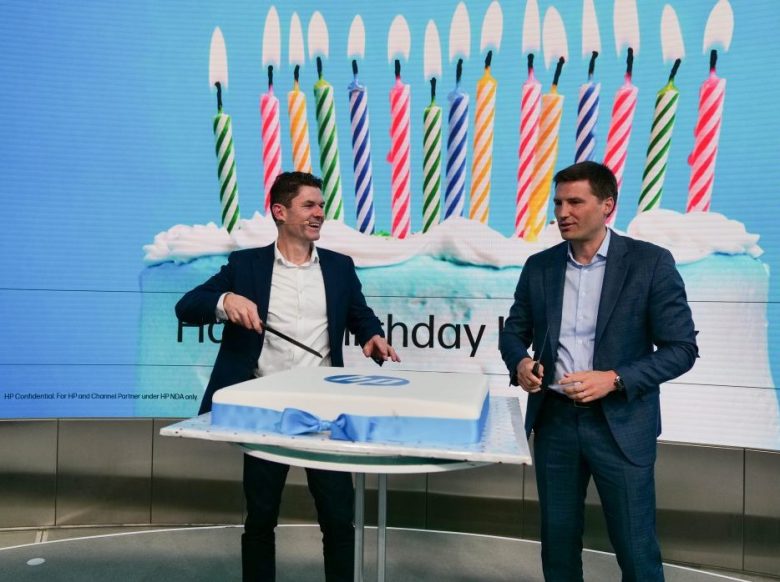 Above (l-r): HP large format global head Mike Boyle and HP large format general manager Daniel Martinez cut the cake at FESPA Munich to celebrate the 15th anniversary of HP Latex
HP Latex was first announced at drupa on 29 May 2008, and to mark its 15th anniversary, the HP team took to FESPA Munich to celebrate with a giant birthday cake.
"This milestone is a testament to the remarkable journey and achievements of HP Latex technology over the past 15 years. As a leader in the industry, HP Latex has consistently pushed the boundaries of innovation, transforming the way we approach large-format printing. Since its inception in 2008, HP Latex has continued to revolutionise the market with its cutting-edge technology and environmentally conscious solutions," HP general manager of large format printing Daniel Martinez said.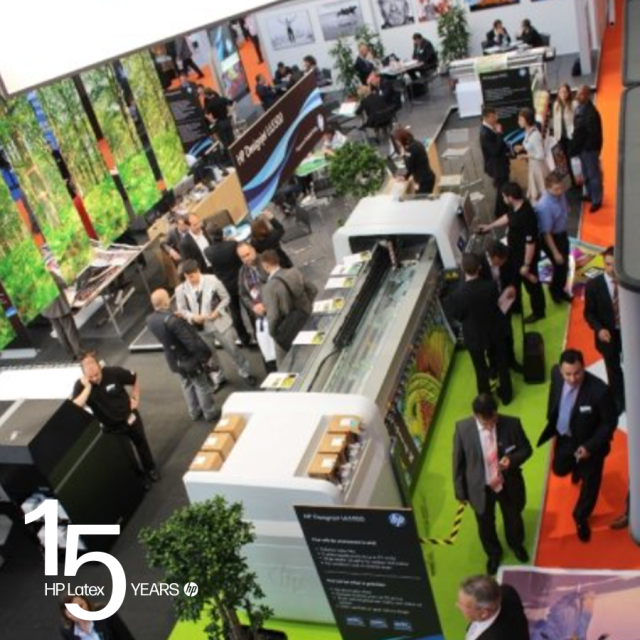 Martinez and former HP A/NZ managing director Mike Boyle were in attendance at FESPA, and participated in the cake cutting ceremony on the HP stand, where just a few days after the occasion, Boyle spoke to Sprinter about his new role as HP's global head of large format, based in Barcelona.
These are some of the key milestones that have marked HP Latex's journey:
2008: Introduction of the first HP Latex Printer, the HP DesignJet L65500
This marked the beginning of a new era launching innovative water-based inks that delivered vibrant, odourless prints, while ensuring a healthier printing environment.
2009-2011: Advancements in print speed
HP Latex printers achieved significant improvements in print speeds, enabling users to meet demanding deadlines without compromising quality.
2013: Launch of 3rd generation of HP Latex Inks
This represented a boost in high-volume, large-format printing solution designed to meet the demands of production-level printing environments. It offered advanced features and capabilities that enabled print service providers to expand their offerings and increase productivity.
2014: Expansion of product portfolio
HP Latex expanded its product range, introducing new printers that catered to diverse customer needs, including entry-level models and high-volume production machines.
2018: Launch of HP Latex R-series hybrid printers
These printers combined the versatility of HP Latex technology with the ability to print on rigid substrates.
2022 – 2023: Introduction of HP Professional Print Service Plans
This service and printing solutions experience offers support, print operation optimisation, and actionable knowledge to any business, helping to unlock efficiency, enable business agility, maximise uptime and productivity, and provides learning opportunities and support.

"HP is excited to celebrate 15 years of Latex large format printing. Over the last 15 years, HP is proud of the many milestones in the development of these print industry leading solutions. We are proud of our commitment to sustainability through championing the use of water-based inks, reducing waste and minimising the environmental impact of the printing process," HP A/NZ country manager large format printing Craig Hardman said.
"We continue to celebrate the transformation of HP Latex into our 4th generation of Latex ink with many print solutions in the low volume roll-to-roll, Hybrid R series and recently in the 3.2m L2700 series of HP Latex printers."
Comment below to have your say on this story.
If you have a news story or tip-off, get in touch at editorial@sprinter.com.au.
Sign up to the Sprinter newsletter