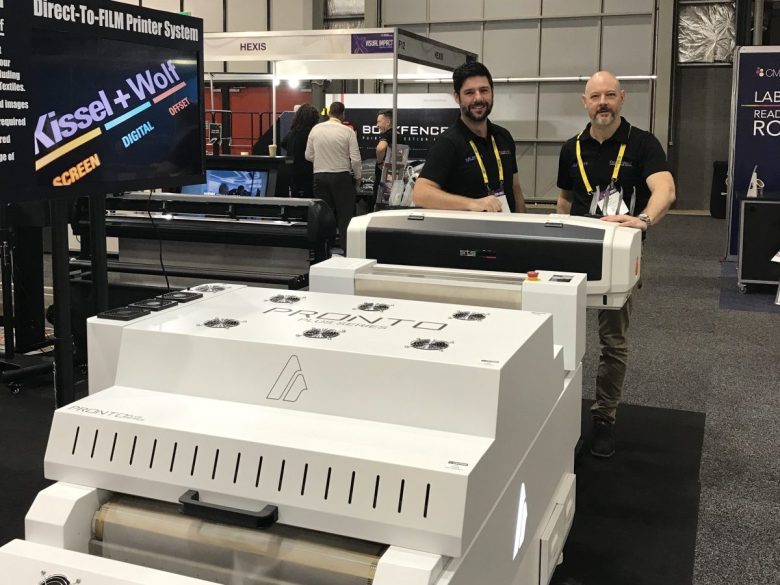 Kissel & Wolf is showcasing the high volume Mutoh STS Direct to Film (DTF) printer with the Pronto Plus Series system on the Mutoh stand at Visual Impact Sydney.
"DTF involves printing onto coated PET film, applying the lightweight powder either manually or by using and automatic powder shaker. Baking the powder coated print results in an image ready for transfer now or at a later date," Kissel & Wolf digital sales manager Andrew Marrs said.
"Everything is done in a single production line – printing, powdering and curing.
"Heat transfer films around for textiles have been around for a while, but the benefit of this machine is that you don't have to weed," he said, highlighting the time-saving benefits of the system.
Marrs explained the process of weeding, saying "Producing transfers for garments involves printing onto a plotter, and the plotter would have to cut out the areas that you want to keep on the film. Then, the unwanted film would have to be removed – or weeded away – from the transfer manually. It's a lengthy process.
"For example, if you had to produce 50 garments, you'd have to print the film, put the film on a plotter cutter and then each transfer would have to be weeded manually.
"This system weeds out the non-print area automatically and what is left is a ready to use full colour, fine detail transfer that can be pressed onto a garment."
The printer is powered by STS DTF inks which are Eco Passport, Oeko-Tex certified, non-toxic and environmentally friendly. Made in the US, STS DTF inks have consistent colour from batch to batch, delivering high colour density with excellent print performance and great wash fastness.
Marrs explained that the technology is new and started to emerge in "a pretty big way" last year, and that the STS DTF printer and Pronto Plus Series system was introduced to the Australian market at the beginning of this year.
"We already had an existing partnership with Mutoh, so when we found out that Mutoh was running its own version of the STS system, we realised that we have a product that we can get to market through a partnership with them," he said.
Comment below to have your say on this story.
If you have a news story or tip-off, get in touch at editorial@sprinter.com.au.
Sign up to the Sprinter newsletter