Regional newspapers have survived the internet and COVID but now July 1 newsprint price increases of 80 per cent for some regional publishers risk masthead consolidation or total closure, Andrew Manuel, the president of Country Press Australia says.
Paper supply issues and price rises, particularly for newsprint, have been deeply impacting the print and publishing sector with a lack of newsprint in New Zealand attributed as the cause for Ovato's move to cease heatset printing in that country.
The issue – driven by mill closures, exploding freight costs and delays, soaring energy prices and a long-running strike at UPM – is also now hitting regional newspaper houses with Manuel saying an expected July 1 increase of 20 to 30 per cent for newsprint is now looking like a 80 to 85 per cent increase for some regional newspapers.
"Some newspapers have said they will increase cover prices and some will try and adjust their advertising prices, but some have flagged that they may just simply not be viable and may need to close or consolidate multiple mastheads," Manuel told Sprinter
"It is extremely serious and we are not quite sure where it is going to go. We don't know if this is just a temporary situation – whether it is just for the next 12 to 24 months and it will settle back down with supply and demand or whether this is the new base level and we will be working with this higher cost base.
"Publishers are saying 'we've battled through digital platforms and we thought we would have died from technology and then we thought COVID might take us out but who would have thought that price of the paper would be the ultimate death knell for our industry' so we really need some help."
Norske Skog owns the last remaining paper mill in Australia, at Boyer in Tasmania – which is currently running at full capacity, 24 hours a day, 365 days a year. A company spokesman said Norske Skog can't comment on the price rise situation of individual publishers.
"Supply terms and conditions, including price, will vary widely depending on whether someone has a contract or whether they buy on the spot market. Norske Skog is honouring all contracts and agreements and we are fully sold," the spokesman said.
"Unfortunately, we don't have capacity to supply customers who traditionally have purchased paper on the spot market or from overseas producers."
The spokesman was unable to confirm what the average price rise for newsprint from July 1 would be due to the "commercial nature of the contracts and the different arrangements in different contracts and because a number of renewals are currently being negotiated."
"There can be price differences in different contracts depending on the contract term and the market conditions that existed when the contract was negotiated. However, those organisations with contracts are far better placed than those without," the spokesman said.
"The situation was very different not that long ago which is why some organisations chose to buy on the spot market rather than support local manufacturing. This lack of sales is why we had no option other than to reduce production capacity in the region by closing the Albury and Tasman Mills."
Country Press Australia has called on Communications Minister Paul Fletcher to provide relief, similar to the recent temporary move to cut fuel excise and reduce petrol costs.
"Both sides of parliament have been really supportive and unified on this. Newspapers, publishing and printing are really vital and it keeps a lot of people employed and society would be a lot worse off if we don't have public interest journalism so they are doing their best to sustain the industry," Manuel said.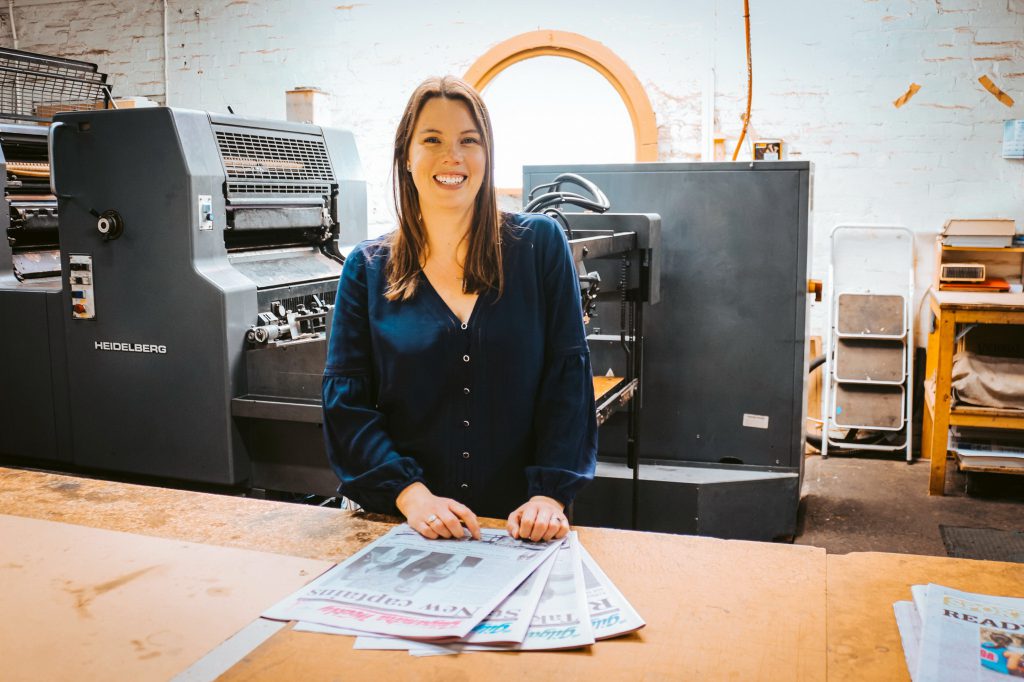 Lucie Peart owns and prints The Gilgandra Weekly, The Nyngan Weekly and the Narromine Star and is the NSW Country Press Association president. She also prints three other newspapers (The Spectator at Walgett, the newly launched Wellington and District Leader and the Warren Weekly) on behalf of independent publishers.
Her regular order has increased by an extra 20,000 sheets a week due to her taking on more customers but she was last week notified she would now have to pay an extra $1850 for her cut sheet paper order, including delivery charges, every eight weeks.
"I've been hearing about price rises for paper newsprint for six to nine months and some of those have been quite extreme but we literally just had to approve the increase. We have also increased our order because we are printing six newspapers a week now," Peart said.
"What we are hearing is that some of these price rises haven't happened in the past and companies were absorbing that cost over the past few years and perhaps COVID exacerbated that and then everything has gone up again since and mills have closed and I think that has exacerbated that situation.
"It is extremely hard because these are decisions being made by big milling companies and we can only really complain about it. There may have to be some sort of government intervention to re-establish the security of newsprint because a lot of publishers can't go and sell their paper for $4 or $5. As much as your readership loves you and supports you, that would kind of make your business untenable."
In January, Sprinter published another article on the ongoing paper supply issues, you can see that story, here.
Comment below to have your say on this story.
If you have a news story or tip-off, get in touch at editorial@sprinter.com.au.
Sign up to the Sprinter newsletter