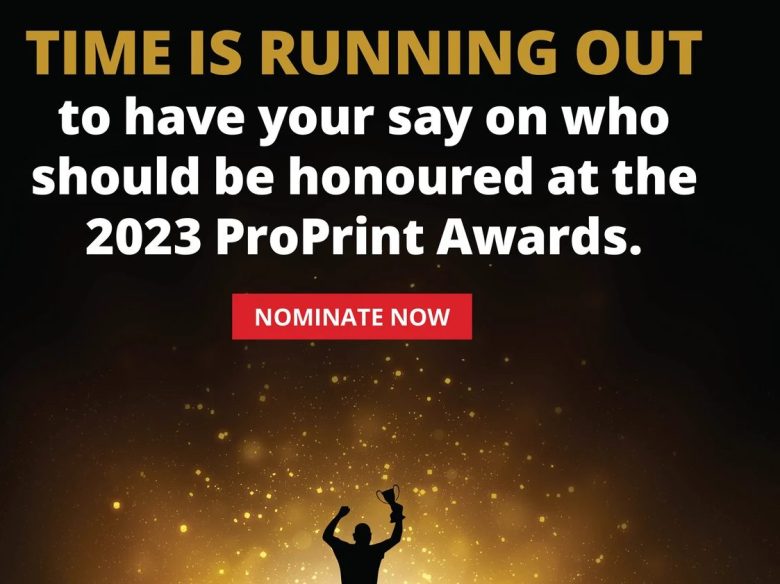 The 12th annual ProPrint Awards will be held on 3 November at the Shangri-La Sydney, and nominations for the awards close this Friday, 21 July, so make sure you get yours in.
Nominations can be made in the following categories:
Printer 50
Formerly known as the Power 50, this award was run for the first time last year and recognises senior print leaders. You can nominate more than one person and it is also possible to have more than one Printer 50 nominee from the same company. Self-nominations are also accepted.
Note the following changes to this category: The Printer 50 category ONLY accepts nominations for individuals who are printers or work for a printing organisation. If you represent or work for an association, service provider, lobby group, trade show organiser as well as equipment and consumable suppliers, please nominate under the Supplier 50 category.

This is a peer-voted award. Printer 50 nominees who meet the entrance criteria are invited to become judges and have the opportunity to judge before the results are externally audited. The judging process is conducted online and involves judges ranking their Top 20 nominees against a set criteria.
External, independent auditors will then review the results. The Top 20 leaders are ranked, and the remaining 30 leaders will be announced at the ProPrint Awards alphabetically. It is possible to self-nominate or nominate more than one person.
Emerging 50
This award recognises rising stars from all parts of print with around five years' experience. This includes graphic designers, prepress operators, production assistants, post-press supervisors and finishing specialists as well as employees responsible for distribution, sales, administration and account management with approximately five years or less experience working in the industry.
Recipients of the Emerging 50 will be judged on the quality and the detail provided within their submission and the supplementary materials provided. It is possible to nominate more than one person and it is also possible to have more than one Emerging 50 recipient from the same company. Self-nominations are accepted. All Emerging 50 recipients will be acknowledged in alphabetical order at the ProPrint Awards.
Supplier 50
This award recognises those who service and supply the industry and people committed to providing quality service and advice. They are collaborative in their work ethic to find the best solution and must have proven to have gone above and beyond to get the job done. Recipients are judged on the quality of their submissions based over the last 12 months.
There is no overall winner of the Supplier 50 – all recipients will be acknowledged in alphabetical order at the ProPrint Awards.
Industry Achievement Award
An exclusive award honouring someone with at least 25 years' experience, who has significantly contributed to the industry, been integral in improving the industry and supported print even if retired or no longer in the industry. The winner is judged by the 2022 Printer 50 Top 10 and Platinum Sponsor Durst Oceania.
What you need to do
Make your nominations (either self-nominate or nominate someone else) and book your tickets to the event at https://proprintawards.com.au/
Once you nominate someone, the person you have nominated will receive an email letting them know
The nominee then needs to click on the link in the email to answer a few questions and submit a headshot image to complete the nomination process
If you self-nominate, you must complete your submission with details on your achievements, industry challenges, personal history and upload a headshot image. You will then receive a confirmation email of your submission
ProPrint Awards will not publish the identity of the nominator, whether self-nominated or nominated by others in print or online, however you can choose to let a nominee know that you have nominated them during the nomination process.
Note: nominee submissions can be completed up until Monday, 21 August.
The winners will be announced in alphabetical order at the ProPrint Awards on 3 November and will also be featured in the December issue of ProPrint magazine.
If you have any inquiries, please contact Colleen Bate at cbate@intermedia.com.au or visit https://proprintawards.com.au
Huge appreciation to the ProPrint Awards' amazing sponsors and supporters:
Platinum: Durst
Gold: Ball & Doggett; Fujifilm; HP; IVE; Kwik Kopy; Pozitive and Visual Connections
Silver: Böttcher; Bright Print Group; Cactus Imaging; Graph-Pak; Kurz; Lamson Paragon; OKI; Pakko; Ricoh and Spicers
If you are interested in sponsoring the 2023 ProPrint Awards, contact Carmen Ciappara at carmen@proprint.com.au.
Comment below to have your say on this story.
If you have a news story or tip-off, get in touch at editorial@sprinter.com.au.
Sign up to the Sprinter newsletter