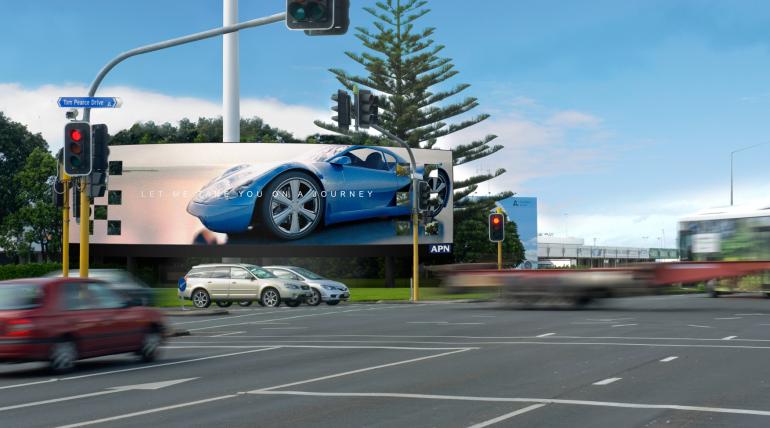 oOh!media has beaten out APN Outdoor for Adshel, Here, There & Everywhere's outdoor printing division, buying it for $570m, ending a bidding battle between the two outdoor media companies that has ensued for months.
Following the merger, APN has now halted trading as it is trying to tie up a deal with French giant JCDecaux, which proposed to buy the Australian outdoor advertiser for $1.1bn, or for $6.52 per share. JCDecaux proposed the acquisition on the condition that APN withdrew from merging with Adshel, but APN still made an offer of $540m the next day.
The proposal is still subject to regulatory approval from the ACCC and Foreign Investment Board. Goldman Sachs is acting as JCDecaux's financial advisor in the deal.
JCDecaux says Australia is the seventh largest advertising market worldwide, of which almost 50 per cent is digital. The company also says APN would complement its existing out of home media assets in the country, which are primarily in street furniture. APN primarily operates in large format billboards, as well as in the transit, rail and airport segments.
JCDecaux recently won advertising rights for Yarra Trams in Melbourne and Telstra under long term contracts. It entered the Australian market with a street furniture contract in Sydney before the Olympic Games in 2000.
Adshel's street furniture network, which it claims as the largest for any advertising network in Australia, was seen as a key asset for both oOh! and APN. oOh! says Adshel has a portfolio of more than 21,000 poster faces and 800 screens across Australia and New Zealand. It's FY18 EBITDA is estimated to be in the range of $48-50m.
[Related: APN and oOh! battle over Adshel]
Brendan Cook, CEO of oOh! says, "oOh!media has a history of developing a diverse product portfolio to offer advertisers and a range of audiences. Adshel is complementary to our existing portfolio and we are excited to be entering the new segments of street furniture and rail.
"The digitisation opportunity in the Adshel business is expected to provide a significant avenue for further growth beyond what has been achieved to date. We are confident that oOh! shareholders will enjoy the benefit of cost synergies arising from the acquisition."
The latest outdoor media figures show street media including bus shelter print continuing to grow, in the last quarter Roadside Other, covering street furniture, bus/tram externals, small format and excluding billboards is at $55m, up from $51.1m.
Adshel's FY17 results show its revenue for digital grew by 23 per cent to $65.7m in 2017 from $53.6m the year before. Although print remained the majority source of income for the company at 50 per cent while digital was 30 per cent, revenue for the print sector went down to $110.9m last year from $112.1m the year before.
The company has also said it is looking to expand further into digital media, with plans to further digitise its street furniture network.
APN and oOh!Media's battle over Adshel comes after the two rivals' $1.6bn merger was called off last year, with the ACCC raising concerns around the dominance of the out of home advertising market.
Comment below to have your say on this story.
If you have a news story or tip-off, get in touch at editorial@sprinter.com.au.
Sign up to the Sprinter newsletter