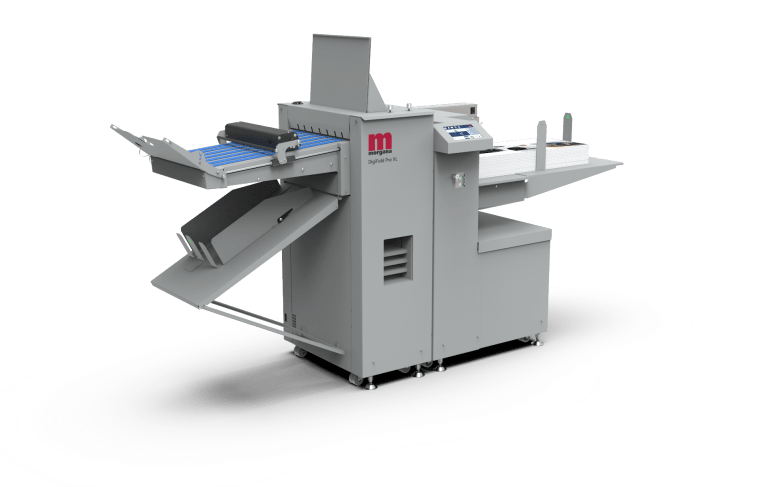 Morgana Systems, owned by a Plockmatic Group company, has released a new creasing and folding machine, the Morgana Digifold Pro XL, which opens up new finishing avenues for long sheet applications.
The Morgana range is distributed in Australia by Renz Australia.
The Morgana Digifold Pro XL is the latest entrant in the Morgana family and has been developed from the Morgana Digifold Pro. It is equipped with the latest version of the patented DynaCrease creasing system.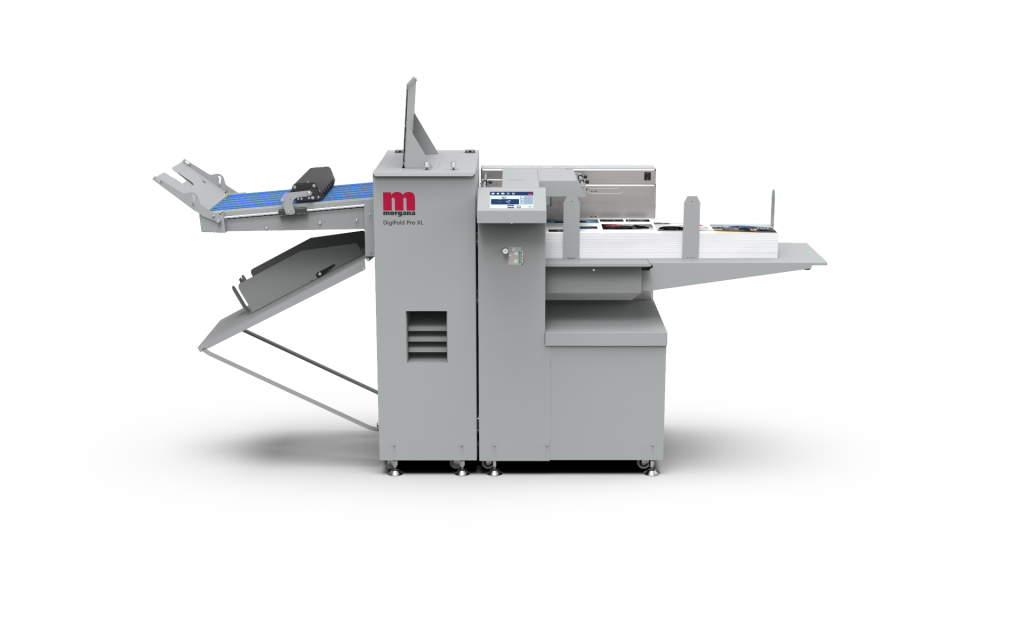 The unit incorporates a suction feeder that handles stock sizes from 210mm to 1,300mm in length. The heavy-duty automatic creasing and folding system is designed to complement mid to high volume digital and offset production presses.
It also fits perfectly with long-sheet capabilities as it features a pull-out extension that handles sheet sizes up to 1300mm as standard.
This feature opens the door to new applications, such as landscape booklet covers, book covers for oversized perfect bound books, multi-panel brochures, and the many other applications made possible by long sheet presses.
Ray Hillhouse, VP Sales & Marketing, of Plockmatic said:
DynaCrease function
The Digifold Pro XL is is equipped with the latest version of Morgana's DynaCrease, where the creasing blades can now be easily changed without the use of tools.
An additional Static Crease option can be installed to enable different crease profiles to be applied in one pass, commonly used in the production of "hinge and spine" creases in book covers. Changing the Static Crease blade for a perforation tool will provide the full range of crease and perforation options, such as tear out coupons and reply cards.
The Digifold Pro XL can fold up to 6,000 A4 sheets per hour and when in crease-only mode can produce up to 7,500 sheets per hour. The feeding unit as a maximum loading capacity of 200mm.
Top-fed vacuum feeder
A top-fed vacuum feeder also ensures stable production for long runs and a user-friendly operator panel allows for the simple input of sheet size, media type and thickness.
The loading and unloading areas are an open design to make it easy to monitor performance and make changing from job to job fast and efficient. The new open feeder design is capable of efficiently feeding a wide range of media types and weights. It is equipped with automated vacuum feed technology, specifically designed to handle the widest range of pre-printed media.
Find out more about the the Plockmatic Group here. To speak to the team at Renz Australia, click here.
Comment below to have your say on this story.
If you have a news story or tip-off, get in touch at editorial@sprinter.com.au.
Sign up to the Sprinter newsletter