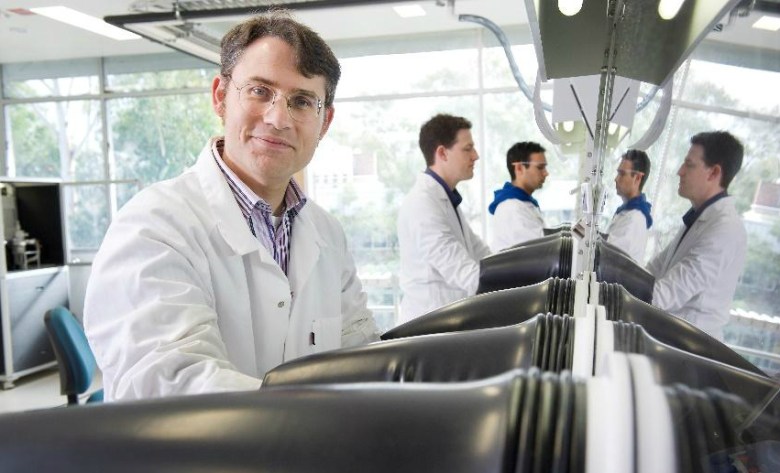 A new polymer-based printed solar cell technology will be launched at PacPrint, being pitched to commercial printers as a new market segment.
The Australian-made solar cell technology could reinvigorate the manufacturing sector, with Newcastle, and Wollongong researchers closing in on a market-ready product.
Paul Dastoor is Professor of Physics, and director of the Centre of Organic Electronics at the University of Newcastle and solar cell Project Leader in the CRC for Polymers. He is one of two speakers for the Wednesday event. He has been developing polymer solar cells for over 18 years and has now created the largest reel-to-reel printing facility for device fabrication in Australia.
Dastoor says, "As researchers, much of what we do happens behind closed doors, but when we get close to a market-ready product, as we have with these printed solar panels, our goal is to report on what we have achieved and work towards getting the product to market.
"PacPrint is the ideal venue for us to do that, as it not only provides a high profile location for the installation and a great venue for our public lecture, but will also allow us to demonstrate this new technology to the print professionals who will play such an important role in bringing it to a commercial reality."
The printed solar cells can be produced at a fraction of the cost of traditional solar cells, using traditional roll-to-roll printing.
The researchers say the polymer solar cells can be thought of as a plastic laminate that can be integrated onto every surface imaginable, generating electricity to drive a wide variety of devices from cell phones to houses using light from any source.
You could even laminate light fixtures, recycling energy as it is being used.
Comment below to have your say on this story.
If you have a news story or tip-off, get in touch at editorial@sprinter.com.au.
Sign up to the Sprinter newsletter