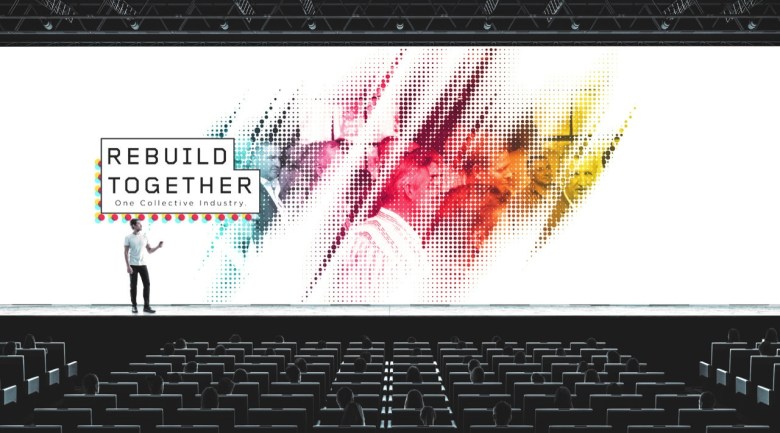 The importance of setting business scenarios, tackling joint ventures and how to raise revenue post COVID-19 were among the topics covered when four of Australia's leading printers spoke at the 'We Survived – Where to Now?' Rebuild Together webinar.
The webinar was the last in a series organised by The Real Media Collective which have covered a broad range of topics from industrial relations, marketing, superannuation, cash flow management and mental wellness.
The Lamson Group chief executive officer Rodney Frost, Complete Colour managing director Tim Michaelides, Platypus Print Packaging general manager Aaron Lusch and Advance Press managing director Ian Smith were hosted yesterday by TRMC CEO Kellie Northwood in the hour long discussion.
The webinar was timely with three months remaining until JobKeeper crunches to a halt and with the tremors of the coronavirus pandemic continuing to be felt, particularly in Melbourne.
The group delivered some hard truths about what it takes to survive tough times and shared their thoughts on how businesses can best defend themselves for unexpected hits – like a once in a lifetime pandemic.
Here's a rundown of what was covered:
Scenario Planning
Tim Michaelides said understanding your business' 'cycle of debt' – where it is at in terms of equipment financing and other debts – while not always easy to structure, was crucial to maintaining a strong cash position for when tough times hit.
"You are going to have quiet months and quiet periods where cash is going to slow up so if you are in a position in your cycle of debt where your machines are five years old and they are still latest technology and you now own them – that puts you in a very good position," Michaelides said.
"There hasn't been a lot of offset presses go in over the last five years so a lot of printers should be in a good position in their cycle of debt, if they haven't refinanced to get through this period."
Michaelides said this combined with JobKeeper had greatly helped businesses keep cash levels up to enable trading to continue.
For Ian Smith it was all about aligning costs with revenue and working from just one scenario that did not factor in JobKeeper.
"At the end of March we right-sized our business before JobKeeper came on stream. It is great that it is there but our plan is to just continually align our costs with our revenue," Smith said.
"I hear talks of companies having three, four or five different scenarios but ours is basically one scenario and that is align costs to revenue as we come through this."
Aaron Lusch advised business owners to not wait to make changes and to remain fluid and evolve, adding his business had reduced from three shifts to two in preparation for a downturn but to always keep the lines of communication very clear with staff.
"The reality is in less than 90 days the country comes off the life support that is JobKeeper," Lusch said.
"So like Ian we are aligning our costs with our revenue and making the difficult decisions early rather than wait for it to all hit.
"We've gone from three shifts 24 hours to two shifts. It's probably premature as it is quite busy out there but we feel we need to be making these decisions ahead of time. That has of course led to re-skilling so some of our casuals have been laid off and are now assisting on folder-gluers. We are just doing whatever we can to manage our costs now so when JobKeeper goes, and it likely will, we are in a position to weather the storm," Lusch said.
Joint Ventures and Acquisitions
For Rodney Frost it is crucial to know your gross profit margin right down to the square metre and leverage your strengths with others.
"We have a certain amount of space, we have the presses, we have the capital equipment, we look at what's contributing and what's not? So, we are looking at gross margin per square metre and considering what's contributing and what's not whether it be people, presses, products," Frost said.
This process is also useful with identifying how a business could be positively transformed through a joint venture.
"It may be that you are a kilometre away from a great digital business and you are a great offset business and together if you merge and your want to dilute some equity, you could be a great business and cross-sell into each other's product portfolio in one factory instead of in two," Frost said.
"All of a sudden you've got a fantastic business. You may only own half of it but you have a fantastic business and you don't have to go out and buy a bit of kit and hope that some of this digital work comes in."
Frost said now was the time for everyone to think differently, and this included increasing automation in the print room.
"I think it is up to everyone to think a bit differently and also automate a lot of processes. We are still working with a lot of old ways but automate as many processes as you can," Frost said.
"Also ensure your team is working on high value tasks, you don't want them doing lower value tasks that could be automated or sent offshore."
Michaelides shared some insights into joint ventures and the complications that can arise.
"There is always going to be an 'ultimate leader' with any JV," Michaelides said.
"There is going to be someone that is going to provide the financial resources towards it. There will be reasons why the two companies are coming together. You find that one of the companies is doint it because they are not in as good a finance position, so you need to make sure you know where the finance part of it is coming from.
"You need to make sure you understand your position and scope and scope out the key points being cash, equipment, premises, sales targets and gross margin targets and who is going to be bringing what attributes to the overall management."
Michaelides said cultural fit was also very important, especially when considering the premises the two companies would work from.
"Having perfectly matching cultures isn't imperative but it really depends on what premises are they going to and the business that is joining in can work in those structure because they will be different," he said.
Revenue generation post-COVID 
Michaelides foreshadowed a continued rise in digital printing, adding he sees many customers being more prepared to "put a toe in the water" with a shorter digital order rather than dive into an order of 2000 plus.
For Lusch, it was a process of continuing to double down on packaging with a special focus on the booming food and beverage markets. He is also examining complementary services like labels and bags.
Smith said he is pursuing government tenders but will look at going into packaging and labels in time.
"There will be a downturn but we are not expecting it to be game changing," Smith said.
Frost's strategy is about growing target markets through acquisitions, he is also a big proponent of automation and diversification of offer.
Frost also encouraged print businesses to take out Debtors Insurance, even though many insurers are become less favourable to insuring debtors due to the increased risk at the moment.
Silver Linings
The group all said there were some silver linings to the crisis.
Smith has advantage of the asset write off scheme increase to $150,000 and has installed the second phase of his solar farm. In two years he said he will look at adding a battery storage system to be totally self sufficient when it comes to energy.
For Michaelides one of the main silver linings to come out of the pandemic was a rising push for Australian made products and onshore manufacturing.
To check out the notes from the previous webinars, please visit this link.
Comment below to have your say on this story.
If you have a news story or tip-off, get in touch at editorial@sprinter.com.au.
Sign up to the Sprinter newsletter