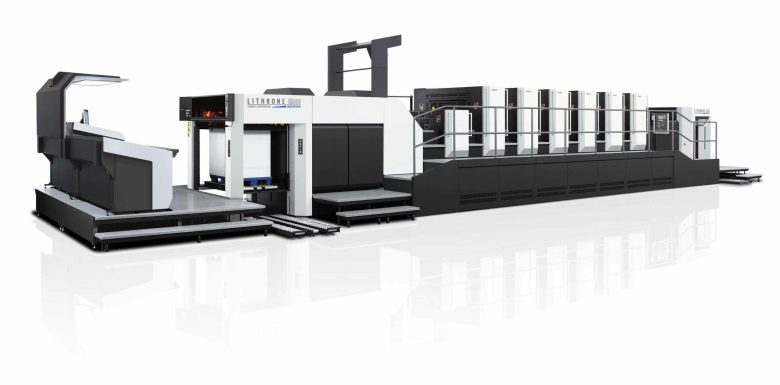 This is an extract about Print & Pack from the Profitable Presses Technology Focus written by Peter Kohn and published in the February 2022 issue of ProPrint magazine. To read the full story click here.
Print & Pack offers the Komori offset line-up and Miro Williams, Print & Pack's sales manager explained the benefits of the Komori range and automation features to ProPrint for this story.
"There are several technologies in offset that have been specifically designed to improve productivity, reduce waste and increase ROI. Some are designed to work together in unison to give you best results, while others are standalone technologies," Williams said.
Connected Automation is Komori's concept for creating a smart workflow by promoting the use of the IoT (Internet of Things), developing labour-saving designs and strengthening standardisation and inspection mechanisms through products such as KP-Connect.
In addition, KHS-AI is a revolutionary productivity enhancement system that receives job data from the MIS-linked KP-Connect Pro and integrates control of the entire press. KHS-AI is a system-wide function available on all Komori models. It also helps maximise the efficiency of feeder and delivery improvements in the Lithrone advance series which decreases makeready times and increases productions speeds.
"Since many of the tasks required for changeover are performed simultaneously, preparation time is greatly reduced. As the press also has a high precision pre-set function that optimises pre-set data according to the changes in materials and printing environment, it is possible to significantly reduce paper waste," he said.
Williams tips the 40-inch offset format will continue to be the main market in Australia, particularly for packaging printers looking for the most efficient format size in the face of rising costs and competition.
"That can be 29, 37, 40, 44 inch. Depending on a customer's requirement, we can offer the best machine to maximise a customer's profit," he said.
Williams expects demand for perfectors will remain stable.
"Commercial printers who are facing issues such as rising material and labour costs will need to optimise their production efficiency by replacing multiple old presses with one new perfector. We've seen this happen in other markets in recent years, such as Japan and Korea," he said.
He describes Komori's advance series as "a world-class ROI offset printing press which utilises several new technologies and self-learning functions to increase uptime, reduce waste and make the operator's life a lot easier".
Available in G44, G and GX 40-inch, perfecting options are also available for 40-inch and reverse perfecting options are available for 40 and 44-inch (GLX-40RP-A, GLX-44RP-A) with a G37P size model also available.
The advance series offers improved feeder and delivery systems, specifically for high-speed operation. It also has improvements to Komori's unique dampening system (Komorimatic) which improves colour stability while running at high speeds and allows for quicker makereadies. An increased dot sharpness also leads to significant quality improvements, while a new operating console reduces touch points and links systems together, offering quick feedback.
"The Komori advance series is a very competitive line in the print market and offers premium quality high-speed machinery with excellent ROI outlook which enables our customers to increase uptime, and reduce waste sheets, so the customer can maximise their profitability," Williams said.
Comment below to have your say on this story.
If you have a news story or tip-off, get in touch at editorial@sprinter.com.au.
Sign up to the Sprinter newsletter