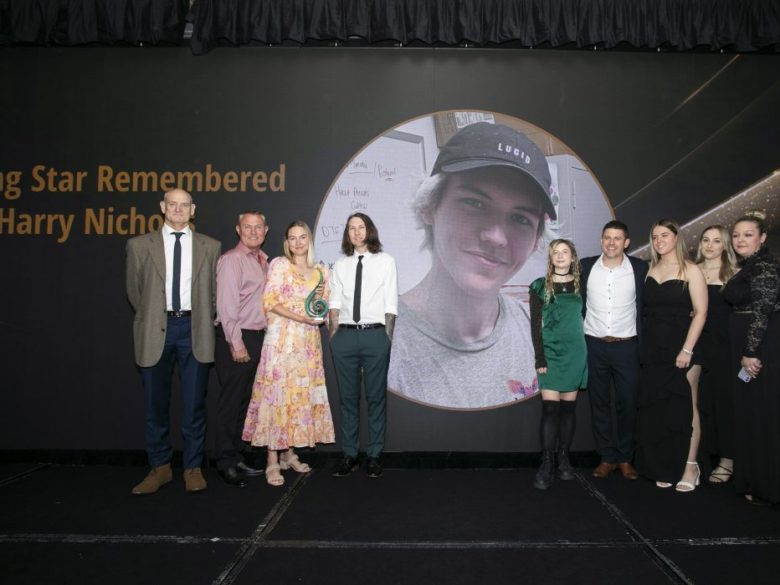 (Above:) The Velflex team against the imagery backdrop to honour rising star remembered Harry Nicholls
Winners in the Emerging 50 category of the 2023 ProPrint Awards were announced at a gala event at Shangri-La Sydney on 3 November – the cohort represented a broad and diverse array of print industry talents.
Congratulations to all the winners. This award recognises rising stars from all parts of print with around five years' experience. This includes graphic designers, prepress operators, production assistants, post-press supervisors and finishing specialists as well as employees responsible for distribution, sales, administration, and account management with approximately five years or less experience working in the industry.
Recipients of the Emerging 50 were judged on the quality and the detail provided within their submission and the supplementary materials provided. In this category it is possible to nominate more than one person and to have more than one Emerging 50 recipient from the same company. Self-nominations were accepted.
Trophies for 25 of the Emerging 50 winners were handed out by Kwik Kopy Australia CEO Sonia Shwabsky and the remaining 25 winners received their trophies from Starleaton CEO and Visual Connections vice president Ben Eaton. All winners were announced by MC Sam McCool.
A special mention was given by McCool to honour deceased rising star Harry Nicolls, with his parents Dean and Lisa Nicolls accepting the trophy.
Harry Nicolls is acknowledged for his unwavering dedication, vibrant spirit, and the lasting effect he left on the printing industry.
A print apprentice at Velflex who came from a printing family, he possessed an exceptional enthusiasm for learning and an innate talent for mastering printing processes and techniques. Harry Nicolls embraced every opportunity to enhance his skills and knowledge, immersing himself in the intricacies of the printing industry. His commitment was evident in the quality of his work, earning him the respect of his colleagues and superiors.
Emerging 50 winners:
Adam Crellin, Sales Manager, CACTUS IMAGING
Amy Abdilla, Innovation & Process Improvement Manager, EASY SIGNS
Amy Vernon, Operations Manager, VELFLEX
Angus McGrath, Security Printer, NOTE PRINTING AUSTRALIA
Anna Lobashkova, Assistant Accountant, DURST OCEANIA
Ben Clarke, Sales Manager, CACTUS IMAGING
Bihiraj Gurung, Engineer, DURST OCEANIA
Bradley Pow, Prepress Apprentice, MULTI-COLOR BRISBANE
Cassandra Farrugia, Operations/Account Manager, CREATIVE PLASTIC CARDS
Celine Cook, Centre Owner, KWIK KOPY CANNING VALE
Chris Williams, Prepress Manager, CACTUS IMAGING
Christine Louise Gardiner, Graphic Reproducer/Typesetter, STUDIO LABELS
Christopher La Greca, Business Development Manager, IVE GROUP
Christopher Thompson, Printer, VELFLEX
Corey Fry, Systems Developer, PAKKO
Courtney Newman, Graphic Designer, BALL & DOGGETT
Eleni Panayi, Service Engineer, DURST OCEANIA
Emily Waterson, Client Services Manager, CACTUS IMAGING
Evan Gill, Sales Manager, KWIK KOPY EAGLE FARM
Felicia Parigi, Prepress Operator, VELFLEX
Jacinta Allen, Graphic Prepress Coordinator, BREEN PRINTING
Jack McAullay, Security Printer, NOTE PRINTING AUSTRALIA
Jaden Perumal, Trainee Field Service Engineer, DURST OCEANIA
Jazz Jurgensen, Prepress Operator/Production Planner, ULTRA LABELS
Jervis Tsui, Digital Print Operator, SBM MARKETING COMMUNICATIONS
Justin Tout, Dispatch Coordinator, BREEN PRINTING
Kyle Wagner, Systems Efficiency/Senior Designer, PAKKO
Kyle Wallwork, Centre Owner, KWIK KOPY KAWANA WATERS
Luke Parisella, Operations Manager, IMAGEBOX GROUP
Marcus Gehling, Managing Director, KWIK KOPY DANDENONG
Marilyn Li, Senior Client Services Coordinator, CACTUS IMAGING
Milly Botta, Sales/Business Development, PAKKO
Nicole Jesenko, Graphic Designer, FREELANCER
Nicole Todino , Client Service Representative, Brand Activations, IVE GROUP
Niki Glastras-Pokia, Sales & Marketing, KWIK KOPY SURRY HILLS
Paul Plunkett, Flexographic Printer, PAKAFLEX
Pranav Patel, Centre Owner, KWIK KOPY AUBURN
Rahul Reddy, Account Manager, IVE GROUP
Robert Smithers, Centre Manager, KWIK KOPY CIRCULAR QUAY
Sean Ashman, Technical Support, DURST OCEANIA
Stella Lim, Sales Support and Marketing Manager, HEXIS AUST
Steve Morrison, Centre Owner, KWIK KOPY CANBERRA
Tammie-Lee Pickles, Scheduling Coodinator, LAMONT SUSTAINABLE SIGN SOLUTIONS
Taya Davey, Sales Account Manager, VELFLEX
Taylor O'Neill, Marketing Coordinator, SPICERS
Thomas Anderson, Sustainability Manager and Business Development Manager, STARLEATON
Tien Watson, Production Floor Manager, IMAGEBOX GROUP
Yan Ng, Project Manager, IVE GROUP
Zaf Haq, Project Manager, IVE GROUP
Zurina Bryant, Centre Manager, KWIK KOPY FRENCHS FOREST
Note: Images and details of all category winners will be published in the December 2023 issue of ProPrint.
If you would like more information about the ProPrint Awards, including sponsorship enquiries for 2024, email: carmen@proprint.com.au or call 0410 582 450.
Sponsors
Big thanks to the following sponsors of the Emerging 50 Awards:
Platinum: Durst Oceania
Gold: Kwik Kopy Australia and Visual Connections
Silver: Böttcher; Cactus Imaging and Pakko
Comment below to have your say on this story.
If you have a news story or tip-off, get in touch at editorial@sprinter.com.au.
Sign up to the Sprinter newsletter