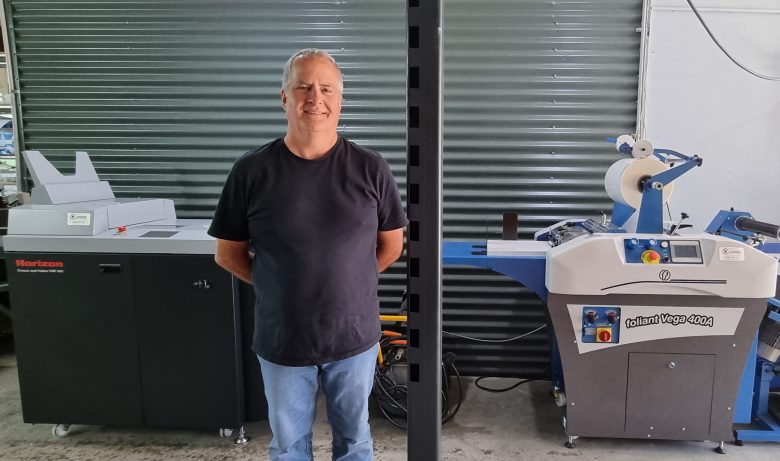 Koala Graphix owner Mike Fowler says the reason he invested in new and more automated finishing kit is at heart he is a perfectionist and he wanted to have complete control over how his print jobs were finished.
He recently invested in a Horizon CRF-362 creaser and folder and a Foliant Vega 400 industrial cello laminator, through Currie Group, and says he is already noticing significant improvements in his productivity due to the speed and automation offerings of both units.
Fowler has run his print business at Cleveland, south of Brisbane, for 30 years and over that time has built up a steady flow of solid clients while also broadening his offering beyond offset and digital printing to include signage.
He could handle some folding, creasing and celloglazing on site but for larger jobs needed to send them to external providers to be completed and he wasn't always happy with the result.
The Horizon CRF-362 creaser and folder is designed for heavier sheets making it suitable for creasing covers, restaurant menus, shop cards, invitations and laminated sheets. It features an impact creaser which avoids cracking on digitally-printed applications.
The Foliant Vega 400 is a compact industrial cello laminator designing for heavy duty in-house lamination of digital and offset outputs with a maximum sheet size of 38cm x 72cm.
"The reason why I bought the Horizon creaser folder is I didn't want my jobs cracking when they are folded," Fowler told Sprinter.
"I decided to invest in the machine for my own sake as I am a bit fastidious and when I send jobs to get folded and they come back cracked I don't like it.
"I bought the Foliant cello laminator to improve productivity so I could so bigger jobs. I had a hand operated one but now I have gone to the automated model to increase productivity and it also handles a bigger sheet."
Fowler bought the machines through Michael Mostyn, Queensland sales account manager at Currie Group, who he commended for his quality advice and follow up visits post-purchase. He also said the training and expert advice from Currie Group engineer Shane Sparozvich was fantastic.
"Both Michael and Shane were great in helping me decide on the right choice and then make sure I was totally across how to operate the equipment," Fowler said.
"They are great machines, I've been using them both a great deal as I am I doing a lot of work, especially with the creaser folder.
"I am doing brochures and catalogues now, they are not real small jobs, but there are not huge jobs either, so this machine is perfect for what I need. With scoring jobs, it can fold and 300gsm and 350gsm jobs.
"It is very useful being able to celloglaze and prescore before the covers go into the digital press, I do this before they get inserted into the book.
"Believe it or not after 30 years I am expanding quite dramatically so I decided to invest and I will probably invest in some more equipment down the track. I'm only a small printer but I've got some great clients."
Comment below to have your say on this story.
If you have a news story or tip-off, get in touch at editorial@sprinter.com.au.
Sign up to the Sprinter newsletter