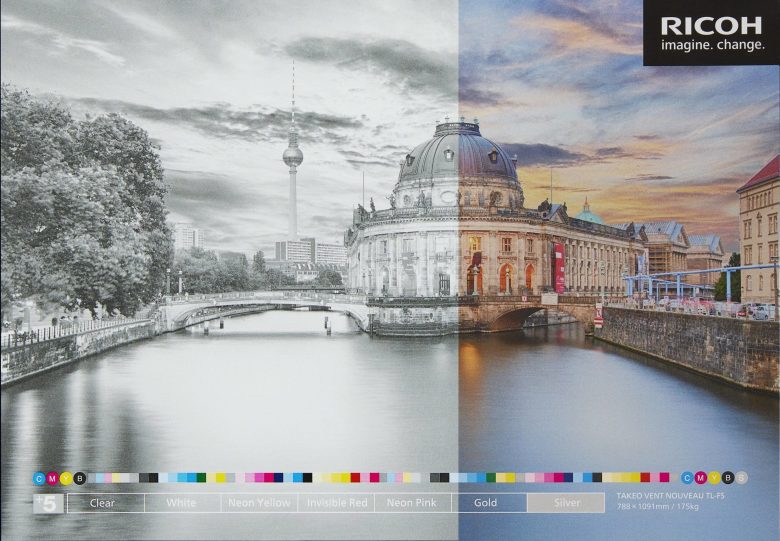 The Ricoh Pro C7200sx series of sheetfed production printers has won a Buyers Lab (BLI) 2021 PRO Award for mid-volume CMYK+ production with the award coinciding with the release of silver and gold toners for the devices.
The silver and gold toner has been developed for the fifth colour station of the Ricoh Pro C7200x series and can be retrofitted so existing users can take advantage of the new colour range.
The Ricoh Pro C7200 sx/x model was put through a rigorous testing regime at Keypoint Intelligence, the parent company of BLI, against a comprehensive set of technical criteria.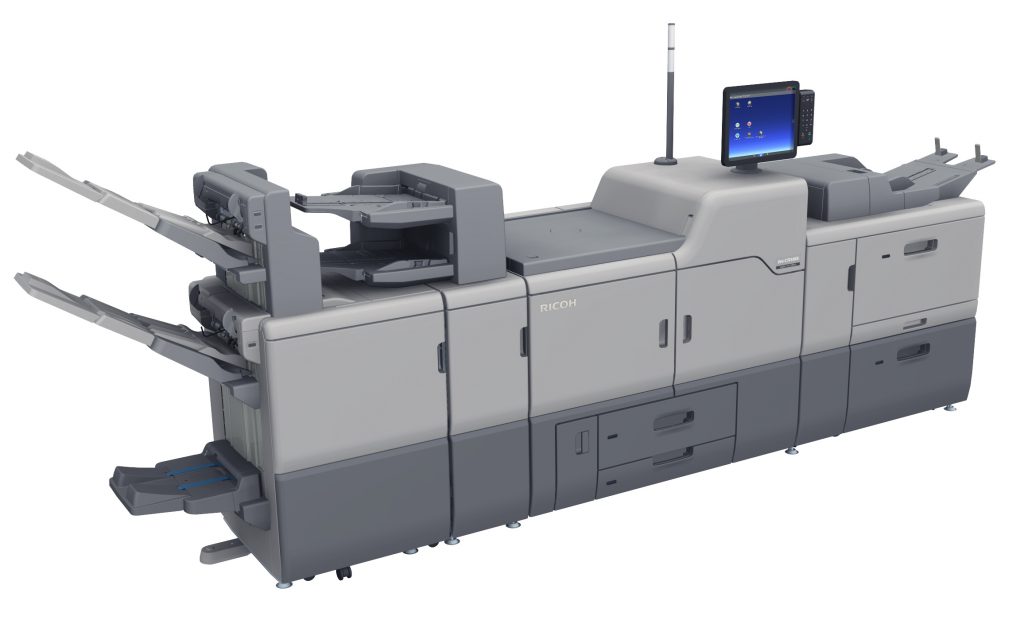 David Sweetnam, Director of EMEA/Asia Research & Lab Services, Keypoint Intelligence (parent company of BLI), said: "We were especially impressed by its performance over our production length test suite, where, over a series of six challenging 1.5 hour workflows generating over 37,000 clicks, the device never suffered a colour drift across the 42 colours in the FOGRA39 media wedge of more than DeltaE00 3.8, neither did it exhibit a front-to-back or page-to-page registration shift of more than 0.4 mm, earning it our coveted 5 Star rating in this category."
Keypoint Intelligence European Lab Manager, Martin Sloane, said: "The RICOH Pro C7210sx/x is designed from the bottom up as a production workhorse.
"The device's fifth imaging station allows printshops to go beyond CMYK, including fluorescents, white, clear, and invisible red."
Silver and gold toner availability
Silver and gold toners will be available for the Pro 7200x series from mid July which Ricoh says will offer graphic artists and commercial printers new opportunities to broaden their product range and create market differentiation through striking digital print enhancement capabilities.
The silver and gold toners have been developed for the fifth colour station on the Ricoh Pro C7200x digital colour sheetfed press and Ricoh says they deliver great visual impact for high value added print.
The use of silver and gold can transform a broad range of applications from catalogues, posters, flyers, direct mail, brochures, business cards, greetings cards, tickets, invitations, certificates and packaging.
Other colours available on the press include high-opacity white, clear, fluorescent neon yellow, fluorescent neon pink and invisible red. They enable print providers to deliver high-value applications with special effects, visual pop, gamut expansion and/or security features.
The new toners are retrofittable, enabling existing users to expand the capabilities of the Ricoh Pro C7200X presses they operate today.
Adding extra wow with silver and gold
Henryk Kraszewski, Senior Product Manager Commercial & Industrial Print, Ricoh Australia, said, "We are thrilled that the C7200x Series has been recognised by Keypoint Intelligence with a Buyers Lab (BLI) 2021 PRO Award for Mid-Volume CMYK+ Production Device.
"This is the second time that the Pro C7200x Series has received a BLI Pro Award. This will provide Australian users with the additional level of confidence in the device's ability to deliver robust and reliable feature functionality as well as an amazing customer experience.
"At the same time, we expect that the new innovation in our toners will open up exciting new business opportunities for highly creative jobs which can now incorporate gold or silver in material which requires that extra standout wow factor."
To read more about Ricoh's other cutsheet digital printing products, please click here.
Comment below to have your say on this story.
If you have a news story or tip-off, get in touch at editorial@sprinter.com.au.
Sign up to the Sprinter newsletter