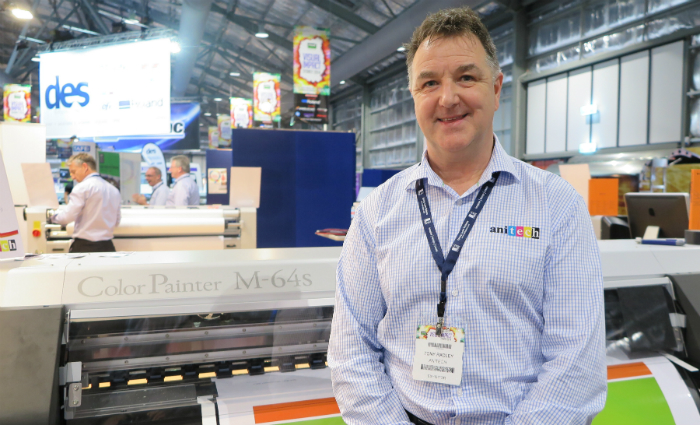 Smaller manufacturers and resellers also saw plenty of action at Visual Impact with a plethora of specialty equipment on sale for printers looking to trade up.
Finishing kit manufacturer Elizabeth Machines showed off several new pieces general manager Rick Haggerty says wide format printers should snap up if they spend more than $100 a week outsourcing their finishing.
"The average sign company is paying too much for outsourced finishing. They should take control of this part of their business, improve their bottom line and remove the risk of damage in transit," he says.
"Even if you make two banners a week it would be worth it."
[Related: More Visual Impact coverage]
SwissQprint reseller Positive Camtec launched the new Nyala 2 UV flatbed printer which is twice as fast as its predecessor and is 2m deep, despite having the same footprint. It supports substrates up to 50mm thick.
Managing director Phillip Trumble says he made one sale at the show with lots of leads. He says the $400,000-550,000 Nyala 2 is a good fit for printers diversifying into wide format, or switching large offset to digital.
"It's great for bigger printers whose large offset runs are getting smaller but still need good quality, or for a small printer to build its business around," he says.
Celmac launched a range of new products headlined by the new Aristo TL1625 cutter it pairs with HP flatbeds. Director Wayne McIntyre says the company made six sales at the event.
Also on display was referable silicon adhesive film that uses static electricity to stick to surfaces and is used extensively by L'Oreal; the Remax backlit film coating developed by Celmac for the HP Latex 3000 series wide format printers; and the Retac 75 polymeric adhesive that does not take paint off surfaces when it is removed.
Oki Data brought its C941 digital colour printer, pitched as an affordable device with the ability to print white or clear gloss as bonus for printers looking to add value to their work.
Oki marketing assistant Hiro Hayashida says a machine with this capability is unheard of in this pricing bracket and could add value to design agencies or copy shops who wish to add a little extra pizzazz and customisation options for their clients, or packagers looking to print prototype samples.
"This LED-powered printer has a small footprint, unlike others in the market, and can open up the opportunity to print white or gloss at a reasonable price," he says.
GJS Machinery was showing off its ability to print white onto dark shirts with a Brother GT381 direct to garment printer. This model includes four white heads to speed up the printing process.
Service technician Frank Grech says: "You have that stability knowing it has been out in the market for three years. It is an economical machine in the amount of ink it uses, and the four heads make a lot quicker, with better prints."
[Related: More wide format news]
Anitech displayed its Seiko ColorPainter M-64s eco-solvent printer alongside a Graphtec cutter and Vivid laminator and consumables from StarFlex and LG.
National consumables business development manager Tony Radley says the M-64s has a 'lot of smarts onboard' and will suit an array of wide format printers.
"Because the quality of the print is now so good, coupled with the speed and cost-effectiveness of the machines, these printers could satisfy a real cross section of users, not just external signage producers but those working in display products, printing everything from posters to textiles and canvas prints," he says.
He says the indoor display graphics market is about five times bigger than external signage, with plenty of work to be had in floor graphics, posters, display stands, exhibition graphics and supermarket signage.
"You see LED signage around and it is starting to become more affordable, but I think you are never really going to replace print, people like that tangible surface," he says.
Optimus was also at the trade show promoting its mobile MIS software that allows print sales reps to customise pitches to customers on the road from a tablet.
Managing director Nicola Bisset says the idea is to slash customer response times by giving them enough information to buy on the spot.
"It can take weeks to get a response time from customers, but by knowing everything about them before you arrive you can tailor your pitch and quote on anything they want immediately," he says.
"You capture instant buying decisions because customers don't have time to think about it.
"For existing customers the system also streamlines workflow to take out the manual process and duplication customers won't pay for and frees up more time to run your business."
Comment below to have your say on this story.
If you have a news story or tip-off, get in touch at editorial@sprinter.com.au.
Sign up to the Sprinter newsletter