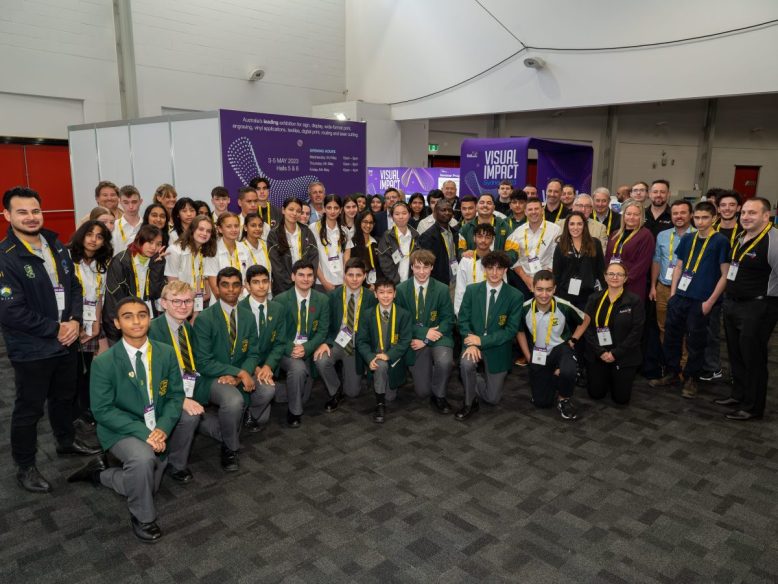 The education initiative run by Visual Connections and the Australian Sign & Graphics Association (ASGA), in partnership with AusSIP, at Visual Impact Sydney has been hailed a resounding success, with well over 100 students taking the opportunity to Try-A-Trade and explore career options at the print, sign and display show.
The initiative, which was expanded again this year, has been running for about 15 years during which time it has successfully driven apprenticeship numbers and supported hundreds of young people into industry careers.
AusSIP invited schools to attend Visual Impact to showcase the industry to students, teachers and parents, providing them with the opportunity to explore the diversity of the sector through various activities.
In a dedicated area near the entrance to the show, students were able to try their hand at applying vinyl cut lettering to a digitally printed background, adding a print to a tee-shirt using a direct-to-garment printer, laser engraving a small timber trophy and even traditional brushwork, hand-lettering onto matte vinyl.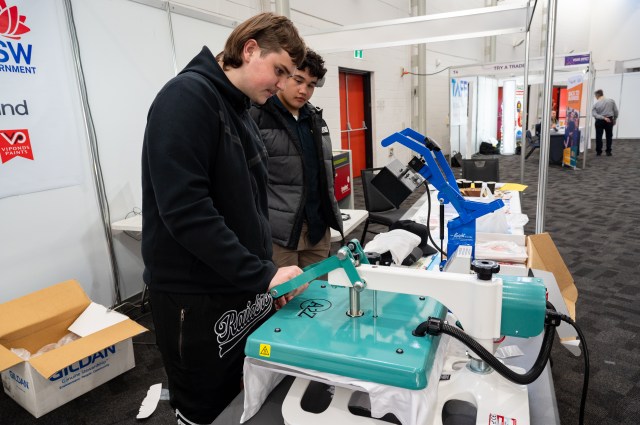 "The Try-a-Trade area was facilitated by apprentices from Ultimo TAFE who were able to provide specific and relatable information to the school students," TAFE NSW head teacher for sign and graphics Paul Richards said.
"This model has proven highly engaging for students, and we certainly saw that this year, not just on the Try-A-Trade stand but also during the 'speed dating-style' conversations at the Industry Round Table lunch held on 3 May."
Students were also able to tour the show and take part in activities such as the ASGA/Hexis Wrap Battle, to channel lettering and photography workshops, gaining a fascinating insight into the breadth and diversity of the industry.
AusSIP also facilitated speed career conversations over lunch, where students and teachers engaged with industry leaders and TAFE apprentices to further understand the career opportunities the industry has to offer.
On the first day of Visual Impact, more than 70 Year 10 students attended the show for their first taste of the sector.
Dr Adam Hendry, assistant deputy principal of the Parramatta Marist School, brought a group of boys involved in STEM subjects and the REA F1 in Schools and Subs in Schools programs to the show.
"This group has already had some exposure to laser cutters, CNC routers and other equipment through the fabrication of their cars and subs for the REA competitions," Hendry explained, "but at Visual Impact they had the opportunity not only to see the cutting-edge in these technologies and where the industry is going, but to get a real insight into how these technologies are used to innovate and create a wide range of products and applications that perhaps they had not considered.
"A number of students expressed interest in exploring techniques like car wrapping in more detail, and the group was also fascinated to hear the presentations at the Round Table Lunch and to chat to people just like themselves who could describe the pathway they had taken to their careers."
Kathy Henson, careers advisor at Rouse Hill High School, agreed.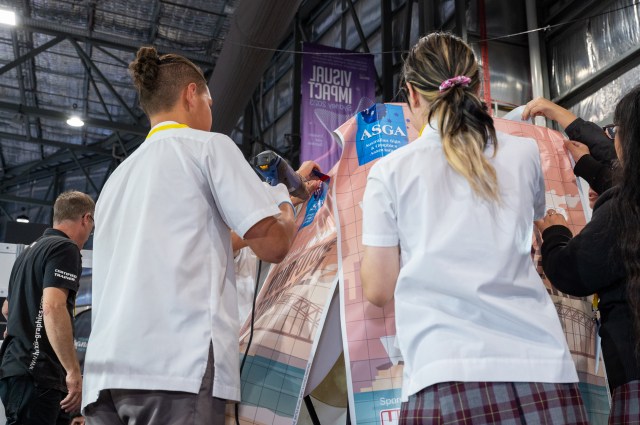 Henson had offered the opportunity to visit Visual Impact to students studying art, graphics, media and photography, with the final group selected for their interest in graphics, signage and media as detailed in Expressions of Interest they were asked to submit.
"We wanted to make sure that the opportunity was given to those who would gain the most from it, and those who made it into the final group absolutely loved it – they were totally engaged and it's been enormously valuable as it has given them a real awareness of how they might use their interests, skills and abilities in the visual arts fields for careers in the signage industry," she said.
"Just attending the show was enlightening as it showed them applications and careers they previously had very little idea about and then, through the Industry Round Table, they were able to talk to others who have gone ahead of them into the trades; for the girls, in particular, this was really inspiring and encouraging."
Several students from both groups have already expressed an interest in finding out more about apprenticeships at Careers Expos later in the year, with some also admitting that they hoped to connect with suppliers or industry businesses at the show to engage them in work experience during Term 3.
Student Jordan is one of those who found the show fascinating, with car wraps in particular capturing his imagination.
"I really had no idea how diverse the industry was before coming here today," he said.
"The variety and the range of careers available is really amazing, and it was great to have the chance to explore that a bit and get the chance to try a trade in a real, hands-on way – the Wrap Battle was so much fun!"
On the following days, AusSIP and NSW TAFE played host to other, more senior school students who had already expressed interest in industry careers, taking part in more focused and specific discussions about qualifications and training opportunities.
"Interestingly, we also get a lot of interest from people already working in the industry who perhaps may never have achieved a qualification, or who would like to diversify, so it was great to have conversations with some of those people about adult training and upskilling opportunities," Richards said.
"Of all the initiatives we have been involved with in the industries we cater to, there is no better or more valuable program than the one we run at print and sign shows with Visual Connections."
Stage 2 of the program is now underway with the team from AusSIP attending careers expos around the country. This will be followed by a series of industry 'taster days' later in the year.
The ambitious program has been relaunched by Visual Connections and ASGA this year and is sponsored by Amari Visual Solutions, Ball & Doggett, Cactus Imaging, Fujifilm Graphic Systems, Graphic Art Mart, Mulford Plastics, ORAFOL, Pozitive Sign & Graphic Supplies, Sign-a-Rama, Starleaton and Visual Connections.
Comment below to have your say on this story.
If you have a news story or tip-off, get in touch at editorial@sprinter.com.au.
Sign up to the Sprinter newsletter