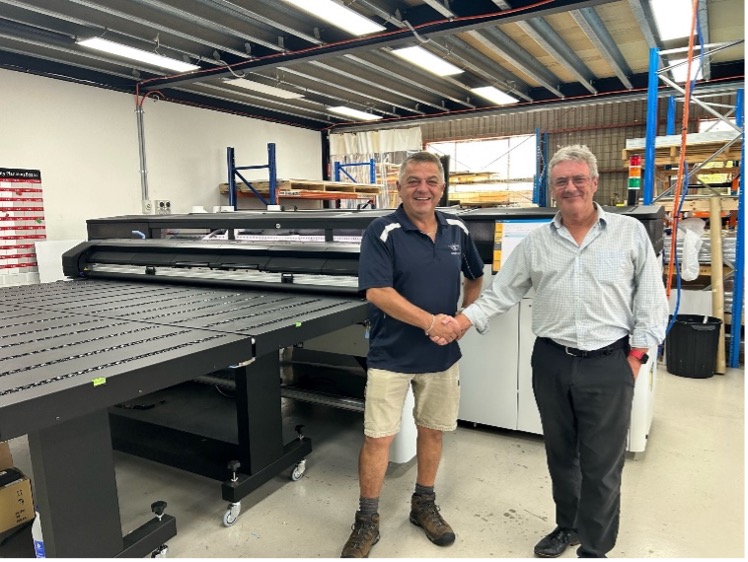 Victoria-based full service sign business Super Signs Australia has been able to deliver on high quality output since its recent install of a HP Latex R2000 Plus printer with dual extension tables by Ball & Doggett (Conect).
Following the November 2022 install, the company has been able to make good on its promises of quality and the ability to meet tight deadlines. It has given the team the production capability to squeeze in little jobs that help maximise investment.
Super Signs managing director Paul Taylor said the HP Latex R2000 Plus has allowed the team to deliver faster than their promises and still has the capability to keep up with the business growth for many years.
"A flatbed printer fills a gap in a sign business. What we do is we buy the best equipment and get the best deal on the best equipment. Because there's no point having the best people in the world working in your business and giving them crap equipment, you'll lose," Taylor said.
"The HP R2000 Plus dovetails with all the stuff we've got here. Did I need the R2000? No, I probably could have got away with a lesser machine but we future proof. It fit within our budget.
"We are very heavy on running calculators, we are very aware of cost of waste, print materials, and print times. When we ran the numbers for the R2000 investment, weirdly enough, we weren't in a worse position. The flatbed machine we had printed at a quarter of the speed. Time is the new currency.
"I know with speed you sometimes sacrifice quality. It's that quality and speed balance that the HP flatbed has, that we really like. In our business, we can't go back on quality. The R2000 technology has allowed us to improve quality and improve speed and wherever possible, improve pricing. The bulk ink system was a big factor as it improves our cost of printing."
HP's Latex R series is a hybrid flatbed solution, capable of producing high quality output on both rigid and flexible substrates. Featuring HP's high opacity White Latex ink, it delivers dense, glossy whites that will not yellow over time. HP's Latex ink is water based, odourless and UL ECOLOGO Certified and the output can be used in sensitive environments.
The HP Latex R2000 Plus has a maximum media width of 2.5m in both rigid and flexible materials, and supports thicknesses of up to 50mm. Adding additional extension tables allows you to print on oversized sheets up to several metres in length.
Proactive alerts and preventive services ensure more productivity and ability to meet production peaks and generate new business.
Ball & Doggett (Conect) hardware sales manager Mike Callander said, "Paul and the team at Super Signs have been long-term Conect customers and the support and service that we are known for will only get better with the resources of Ball & Doggett.
"Our ability to offer best in class wide format equipment, consumables, service and the knowledge of the market and products will help us to better support our customer growth and long-term success."
Super Signs run a full suite of HP wide format printers to support its indoor and outdoor wide format print requirements. For flexible media, it uses the Latex 365, Latex 570 and the Latex 800W with white ink, and now has added on the Latex R2000 Plus hybrid printer for rigid and flexible applications.
The R2000 replaced ageing UV flatbed technology, completing the HP latex portfolio on site.
"We are HP converts. The Latex waterbased ink across our HP printer's is cleaner. It means we don't need things to gas off the prints, or have sets of rubber gloves all around the place, we don't have people wearing safety glasses. These were all challenges with our old technology," Taylor said.
"The Latex R2000 Plus hybrid printer enables Super Signs with the versatility and speed to satisfy current client needs and future proof its business or some amazing growth. Quite simply, it is able to say 'yes' to its loyal customer base and a growing market demand," Callander added.
Comment below to have your say on this story.
If you have a news story or tip-off, get in touch at editorial@sprinter.com.au.
Sign up to the Sprinter newsletter