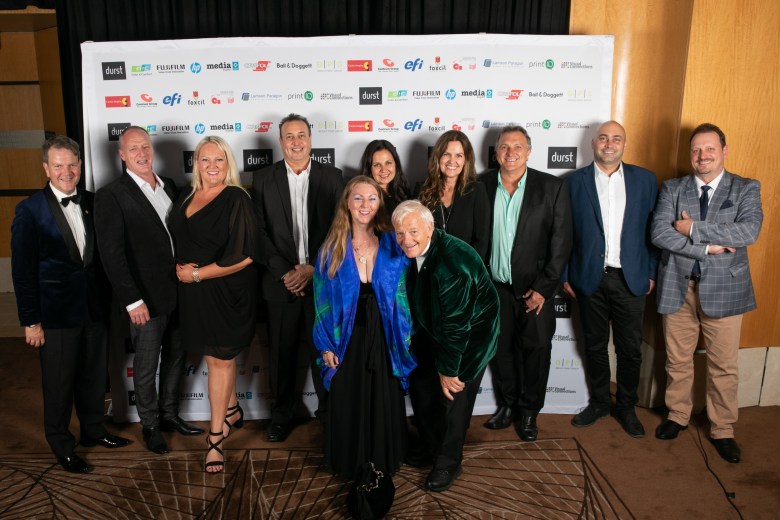 A large contingent of suppliers were in attendance at the first ever Supplier 50 announcement, which was conducted as part of the renamed ProPrint Awards at the Shangri-la Hotel in Sydney last Friday night.
The Supplier 50 is a new category of the awards and serves to recognise those who go over and above to help print businesses flourish.
Supplier 50 recipients were judged on the quality of their award submission based on their achievements over the last 12 months. There was no overall winner of the Supplier 50 with all recipients acknowledged in alphabetical order at the ProPrint Awards.
Their names are listed below and will also appear in the December issue of ProPrint with a short biography and photo.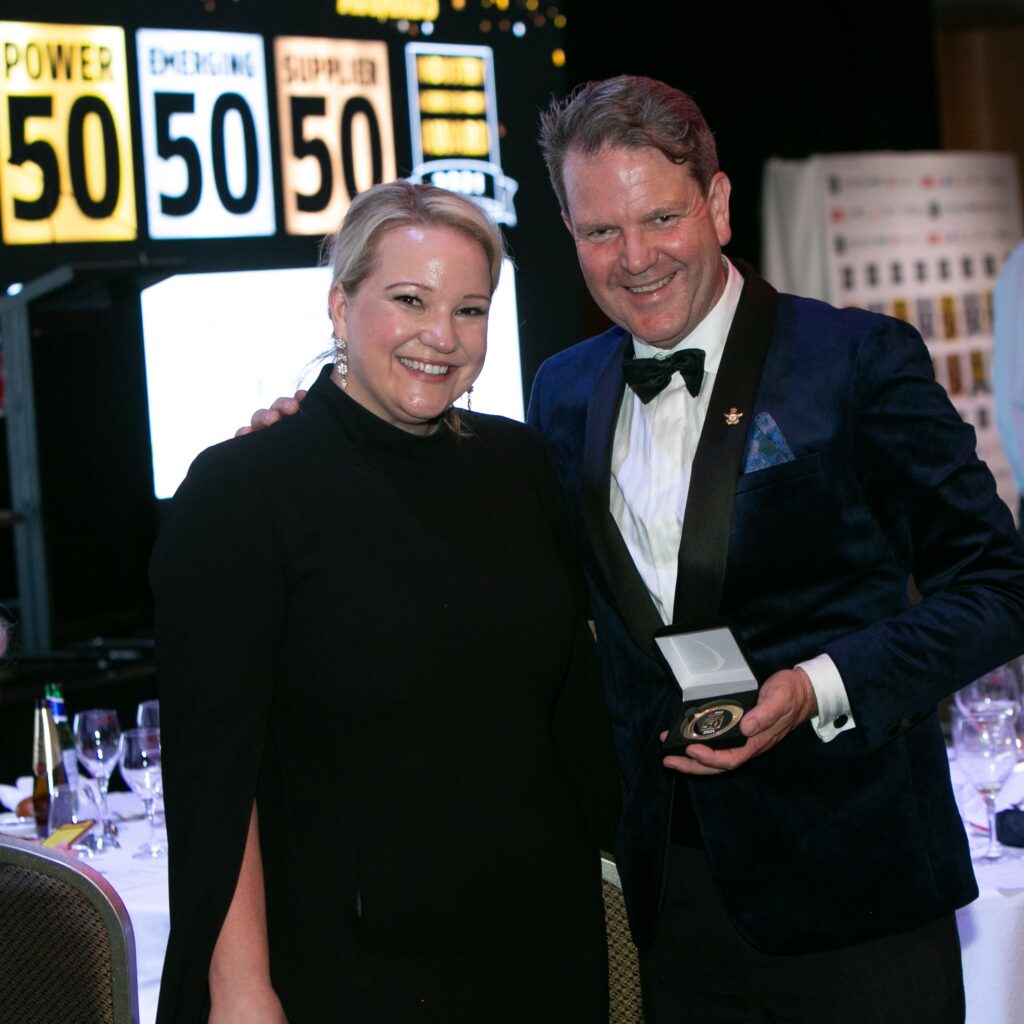 Special thanks to Platinum Sponsor Durst Oceania, gold sponsor DIC and silver sponsors Bright Print Group, Centrum Group and Graph-Pak for their support of this new and very important category.
A strong contingent of nominees turned out for the event which was a resounding success and was overseen by professional emcee, Sam McCool.
Congratulations to the 2021 Supplier 50:
Adam Salamone, operations manager, Charters Paper
Adam Todd, national industrial print sales, Konica Minolta
Alan Didus, Victorian sales manager, Ball & Doggett
Alex McClelland, managing director, Orafol Australia
Alfred David, national sales manager, Pozitive Signs & Graphics
Andy Lewis, logistics manager, G2 Systems PSD
Anthony Parnemann, regional manager ANZ, Electronics for Imaging
Ashley Playford-Browne, sales manager – textile & large format printing, Durst Oceania
Brett Maishman, national sales manager GCS channel sales, Fujifilm Business Innovation Australia
Craig Hornsey, managing director, Jetmark Signage Group
Craig Walmsley, South Pacific industrial country manager, HP
Damian Pocock, sales executive, Ball & Doggett
David Rusk, sales executive, Spicers
Dean Cox, sales representative, Agfa
Devan Nair, business development manager – production, Konica Minolta
Fiona O'Dea, human resources manager ANZ, DIC Australia
Geoff Earl, business development executive, Spicers
Glen Makary, national sales manager, Spicers
Henryk Kraszewski, senior product & marketing manager – production print, Ricoh
James Cryer, owner, JDA Print Recruitment
Jason Hay, national sales manager, Mimaki
Jason Kennedy, account executive – NSW, Fujifilm Australia
Jeremy Brew, worldwide large format solutions, HP
Jill Walsh, Qld business development manager, Ricky Richards
John Buitenkamp, sales and marketing director, Starleaton
Leigh Hooper, general manager display and visual, Ball & Doggett
Liam Fish, business development executive, Ball & Doggett
Lynne Kelly, NSW customer service manager, CMYKhub
Matt Ashman, managing director, Durst Oceania
Matt Johnson, managing director, Trimatt Systems
Mick Rowan, product director, printIQ
Neil Southerington, managing director, Graffica
Raj Dang, vice president sales, Smartech Business Systems
Rajalakshmy Nair, large format marketing manager, ANZ, HP
Richard Dudley, director, Blue Gum Graphics
Richard Kemp, chief operating officer ANZ, DIC Australia
Richard Lucas, general manager, HVG Graphics Media
Rob Mesaros, chief executive officer, Currie Group
Rodd Harrison, vice president sales – APAC, Electronics for Imaging
Sean Strange, general manager, Sign Essentials
Steven Howland, business manager, Graphic Art Mart
Tatjana Ferguson, product marketing manager – industrial print & wide format, Konica Minolta
Terence Mays, technical sales, G2 Systems PSD
Tim Killen, sales director, Renz Australia
Tom Ralph, managing director, Graph-Pak
Tony Bertrand, national marketing manager, Ball & Doggett
Tristan Hornsey, managing director, CPH Group
Wayne Eastaugh, managing director, Marvel Bookbinding & Printfinishing
Willie Macabulos, technician, Smartech Systems Oceania
Zaidee Jackson, business development manager, Ball & Doggett
Comment below to have your say on this story.
If you have a news story or tip-off, get in touch at editorial@sprinter.com.au.
Sign up to the Sprinter newsletter