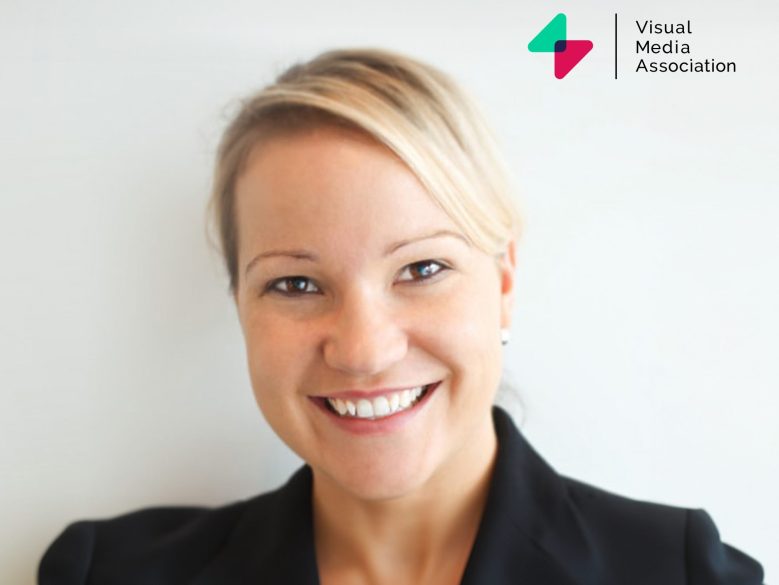 The newly-formed Visual Media Association has released surprise findings from its 2023 Annual Industry Metrics Survey.
The first event to release the report was hosted by partner sponsor Ricoh Australia and held at the company's Macquarie Park offices in Sydney on Tuesday 14 November, before a roadshow of events across Australia.
According to VMA CEO Kellie Northwood, the first survey of its kind in 10 years completed by 160 of the top printing businesses in the country representing approximately 75 per cent of the personnel employed in the category has identified key trends and forecasts for the print and visual media industry.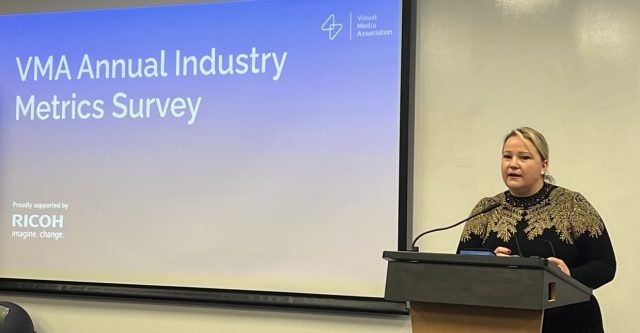 "As we merged the Real Media Collective and PVCA over the past 12 months, one of the really important things was to look at all of the wonderful programs that both associations have done historically.
"And one of them is an industry should know who it is, what it is, and how it is to allow our businesses to be more successful as well as your planning, forecasting your CapEx investments.
"We are hearing a lot of things about skilled labour shortages and what the government wants us to be doing environmentally and when it comes to carbon. We need to understand as an industry, what are we actually doing? Where are we at and understand whether we are we prepared, and also, what the association needs to also be investing in for you, so that we can address some of your concerns.
"I was thrilled with the high level of respondents to the survey, we exceeded our respondent target by 42% which has ensured the data we have collected is compelling and a strong illustration of our industry. I do thank each and every respondent for their time and contribution to the survey. The data too has some surprises – staff ratios sales v operational reflects a changing landscape to manufacturing, commercial to digital equipment percentages similarly so. The shift in skilled labour innovations, as well as working flexibility trends entering our industry are interesting and I look forward to sharing these with the industry over the next few weeks," Northwood said.
Here are some of the key findings contained in the 2023 VMA Annual Industry Metrics Survey:
General Industry Trends
83.44% of companies are privately-owned and operated
67.55% of printers operate from a single site
51.67% of businesses realise an annual turnover under $2 million
32.46% of businesses realise an annual turnover under $1 million
71.53% are small businesses of 15 employees or less
49.01% are employing less than 10 employees
62.35% report gross profit margin in the last financial year was more than 20%
60.26% whilst offering multiple services, define themselves as 'Printers'
55.25% of businesses report growth in job volumes
28.67% of businesses report declines in job volumes
43.41% report the greatest risk to their business in the next 3 years is the economy
Service Offering & Diversity
46.85% of businesses have increased their service diversity over the past three years
48.25% are looking to invest in existing equipment with upgrades and add-ons
28.67% are looking at new manufacturing capabilities
77.11% of printers will invest in diversification programs within the next two years
37.35% of printers will invest in diversification programs within the next year
Quoting Jobs & Workflow
92.72% of employees are customer-facing or sales personnel, with some operating in a hybrid to operational role
54.55% of employees see the lack of automation as the biggest issue facing their production efficiency
51.24% report poor workflow solutions – outdated or multiple tools, as having a significant impact on their production efficiency
38.24% of businesses report automation will reduce the highest cost impact to their business with reduced employee numbers
62% of businesses receive job orders via email
28% of businesses receive job orders vis direct sales orders
15% of businesses receive job orders via web-to-print
67.06% of jobs quoted are converted to 'Live' jobs
17.65% of jobs quoted are converted to 'Live' work
Sales and customer facing automation is becoming a priority
Workflow automation and technology is critical to improved profitability and sustainability to businesses across the industry
Job volumes are growing which supports a stronger industry and reflects recovery from COVID
61.18% of average job size is under 1000 units
30.6% of average job size is under 500 units
82.12% of businesses report job volume trends throughout the year
57.26% of volume trends are linked to seasonal campaigns
40.17% of campaigns are linked to EOFY and customer budgeting windows
38.46% of campaigns are linked to Education and Government work such as elections, budgets or school terms
23.08% outline stability in jobs from month to month
36.75% are reporting zero stability and predictability – operating in a quote to quote environment
Retailers remain a strong buying group
Protecting government and education volumes is critical to the industry
Labour & Salary Benchmarking
68.24% of business costs allocated to labour
24.71% of business costs by comparison are allocated to materials
28.68% report the lack of skilled labour is a significant risk to their business
50% report that roles will become shared or hybrid roles across all business needs
38.24% of companies pay 5-10% above the Award
36.76% of companies pay 11-20% above the Award
10.29% of companies pay 100% to the Award
5.88% of companies pay more than 20% above the Award
Operational staff still make up the largest departments by number of personnel across businesses, if only single-skilled
The majority of all personnel are full time employees – 60/40 gender split
The printing industry collectively pays above the Award rates
Skills & Training
57.35% report roles will evolve whether automated or hybrid within the next three years
58.82% of respondents invest in formal training for staff
67.50% of businesses invest in private training outside of TAFE or Government provided training
77.94% of businesses do not employ apprentices
22.06% of business employ at least one apprentice
53% of employees are aged between 36-55
28% of employees are aged between 56-65
15% of employees are aged over 65
56.25% of businesses report the biggest challenge to workforce recruitment is finding candidates with the right skills
45.31% of businesses report the biggest challenge is finding job-ready candidates
64.06% of businesses report mindset and motivation balanced with attitude to work is the biggest challenge in the year ahead
Evolution, multi upskilling and diversification to skills and training is trending
Year one apprentices dominate the apprentice cycle reflecting the pause and rebuild from Covid
Ageing workforce demographic is balanced to young incoming growth
Finance, Business Certification & Standards
62.35% report a higher than 20% gross profit margin average for their businesses
35.30% report an average of 5-20% gross profit margin for their businesses
89.41 per cent report that energy is less than 20% of their operational costs
96.47% report that environmental compliance is less than 20% of their business operational costs
51.56% do not have any environmental certifications
42.68% use environmental credentials of paper and print to assist their sales process and customer discussions
15.63% report ISO9001 or ISO14001 certification
1.56% are carbon mapping
Comment below to have your say on this story.
If you have a news story or tip-off, get in touch at editorial@sprinter.com.au.
Sign up to the Sprinter newsletter