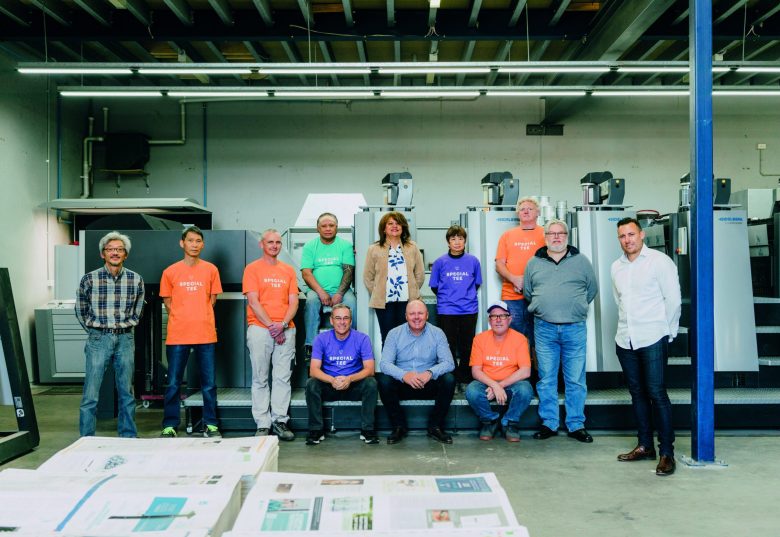 This story first appeared in print in ProPrint October 2021. To read the magazine online, please click here.
Corey London swapped a career as a chef for a life in print at the age of 20.

Nowadays he owns and runs Special T Print in Sydney's Kingsgrove on a tried-and-true recipe of honesty, trusting your gut and an unwavering commitment that all customers shall receive the 'Special Treatment'.
It sounds a bit like Colonel Sanders' 11 special herbs and spices, but when you believe honesty is the best policy and still have Mum's advice to not worry about what people think about you ringing in your ear, London says it isn't really that complicated.
"I am a genuinely very honest person so if I got off the phone from you today and knew that I hadn't told you the truth, I would feel really quite bad," London told ProPrint during our mid-COVID lockdown interview.

This approach is what he uses across his business which he started in 2010 and now employs 15 people with clientele in the design, publishing, medical, construction, hospitality, and events sectors.
"Our business is about being fair to our team, our clients, our suppliers and our competitors," he said.

This is reflected in the company's sales strategies which London says could not be more different to the traditional sales style that was popular in the 1990s and early 2000s when he first started the business.
He says long lunches and a few beers at the pub could have meant more business a few years back, but nowadays it's a lot more than that and no one has the time.
The way he sees it is printers are the Panadol for a client's headache. Selling ink on paper just isn't going to cut it and printers need to be like a business coach, counsellor, solutions provider, and all-round trusted advisor to help customers get on track and thrive.
"Special T and our clients have a common goal and it's all related to the end result," London said.
"It's not all about print, having the big presses, the large format section, multiple trucks on the road, the big warehouse. There are many ingredients to being your client's printer of choice. There is more to it than that.
"It's more got to do with how much you can help your client, how much can your client help you. There is a huge element of trust involved. They come to us with a challenge, and we've got to offer the right solutions."
London says he is blessed to have learnt from the best after he swapped life in a restaurant kitchen – too many late nights and too much travel – for one behind a printing press. His first job was as a delivery driver for Michael Boceski at Rainbow Printing in Rydalmere.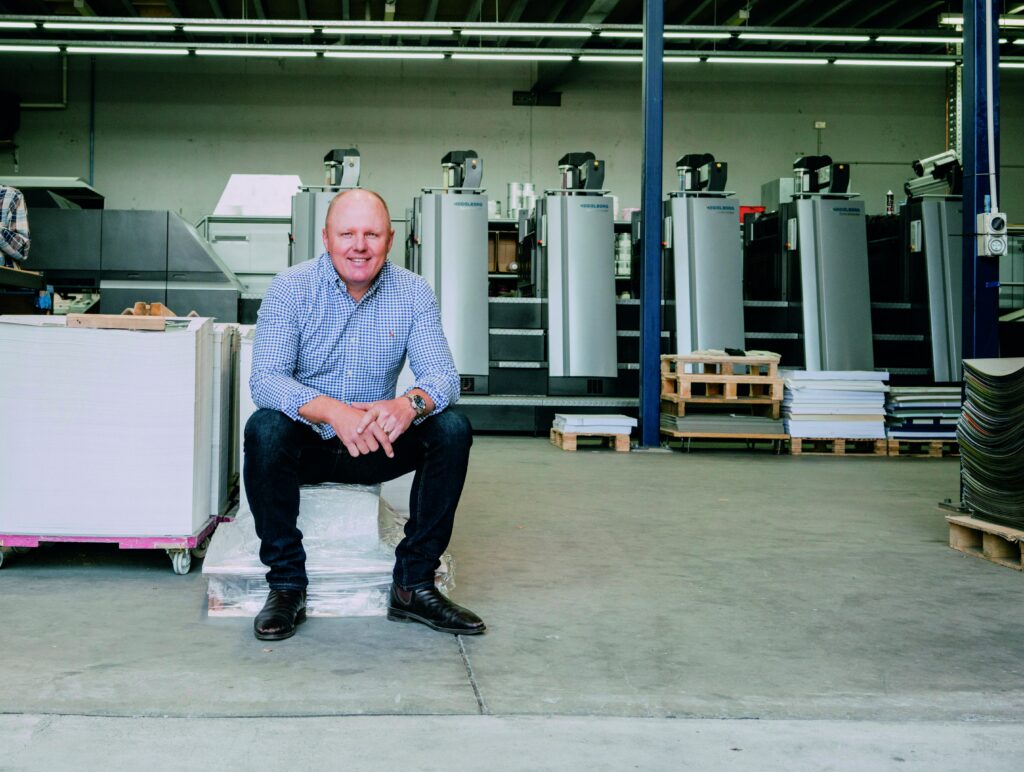 From there he moved to Chippendale Printing where he completed his printing apprenticeship under Ed Gardner and Phil Hanks. This led to a printing role at Websdale Printing with Tom Pongrass, to which he moved into production and sales and forged a long-term friendship with Michael Morley who joined the company from Potstill Press.
In 2016, London consulted with a business coach with the learnings still being used today.
"She taught me to look at how I react to things, and how to not react too quickly. I also learnt a lot about being proactive and if I do have to react how to take my time to make sure I'm making the right decision," he said.
In 2019, London joined together with his long-term industry friend and competitor, Adrian Blessington, from Green and Gold.
"Our friendship, like-minded approach and expertise brought us together and our only regret is we didn't do it years earlier," London said.
All these people were instrumental in getting London to where he is today.
"Everyone that I worked for I looked up to and thought I would love to end up as successful as they are and be respected like they are, so I thought how do you do that?" London said.
"Well, it is with honesty and doing the right thing and doing your best, so I have always tried to be honest in all of my dealings. If you are honest and you do a good job and you try and do the right thing you are going to end up in a pretty good spot.

"What I was able to witness when I was younger is why my business is what it is today. In 11 years, we have established a very stable team of long-term employees. Two members of the team have been with me from day one.

"A huge benefit to our team is that the core group of us have all known each other or worked together previously. Having a previous relationship with a new team member promotes respect and honesty, where they are never afraid to offer advice with better, smarter ways to do things in all areas of the business.

"This is a family business, and everyone can think freely, work freely, and run off each other. We try to run a business that is on gut-feel rather than out of a textbook."

The approach is working, despite 18 months of deep uncertainty with COVID and repeated lockdowns.
"COVID has impacted everyone in some way. We have tried to be there for our staff as best we could, we were quite lucky that we had work every day albeit reduced hours, but we did keep ticking along," he said.

"We tried to support all of our customers and suppliers and it seems as though the majority would continue on. But with the second lockdown in 2021 we are in uncharted waters but again we will stick to our strategy and be there again to do what we can."

The challenge of pricing
Price undercutting is a challenge in print and one that London emphatically says is not part of his game plan.
At Special T the price that's in the quote is the price, cost plus mark-up, it's as simple as that. When customers are comparing quotes, it is always important to compare apples with apples, he says. If a competitor's price is significantly lower, London will look at what can be done but it's always difficult to drop a price to win the job.
"Sometimes I am left scratching my head and I double check the pricing to make sure we didn't make an error," he said.

"We win work on quality, service, expertise, guidance and a guarantee that the job will be done well and on time. We are not the most expensive and we are not the cheapest, but we try to offer rates that are cost plus mark-up. It's the simplest way to price your work.

"The mark-up helps to secure the future of your business. Whether it be capital investment, an urgent repair, or maybe to ensure the business makes a profit. It all adds up. Doing any job below cost to win it isn't fair on anyone. Our clients, our suppliers and our competitors will all be affected by this strategy.

"You can't just run a business on cost as you've got fixed costs, variable costs. It is not all about paper, ink and labour."

This brings London to the slippery and difficult to quantify concept of value.
Quantifying value
Value is what London believes Special T brings, from the 'special treatment' his customers get with the solutions and concepts his team deliver. This value must also be built into the cost but valuing it properly is not easy.
"Just say we quote a job at $10,000 and the customer comes back and says they have a quote that is 10 per cent lower, it becomes a hard thing to put into context," he said.

"We always try and price a job correctly the first time so that it finds its place in the market. If we feel a job may be out of reach or over a customer's budget, we discuss alternatives with them that may still work well.

"In the cost of a print job what are you paying for? There are the raw materials and the labour but there is also expertise, care, guarantee, trust ¬ there is a lot of things that go into our price."
Whilst many facets of print have gone online, London believes in the value of print.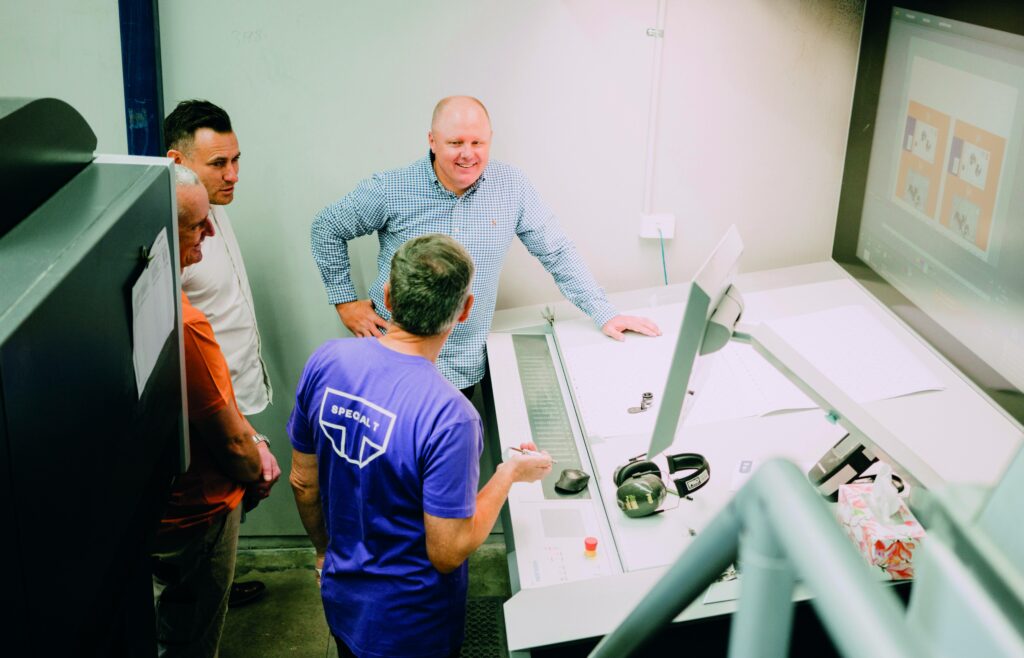 "Value doesn't always mean price, it means who values the print job and what it is worth to your business and your customers," he said.
London has some great success stories of customers who have reaped the rewards of continuing to invest in print, while those who have dumped it to go online have suffered.
He says the online shift and price pressures mean the print industry is the only one that has become cheaper over time.
"Technology has improved and has many benefits, but equipment is more than it was 10 years ago," he said. "Paper, ink, labour, machinery are the costs of upkeep of a business, and it is very expensive."
It does present a conundrum of sorts, but London is not phased.
"Our business has always regarded our quality and level of service as the most important investment," he said.
"Starting off as a small offset printer we have now pushed the business into digital, large format and warehouse and distribution.
"COVID did put the brakes on some of our expansion plans, but we are back on track to launch some new services at the end of 2021 around warehousing and distribution."
Comment below to have your say on this story.
If you have a news story or tip-off, get in touch at editorial@sprinter.com.au.
Sign up to the Sprinter newsletter