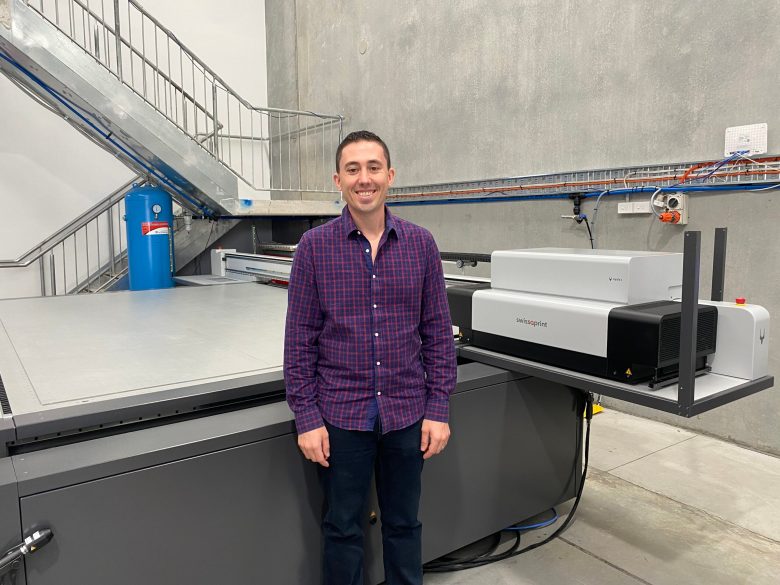 Print, signage, display and installation company Grand Print Services has just installed a SwissQprint Nyala 4 machine that it bought from Pozitive as the company moves on to its next phase of growth.
Grand Print Services managing director James Sultana told Sprinter that he invested in the press to build on the company's flatbed work. The Nyala 4 replaces a legacy printer that the company owned for several years.
"We have just purchased a SwissQprint Nyala 4, which I believe is the first or second press installed in the country. It's the first SwissQprint machine we have here at Grand Print," he said.
"We purchased it mainly to satisfy our flatbed work, which we do a fair amount of and is a big growth area for us moving forward. The machine also does roll-to-roll printing, but we mainly bought it for its flatbed printing capabilities.
"The SwissQprint machine is the right fit for us now that we've got much higher demand for larger volume jobs. Our previous machine was fantastic, and it helped build our client base. But now, we've moved on to the next phase of growing and it requires more speed to be able to handle volumes."
The SwissQprint Nyala 4 press delivers on many benefits with its cutting-edge print head technology and the high-precision droplet placement perfected by SwissQprint. The Nyala 4 achieves a maximum resolution of 1,350 dpi, with an output of up to 206 m2/h.
According to Sultana, the quality of prints and speed of the machine attracted him to the press.
"The Nyala 4 has plenty of features to get excited about but the two main things for me are quality and speed. We believe in only producing quality for our output; we never send out substandard work. So, to be able to produce the quality that we have been delivering but at higher speeds is an improvement from what we were able to do on our previous printer," he said.
"It does everything from small prints to full POS displays, anything that's flat and obviously roll-to-roll as well. We're printing about three, four or five times as quick, depending on the print mode, but still with great quality."
Grand Print Services also owns Zünd and Canon Colorado machines. Sultana said the SwissQprint Nyala 4 fits in seamlessly with these machines.
"They're all very solid machines. They're not the high-end, automated trade printers but for our business, they are perfect. They're very much suited to what we do, and they are all workhorses in our premises," he said.
Sultana also said that the new machine has enabled the business to take on more work.
"It gives us so much capacity to not only satisfy existing work but take on more to grow. The opportunities are there for us to grow our clientele base and that's why we were happy to invest," he mentioned.
The installation process itself went smoothly at Grand Print, with Sultana saying that it was up and running within a day.
"Installation was nice and quick. The beauty of the Nyala is that the machine comes one piece, unlike some other machines that need to be assembled. We literally craned it off the truck and rolled it into the factory. We went straight into testing, which the team at Pozitive helped us with. They were fantastic in software training and machine training," he said.
Sultana added that the legacy printer that Grand Print owned has since been sold to a signage company based in Melbourne.
"Our older machine has been re-homed to a sign company in Melbourne. That machine is a very good fit for the business because the style of work that they do is very well suited to that style of machine. We're more in the trade space. Most of our work is for brokers for other print shops. Naturally, the jobs are bigger," Sultana mentioned.
"And space is also an issue for us – we don't have a lot of room to have multiple machines. The reality is, the new machine is so much quicker that if we kept the old machine, we wouldn't have used it all that much."
Comment below to have your say on this story.
If you have a news story or tip-off, get in touch at editorial@sprinter.com.au.
Sign up to the Sprinter newsletter