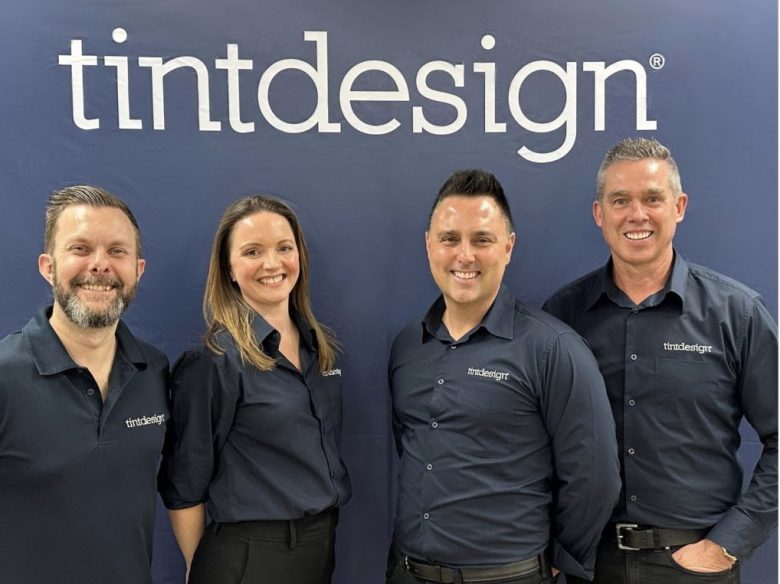 (Above l-r): Tint Design's new directors – Tyler Golding, Julia Slussareff, Paul Coniglio and Rob Batty
Tint Design has announced the new leadership team of the business, and confirmed a management buyout of the company effective 1 July.
The company will then be named 2NDGEN Pty Ltd, trading as Tint Design.
The leadership team will consist of Paul Coniglio as the managing director and Julia Slussareff as financial director. Both Tyler Golding and Rob Batty will take up the roles of account directors in the business focusing on strategic growth of key sectors.
Based in Bayswater Victoria, Tint Design was founded by Shane and Anne Golding 36 years ago. The business focused on solar films and internal glazing of office windows with frost and warning bands. It expanded over the last three years to become a provider of modern signage solutions for the built environment. The business also specialises in custom braille and tactile signage for supply only clients.
2NDGEN Pty Ltd trading as Tint Design will pay homage to both Coniglio and Golding's long-term careers working with their parents.
Coniglio was a former general manager of Conect Enterprises and Asia Pacific head of films at manufacturer Metamark before he launched his own business, Print X One.
Golding has worked at Tint Design for over 20 years, while his wife Julia has been in the business for 18 years. Batty recently joined the business after a successful 35-year career in McDonalds in marketing and operations.
"This is a very exciting day in our 36-year history," Coniglio said.
"I am so honoured and privileged to lead this great business into a new era with my co-directors. Tint Design has an incredible reputation across the architectural and construction industry, largely due to the vision and hard work of our founder Shane Golding.
"To be able to take this company forward with Shane's son and daughter-in-law and my husband from 1 July is amazing. I want to personally acknowledge Julia and Tyler for their hard work and commitment to Tint Design over so many years."
Since Coniglio's arrival in March 2022, the business has experienced over 60 per cent growth in 12 months, adding new clients and market segments, as well as experienced talent to the business.
Tammy Roos has 27 years of signage experience and joined the business as lead estimator in November. Bob Cuthill joined Tint Design as production manager with a 30-year career in the sign industry across Scotland and Australia. The business also recruited three new cadets to create a career path for people interested in signage and design.
"Tint Design would like to thank our team for their ongoing hard work and support of our long-term vision for the business. We'd also like to thank our customers for your ongoing support, loyalty, and partnership," Coniglio added.
Comment below to have your say on this story.
If you have a news story or tip-off, get in touch at editorial@sprinter.com.au.
Sign up to the Sprinter newsletter