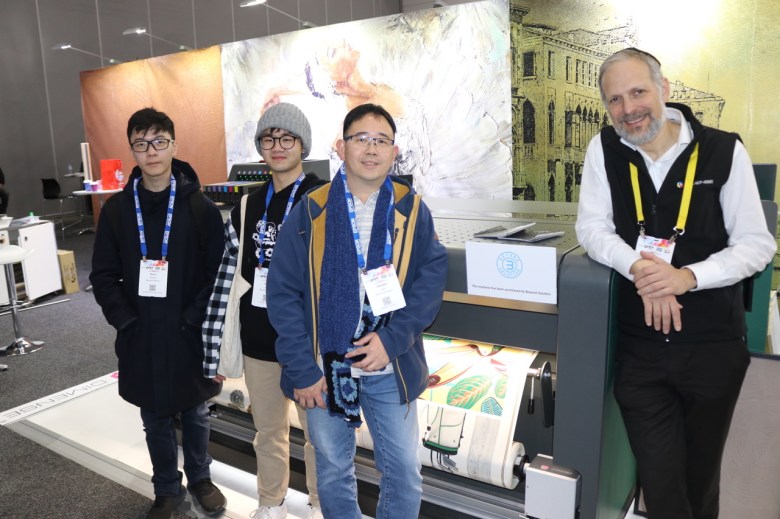 Two Australian printers stepped out of the box by purchasing a new Dimense 3D structured wallpaper printer at PacPrint.
The first of the sales went to Beyond Solution, a signage company based in Western Australia, while the second Dimense was sold to Label Concepts, a nationwide provider of fleet, branding and surface decals.
The Dimense is distributed exclusively in Australia by Abe Weiszberger from Stick on Signs. Speaking at PacPrint, Weiszberger said the Dimense brings truly unique print capabilities which will vastly broaden what is possible when it comes to wall graphics, wallpaper and labelling.
Beyond Solution director Vincent Liem visited PacPrint from Perth and signed on the dotted line during the show for the Dimense. It will be the first Dimense to arrive in Western Australia.
Speaking at PacPrint, Liem told Sprinter he was attracted to the Dimense's ability to print "olden style" textured wallpaper, just like the way it used to be done decades ago.
"We are in Western Australia, and we are always trying to offer innovation options. This is why we like the Dimense. It can create wallpaper like what was very popular back in the olden days. A lot of people are using wall graphics these days so there is nothing new about that. We wanted something different and that is why we went with this. It is just so different to anything we have seen before," Liem told Sprinter.
"We first looked at the Dimense four years ago and the time is right for us to now take one on. We are very excited about the potential this offers us."
Weiszberger said the Dimense attracted strong interest at PacPrint, and at the FESPA Global Print Expo in Berlin where he recently exhibited the technology as well.
"The Dimense printer will take the industry to the next level. It is really bringing something new to Australia and this can only be a good thing," he said.
Label Concepts
Label Concepts director Mark McEwan said it was exciting to make such a unique investment in the same week his business turned 30.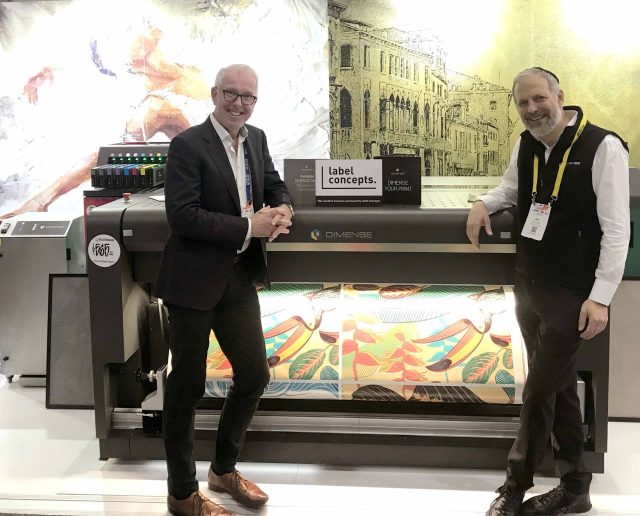 "We've always been at the forefront of both the latest technology and the best of the best printing equipment. This purchase underscores our willingness to be an innovator, and we're excited for the next 30 years, as we now extend our market to bespoke wallpaper," McEwan said.
Weiszberger is excited about the Dimense's possibilities, particularly for applications in the commercial signage, home décor and labelling space.
The Dimense can print at 15 to 20 square metres per hour and comes fully loaded with a computer, RIP software, installation and a bulk ink system.
For more information, visit: https://stickonsigns.com.au/
Comment below to have your say on this story.
If you have a news story or tip-off, get in touch at editorial@sprinter.com.au.
Sign up to the Sprinter newsletter