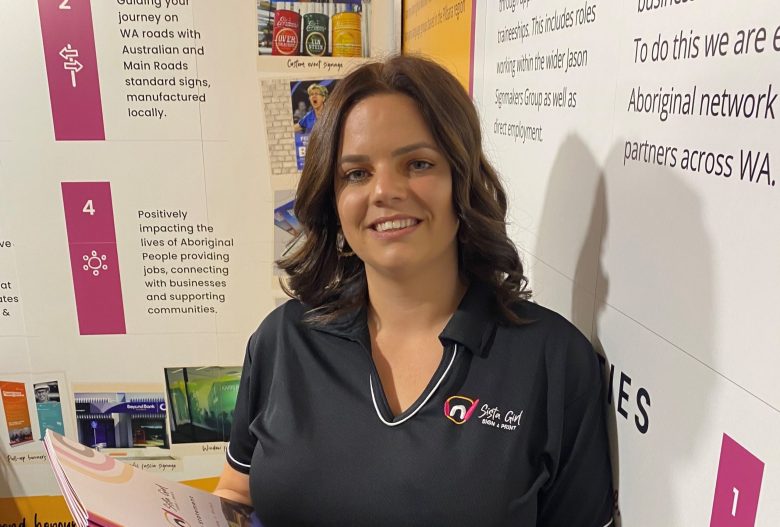 This article was first published in the March 2021 issue of Australian Printer
Sista Girl Sign & Print is a business like no other. Launched in early 2020, the business is a joint venture between Jason Signmakers and Raquel Todd, an Aboriginal woman from the Pilbara region, that specialises in keeping people at work safe through worksite safety signs, equipment and high quality HSE printed resources.
The business also provides Australian and Main Roads WA compliant road signs and accessories, as well as business signage and printed collateral.
"I am an Aboriginal woman from the Banyjima and Kariyarra language groups based in the Pilbara region of Western Australia. I was born and raised in Port Hedland before moving to Perth at age 13," Todd said.
"The entrepreneurial spirit runs in my blood, with many family members including my parents owning and operating their own businesses. This is something that has inspired and driven me from the beginning."
Before starting her own adventure with Sista Girl Sign & Print, Todd gained invaluable experience as a community ambassador with North West Alliance (a part of the global Veolia company).
Sista Girl Sign & Print then came about from Todd's long-standing relationship with John Mancini, the managing director of Jason Signmakers.
"I first met and worked alongside John in 2013. Since then, we had been looking for an opportunity to create a business together – one with a purpose bigger than products, one that can help to improve the lives of Aboriginal people," Todd said. "My goal is to create a business that can provide long-term career opportunities to Aboriginal people, in particular, women. Print is not an industry that attracts a lot of women, and I love that I am in a unique position to help change this.
"Sista Girl Sign & Print opened this opportunity. The business, which we launched in early 2020, has a fantastic purpose, strong capabilities in signs, safety and print, and a determination to do great things."

When creating Sista Girl, Todd stayed true to her three pillars of aboriginal engagement: providing opportunities for Aboriginal people, bringing Aboriginal businesses into the supply chain, and working with local communities to give back where it matters most.
"My co-founder was always supportive of this and encouraged me to pursue the idea of 'more than just signs and print'. The other managers across the Jason Group have provided training and advice along the way as I have learnt the ins and outs of the industry," she said.
However, print and signage was a completely new world for Todd. Having just completed her first year in the industry, she has to start at the beginning.
"I had to learn what vinyls and substrates were, and educate myself on terms like 'print-ready'. I spent time learning about flatbed printers, zunds, laminators, and other machinery. Learning about what is involved in turning artwork into actual printed collateral was a big learning curve for me," Todd said.
"But I love helping clients see their ideas come to life. I get to help businesses grow with highly effective signage and printed collateral which communicates their brand and message. No job is the same and I am always learning something new about what is possible."
In the one year that she has been with the industry, Todd was nominated as an Emerging Businesswoman of the Year at the Indigenous Emerging Business Forum.
"I featured in the West Australian business news section and had the opportunity to tell my business journey alongside some of the most established and well represented Aboriginal businesses throughout WA," she said.
Aside from the push for more women working in the print and sign industry, Todd expects to give back to the industry by being more vocal and active in the community.
"I use my social media channels to promote the work we do and always take the opportunity to 'shout out' about the amazing jobs done by women," she mentioned.
"I also aim to bring in other Aboriginal business, especially those run by women, into my supply chain. For example, Tamara Bin Amat from Impact Media designed my branding and website. Impact Media is a Karratha based supply chain registered business.
"She also directs a lot of her clients designs to Sista Girl to be printed, creating a circular economy for Aboriginal businesses."
Todd looks to the wider Jason Group for inspiration as she said many of the women within the business are experts in their field.
"For example, Helen Kearsley, who runs the small format printer at Expo Group has been in the industry for over 20 years. When scoping what is possible for my customers, women like Helen are able to provide real life advice (and inspiration) about processes, substrates and finishing," she mentioned.
"The Jason Group has been actively pushing to increase women in the workplace and can proudly say it is nearly 30 per cent represented by women. This is across all areas including jobs that were more traditionally done by men, like spray painting."
Sista Girl Sign & Print is currently recruiting for a traineeship position.
Comment below to have your say on this story.
If you have a news story or tip-off, get in touch at editorial@sprinter.com.au.
Sign up to the Sprinter newsletter