Xeikon has brought a host of new technologies to Labelexpo Europe 2023, focusing on helping converters succeed by making label and packaging production easier and highly sustainable.
The company has taken its Cheetah technology to new heights, with the introduction of version 3.0 representing a significant step forward sustainable production.
According to Xeikon, it is poised to revolutionise the manufacturing of labels and packaging, playing a pivotal role in minimising the industry's carbon footprint.
The new Xeikon Eco toner is formulated with over 60 per cent high-grade recycled PET to meet the sustainability demand and ensure compliance with the increasingly stringent regulations governing packaging components and recyclability.
Eco toner will be available for the Xeikon CX300 and Xeikon CX500.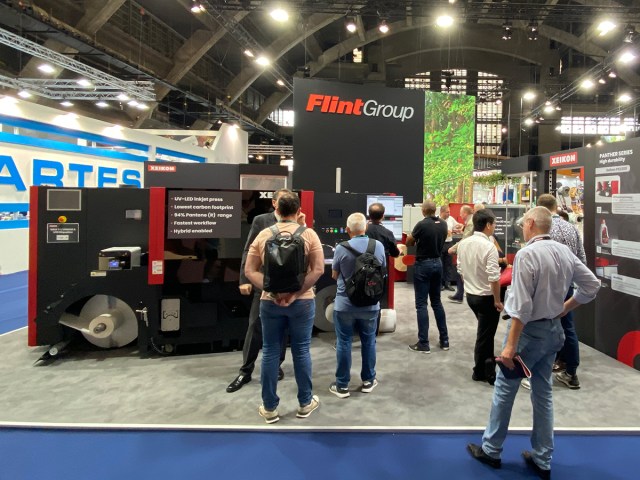 Xeikon vice president of marketing Filip Weymans said, "With its exceptional print quality, high reliability, and eco-friendly composition, Eco toner makes a meaningful contribution to Xeikon's unwavering commitment to delivering high-performance and environmentally responsible printing solutions.
"Using ECO toner can reduce the carbon footprint of the printing operation by 10 per cent, and importantly, it will not increase costs, unlike other eco solutions. We are also proud to say that all Xeikon toners remain the market's most food-safe technology for digital printing."
Xeikon is also showcasing the recently developed Quality Measurement Module (QMM), which can be fitted on all Cheetah 3.0 CX Series presses as an option. The QMM will be responsible for the quality assurance of the printed output, closely monitoring the density and registration throughout the print run.
Weymans added, "By eliminating waste and guaranteeing high quality, the Xeikon QMM will allow printers to deliver perfect labels to their customers more cost-effectively. It is another great innovation from Xeikon that helps to support the advancement of sustainability in digital label production."
Xeikon has also devised a new Sustainability Scorecard to offer more transparency in proving compliance with various regulations and help brand owners with their sustainability goals.
The Scorecard will analyse the carbon footprint of each Xeikon press, right down to the individual components of the consumables. It will identify food compliance, VOCs emissions, recyclability and energy use to give a complete overview.
Xeikon also used Labelexpo Europe 2023 for the European premiere of its new Titon toner technology. It has been developed to meet market demands for paper-based flexible packaging applications, such as stand-up pouches and sachets.
The first press presented with Titon technology is the Xeikon TX-500, which prints in up to five colours at 30 metres per minute in a resolution of 1200 dpi.
According to the company, the 520mm-wide press will be instrumental in opening up new market opportunities in paper-based labels and flexible packaging, helping converters to future-proof their businesses and respond to consumers' concerns for the environment.
Xeikon is showcasing the Xeikon TX-500 press running live in-line with a digital embellishment module from Kurz. Producing full-colour, high-end labels with digital foil, the combined solution demonstrates how easy it is to supply luxury markets with high-impact, sustainable labels through an all-digital process.
The Xeikon team can also be seen away from the company's stand as it takes part in the Automation Arena 2023, presenting the benefits of connected workflows with high levels of automation.
Xeikon is also participating in the new Flex Pack Trail, highlighting the benefits of the company's latest solutions, including Eco toner, Sustainability Scorecard, and Titon technology.
"At Labelexpo Europe 2023, Xeikon is showcasing innovations that contribute to the seamless and sustainable growth of label converters. We are here to highlight how our latest offerings enable a thriving and agile business environment while also demonstrating how we are prioritising environmental consciousness with impactful products and solutions," Weymans concluded.
Comment below to have your say on this story.
If you have a news story or tip-off, get in touch at editorial@sprinter.com.au.
Sign up to the Sprinter newsletter