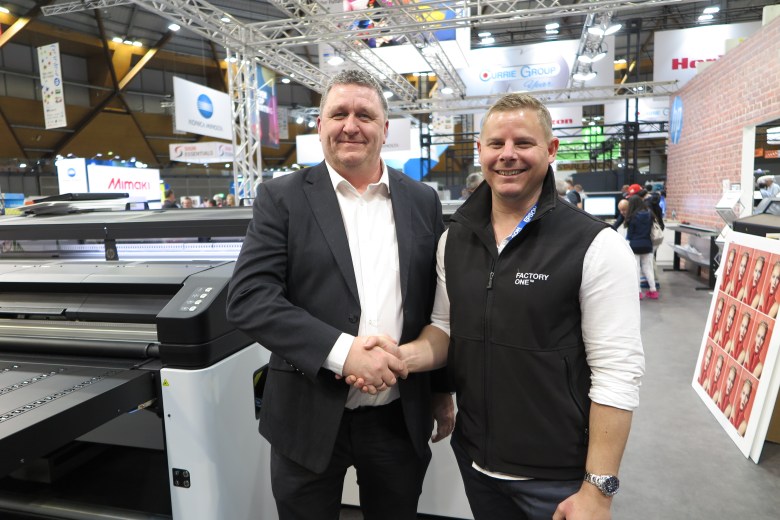 NSW business Factory One has installed the state's third HP rigid latex printer, the R2000 model, under the company's new ownership, having purchased it through Celmac.
Andrew Hall purchased the business from founder Justin Weaver, kicking off with a new investment, with the new managing director telling Sprinter he is looking forward to partnering with other printers in the industry, opening up the technology to more customers.
Hall explains, "I looked at a lot of printers, with a lot of input from Justin, who was heavily invested in latex. He told me that when he first bought the L6500 it changed his business. I looked at a number of printers, but latex offered a point of difference with the environmental factor, and the ticks that it provided really stood out.
"If we went with UV, there would be nothing we could offer our customers that everybody else was already offering them. This has made us have that point of difference."
When asked by Sprinter if the rigid latex printer would open up new markets for the business, Hall responded, "We decided to have a look at what jobs we were getting that we could send to the R2000. Having the white ink is a big gamechanger for us, it is opening up office fitouts for us and building construction sites.
"We are really happy to have the machine, it is exciting to see where it takes us and we are excited to work with Celmac. We are the third business in NSW to install a HP R series machine, and we are looking forward to partnering with other printers in the industry.
"We know that not everyone can have the same equipment, and we are open to business-to-business opportunities with other companies."
Wayne McIntyre, CEO, Celmac, says, "Factory One was one of the earliest adopters of latex technology, under the previous owner and founder, Justin Weaver.
"Andrew Hall has purchased the business from him and is continuing the latex adoption by upgrading his current technology to the new R2000 Latex hybrid printer. It is creating exciting opportunities for the development of his business."
Factory One expects to be fully up and running with its R2000 by late August.
Comment below to have your say on this story.
If you have a news story or tip-off, get in touch at editorial@sprinter.com.au.
Sign up to the Sprinter newsletter