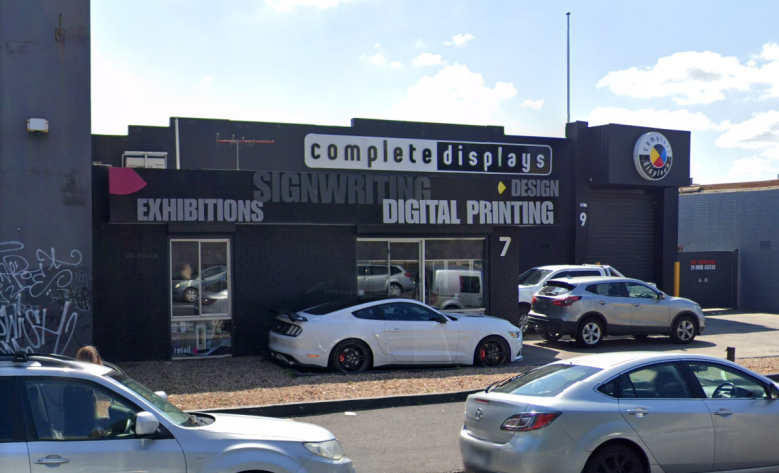 Melbourne digital printing, signwriting and screen printing company, Complete Displays, is now out of bounds for customers and staff that are not vaccinated against COVID.
The company's director Bernie Casey said, in a recent Today Show on Nine, that he is putting his foot down and stopping customers and staff that aren't vaccinated from entering the premises to ensure the safety and wellbeing of those present.
With NSW and Victoria in lockdown, the Brunswick-based company is one of the first businesses within the print and visual communications industry to enforce stricter measures after being in some 200 days of lockdown this year.
"We are in the major events industry. We create signage for the Grand Prix and the Spring Carnival, and other big events in Melbourne. [With the lockdowns], we have been smashed. I am a simple bloke that has a business, and I want to work with my staff and try and come out the other side," he said.
"I am bit sick and tired of people not QR scanning or using masks, so we thought this was a good way to start. It is early days at the moment but [with active cases in the state] it is necessary."
Casey clarified that customers that aren't vaccinated won't be turned away – they just won't be allowed into Complete Displays' premises.
"We are not turning away any customers, if they do not want to have the jab, we discuss our jobs outside rather than inside," he said.
"I want to work with people, not against people, and I think the only way out of this is by getting the jab. I have staff and family that are on board; they've said that they'll do it without me asking them to do it.
"How do we go forward with this situation if we don't [take such measures]? The only way we can break this cycle is by having the jab."
Casey supported companies such as Qantas that are mandating that staff take the COVID jabs, saying that "we have to do the right thing to get out of this".
"It is frustrating. I have seen what's happening in other areas and I have seen people who don't do the right thing. I know the COVID-positive numbers are not great in NSW and Victoria and to be honest, we can't continue going on like that," he mentioned.
"We are a boutique business and can't continue like that; it's mentally exhausting too. I am not banning anyone and I am not making my staff have the vaccine; I am just stopping people who have not had the vaccine from coming in and they do have other options."
Casey also added that he expects the company's current customers and clients to stick by his decision.
"If you are on this street, you'll know there are no customers. So, the act of losing customers is probably not a big deal at the moment. I think our current customers and the clients that we have will stick with us, as they are very loyal and we have had them for a lot of years," he said.
"I'm not making a stand – it has to be a two-way street, not just a one-way street."
Ai Group survey findings
An Ai Group national employer survey testing the pulse of business attitudes towards mandatory COVID-19 vaccination in workplaces has found more than half were in favour of some form of mandating.
The national employer association's chief executive Innes Willox said of the more than 700 companies surveyed earlier this month, 24 per cent said they would like to mandate COVID vaccinations for some or all of their employees; and 27 per cent said they would only like the COVID vaccination to be mandated through a health order related to their industry.
A further 37 per cent said they will 'offer and encourage optional COVID vaccines' while the remaining 10 per cent were unsure or said it was not applicable to their workplaces.
"It is clear from the survey responses that many businesses are looking to mandate COVID vaccination and they will be closely watching those already moving in this direction and assessing what approaches and circumstances will be considered lawful and reasonable," Willox said.
"The group that favours health orders being in place no doubt would prefer the legal certainty that comes with such orders. However, governments do not appear to favour any significant expansion of the small number of such health orders now in place.
"For employers the question of whether or not to mandate has a long tail. Employers will initially look at the issue from the perspective of how they can protect their staff and their customers. As more businesses mandate vaccination, the question will shift to whether they will need to mandate vaccination for their own staff who visit businesses that have a mandate in place.
"There are also complexities for labour hire companies sending workers all over the country and for group training companies sending their apprentices into businesses that may mandate vaccination.
"The message for policy makers is that despite the red herring put around in recent days that health orders are the only way to go for mandating COVID vaccinations, there are a large number of employers ready to use longstanding legal rights to introduce mandating where lawful and reasonable."
The Real Media Collective's position on vaccinations is to "strongly promote" the vaccine to staff, rather than mandate it.
The Real Media Collective's GM of IR, Policy and Governance Charles Watson says, "The safe option is to strongly promote the vaccination. I've said to a few members if you are going to put it in place, you need to be coming from a health and safety perspective based on having an obligation to provide a safe workplace. Some smaller businesses are going to be concerned that if they enforce such a policy and if someone says 'no I am not (having the vaccine)' where is that going to leave them?"
Comment below to have your say on this story.
If you have a news story or tip-off, get in touch at editorial@sprinter.com.au.
Sign up to the Sprinter newsletter