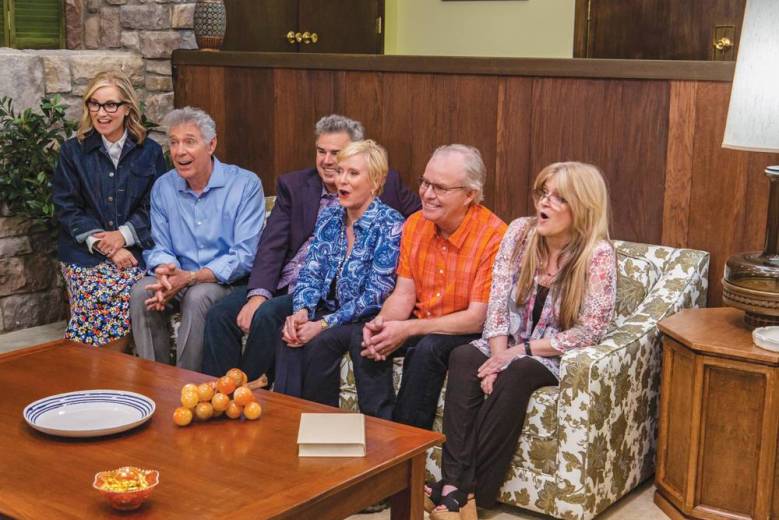 This feature was printed in the April 2020 edition of ProPrint magazine. To view the magazine, please click here.
Sixty-somethings may remember watching The Brady Bunch when it was in production (1969-74), with further legions of viewers becoming die-hard fans over 50 years of re-runs or by seeing one of the spin-off TV shows or movies.
The Bradys had a magical appeal with many attracted to the foibles of a large, rowdy family of six kids, a mum and dad and a live-in housekeeper. Much of it was fantasy and any resemblance to real families was kind of tenuous, but therein lay the sitcom charm. Pure escapism!
With the show still as popular as ever, US home renovation channel HGTV decided to take the Brady passion up another notch.
In A Very Brady Renovation (broadcast in Australia on Foxtel), the show focused on the house that featured in the show. Located in Los Angeles suburbia, that house bore no resemblance to the Paramount Studios sound stages that became the famous interiors and backyard of the modernist '60s-chic house that, according to the storyline, dad Mike Brady, an architect, had built.
So HGTV acquired the house and assembled a crew of architects and builders to renovate it to replicate the rooms so familiar to viewers.
To add sizzle, HGTV brought in six cast members of the show – the Brady kids – as advisers.
When you analyse it, fandom is based on intimate knowledge, which means details are important. Brady aficionados feel as if they are part of that family and have lived in that home. Many know exactly how the faux timber panels looked or how the orange-and-avocado hued kitchen was laid out.
This is the logic that sparked the project. Yet it would sink or swim on how accurate the reproductions turned out. If ever there was a case of 'near enough ain't good enough' – this was it.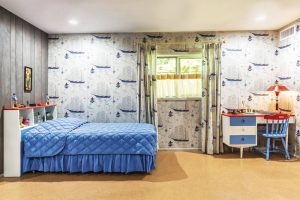 And this is where Astek, a textile print company located at Van Nuys in LA's San Fernando Valley, came into the script, through its sub-brand, On Air Design, an acclaimed provider to the US entertainment industry of digitally printed wallcoverings, flooring, grand-format prints, signage, window graphics and more.
Astek frequently provides textile decoration for Hollywood productions and was recommended for the project.
Astek's president Aaron Kirsch says the objective was to achieve as near as humanly possible the original look on treasured icons such as the living room couch and the wallpaper in the kids' rooms. The ultimate judge would be a worldwide TV audience of Brady fans – and in the words of Susan Olsen, (who played Cindy and has worked as a graphic designer), "Brady Bunch fans know their stuff".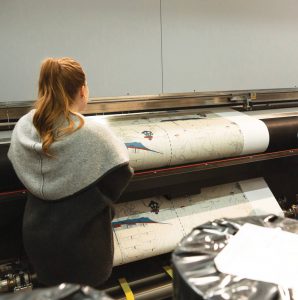 The challenges were at times daunting.
Samples were taken from screenshots of the actual Paramount Studios TV series, which was originally recorded 50 years ago on somewhat grainy colour film stock, and, even then, the surfaces were in the background and not in sharp focus.
It was hardly an exact science but err from the original and the diehards would call you on it.
The actors who played the Brady kids – Barry Williams, Christopher Knight, Mike Lookinland, Maureen McCormick, Eve Plumb and Susan Olsen (pictured above) – were invited to offer their recollections of the sets – details such as the correct shade of a chair or the shape of a shelf.
Replicating the famous living room couch – the scene of much scripted Brady drama – was one of the tasks brought to Astek. Printed fabrics that were in vogue in the 1960s were no longer commercially available, so Astek stepped in, custom printing them digitally.
All of the wallcoverings and fabrics that were created – including drapery for the kids' rooms, wallpaper for the kids' rooms, fabric for the day bed in the den and sofa fabric in the living room – were printed on large format Durst printers (800, 712, and 512).
HGTV's design and build manager Dylan Eastman teamed up with Astek project manager Nicholas Ray and former cast member Maureen McCormick (who played Marcia) to get it right.
For example, comparing a rendition of the upholstery on a screen at Astek's design studio, McCormick noted it had more white spaces between the motifs than the original screenshot brought in on a tablet, a discrepancy that was quickly fixed with some deft stylus strokes on a Wacom drawing tablet by Astek's lead designer Anna Tatsuno.
When McCormick declared a match, Astek ran a printed proof from a Durst flatbed printer. So authentic was the look and feel of the digitally printed sofa fabric, that, running a hand over it, Eastman declared: "It doesn't even feel printed!"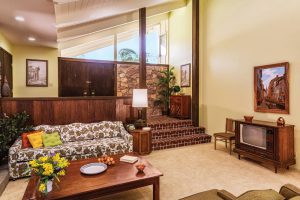 Then with Susan Olsen's input, Brian Kuhar, one of Astek's senior designers, tweaked a digital version of the girls' bedroom wallpaper, reducing the size of a floral motif and brightening the reproduction to match the original. For the wallpaper in the boys' bedroom, an early reproduction featured ship motifs too close together, a mast at the wrong angle and water waves too exaggerated. These tiny faults were corrected on-screen, before proofs were printed on a Durst roll-to-roll printer. That was the degree of authenticity the project was chasing.
Kuhar told ProPrint, "I grew up watching The Brady Bunch re-runs and I was very excited to have a part in this renovation and reimagining. Normally when I'm asked to be on-camera talent, I decline, but this is one project I just couldn't pass up. We at Astek are often requested to recreate iconic designs and as a designer and manufacturer of custom wallcoverings, we of course received the call from production designer John Shaffner to tackle the project. We worked on the designs on and off for a few months, but condensed, it really took a few days to redesign and perfect the five patterns seen on the show. It was difficult and demanding but I feel it was overall very successful."
Again in the spirit of the theme song, that's the way they restored the Brady house. It was a case of print 'going Hollywood', and an exercise in fun and nostalgia, but at its core, it proved the versatility and wide appeal of printing on fabric to exact client specs. All in all, it spells a bright future for custom textile printing.
Photo credit: HGTV. Main image of original cast members L-R: Maureen McCormick, Barry Williams, Chris Knight, Eve Plumb, Mike Lookinland and Susan Olsen. All photos: HGTV. 
Comment below to have your say on this story.
If you have a news story or tip-off, get in touch at editorial@sprinter.com.au.
Sign up to the Sprinter newsletter