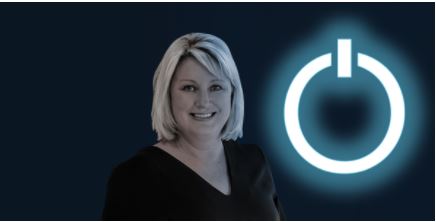 Australian-born Kiwi Juanita Neville-Te Rito, managing director of retail consultancy RetailX, discussed "Future Fit – Retail and the Role of Print" for this week's Power of Print webinar, facilitated by The Real Media Collective.
Neville-Te Rito's key message was that print, despite the rise of online shopping and digitisation, will always be a key tool used by retailers who are wanting to cut through to customers and capture interest through storytelling.
To do this she showed a number of innovative examples of printed products that have had great cut-through.
"Print is the best solution for a retailer and this gives you the ability to increase conversion and tell information in a different way. It is all about delivering retail experiences that are compelling and captivating and this has a role to play in profitability," she said.
"Retailers are working a tightrope of being incredibly profitable, but also trying to keep an eye on how do I differentiate myself? How do stay future fit?"
Neville-Te Rito said these days we are all overwhelmed by blue screens with laptops, smart watches, mobile phones, computers constantly bombarding us with information overload. In contrast, print offers something incredibly authentic and with potential of being hyper-personalised.
As more and more people shift to mindfulness, meditation and yoga with a desire to be less overwhelmed with incoming communication, this plays extremely well for the printed medium.
"This behaviour is quite telling, we are seeing customers starting to change some of their behaviours and this is digitally influenced but it is also behaviours that are starting to develop out of COVID," she said.
How retailer challenges are print opportunities
Neville-Te Rito listed three main areas printers can benefit from helping retailers work through engagement challenges.
Enhance the experience – she advised printers to work with retailers as they navigate how to share information and right size. "Online retailers still need a catalogue to amplify their message and engage their audience and customers," she said.
"Packaging also plays a role in this story telling. QR codes are now well adopted so we can use them to share information in all sorts of new ways. Printing the QR codes in different and variable ways will really rise.
"Storytelling in a catalogue is best delivered through print as this deliver that 'emotive value'."
Amplify storytelling – To break through to consumers who are responding to being bombarded by digital devices by switching them off, it is essential that print speaks loudly to capture this attention, she said. Neville-Te Rito said printed magalogues are great for building credibility, rapport and engagement. "Print can get a relatability that digital can't," she said, using this example of a printed ad that was selected wrapped around Sydney CBD copies of the Australian Financial Review to advertise a new premium watch store opening.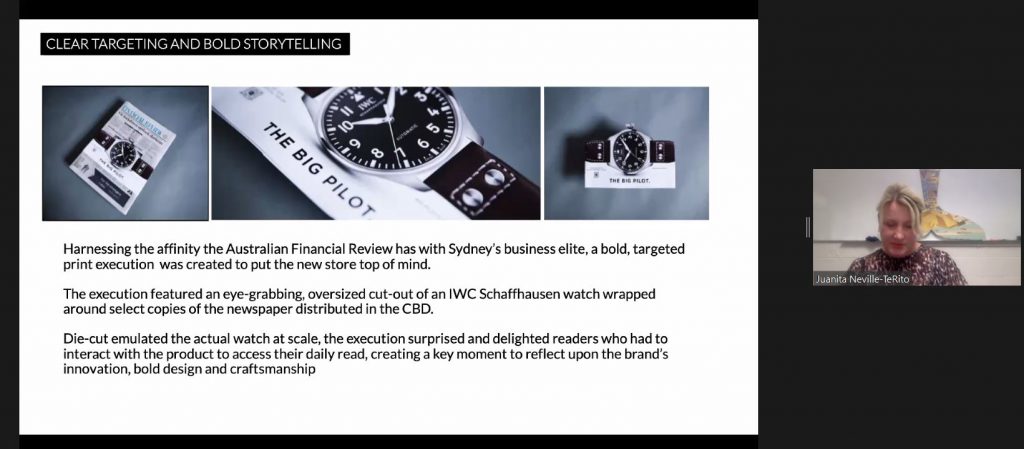 Vivid impact – Print has the power to create a vivid impact that can really hold up in memory and lead to future engagement with brands. Neville-Te Rito used an example from an Ikea catalogue to show this impact. She said the creative is part of the solution, but delivery is as important. "Retailers are striving to be striking, relevant and memorable," she said.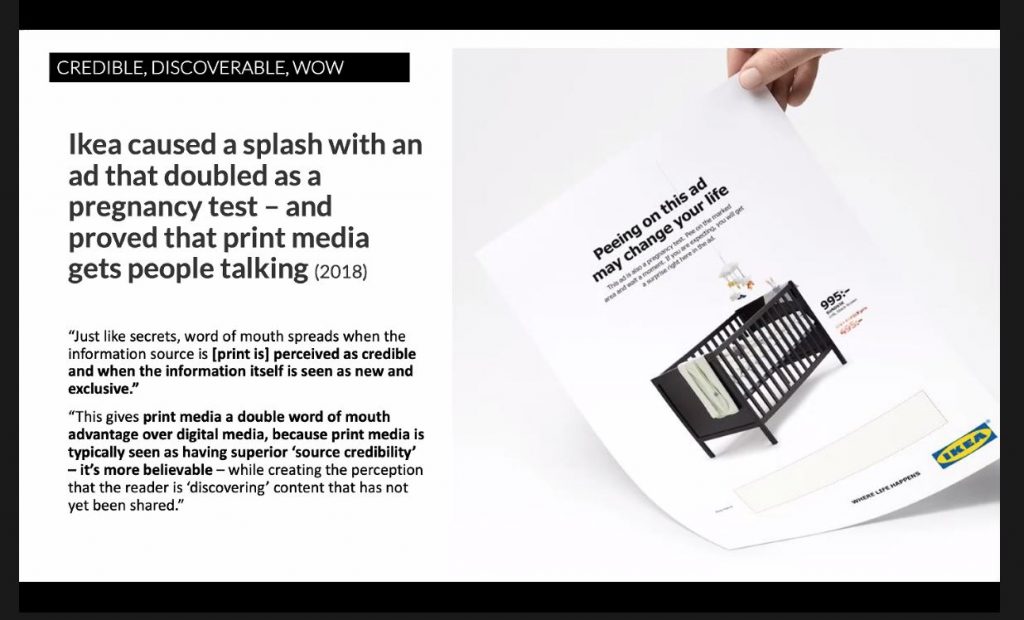 "You (printers) have a golden nugget in your hand – print is among the trusted mediums," she said.
"Research shows catalogues and magalogues have the ability to genuinely tell a story. So in print you need to find new and innovative ways to do this, understand how you can get a better return on that investment, a lot of larger retailers are leaning into neuroscience and a lot of the work we do has to be based on neuroscience evidence and that is around this ability to memorise and process and mentally be able to recall.
"Print still outperforms anything else. Digital is attention grabbing but it is not settling. What we find is the combination of print and digital and blending those medias is really powerful. So direct print and magalogues is coming back and bouncing off into other touch points."
To catch up on Juanita Neville-Te Rito's webinar, you can find the link to the recording and Class Notes here.
Next week's Power of Print webinar guest is Kelvin Gage, Global Treasurer of Dscoop. Kelvin will discuss the topic: "Selling the value of print – how do we focus on value and not commodity when selling print?" To register for this talk, please click here.
The Power of Print webinar has been running every Wednesday at 11am since June 23. The final webinar will be held on August 25.
Comment below to have your say on this story.
If you have a news story or tip-off, get in touch at editorial@sprinter.com.au.
Sign up to the Sprinter newsletter