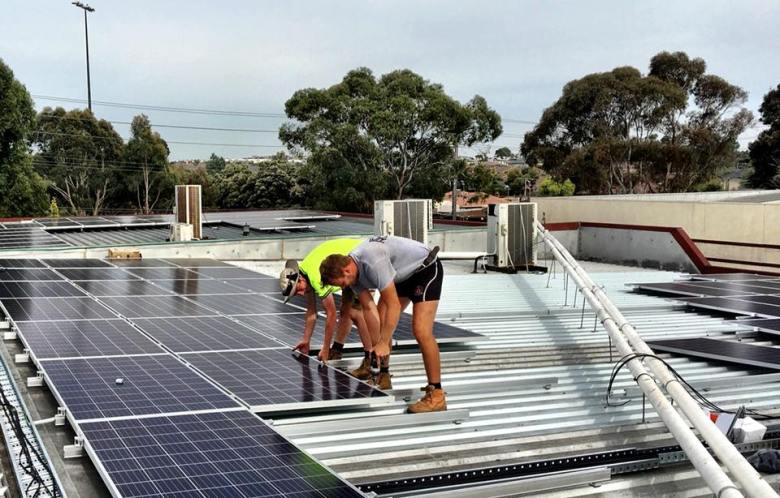 Melbourne-based Complete Colour has installed solar panels in a bid to stave off 235 per cent rate increases in electricity following the completion of its most recent contract.
The environmentally-responsible print provider says solar panels is also a great initiative in terms of feedback from customers, with many commenting positively on social media.
Tim Michaelides, managing director, Complete Colour, explains, "You have all the fixed charges with power bills including the summer demand, but the base rate for the cost of our power for both peak and off peak was increasing from the January by 235 per cent when our contract expired at the end of 2017.
"It is a 200kW Large Generation Solar System – that will enable us to trade in LGC's. We have approximately 3,500 square meters of roof space, where we have had installed 728 x 275watt Tier One Grade Solar Panels, covering 75 per cent of our available roof space.
"We have now managed to keep our power bill in dollar terms at the same cost as it was previously.
"In power consumption, we are saving a heap of power. We only have two and a half months data now, but to give a full indication, from the last week we have generated more than 400kw/h per day, amortised over the month it is a fair whack off the bill.
"We have yet not seen the system work in the hotter months of the year.
"So even in June we are generating 400kw/H per day, in Melbourne. So to average that is beyond all expectations. So come summer, we will have daylight from 6am to 8pm instead of 8am-4:30pm, and we cannot wait to see the results.
"We expect the system to handle our requirements to a certain level. The idea was not to put in a system so big that you send power to the grid, because you do not get the same price for it that you pay, and economically it does not make sense.
"Considering how high power prices are compared to what you can sell your excess power for, there is no incentive for people to put in solar power, other than reducing their power costs."
While a battery system is planned for the future, Michaelides says the technology is not quite there yet for making an economic case for installing the battery. The high cost of initial investment, combined with the fact the company already using most of its power.
He says, "When you consider the cost of the batteries to install and maintain them, the payback is not worthwhile. When those costs come down, and is more beneficial, then we will make the investment.
"The added advantage other than the power you don't use going in the battery throughout the day, is that you top it up at night with low cost power, then in the daytime you use solar power, until that runs out once more.
"So with batteries you can also top them up with lower rate power, but even with that consideration it is not cost-effective."
Complete Colour has implemented a range of enviromentally-responsible initiatives, as part of the company's philosophy.
Michaelides explains, "We have advertised the solar panels on our social media and so forth, and get a lot of people indicating that it is a great initiative. Our company is an environmentally responsible print company, so this is just another add on to that as far as we see it.
"We are environmentally ISO certified, 14001, and 9001, and also FSC, PEFC accredited.
"We recycle, reuse, and bring to clients 98 per cent of the product we bring in the door.
"We have a full chemical recycling unit for the wash on our machines. We installed that in 2007, it is linked directly to the machines, it feeds the chemical to the machine, then the recycling unit, and filtrates the chemical, separating it from the water, and filtrates it through the system over and over. In total, 85-90 per cent goes back to the machine, and is simply topped up.
"Customers come to us for that, as well as our quality and service.
"We have 35-40 staff, and have been in business 26 years. We run books brochures, catalogues, reports, pos, advertising material, we have a ten-colour 102 Speedmaster, and a five-colour plus coater Speedmaster.
"We are a full service business, we take clients files, do a lot of variable data work, statements, superannuation funds, sensitive data and other types of banking work.
"We do a lot of POS work for retailers, and distribute Australia wide."
Comment below to have your say on this story.
If you have a news story or tip-off, get in touch at editorial@sprinter.com.au.
Sign up to the Sprinter newsletter